By Charumini de Silva

The Foundation of Civilian Bravery Sri Lanka and Janashakthi Insurance PLC recognised 12 unsung heroes who attempted to save others from peril at the 23rd 'Janaskakthi National Civilian Bravery Awards' held in Colombo on Thursday.

"On a daily basis, civilians across Sri Lanka go by unnoticed for various acts of bravery they may have committed to save the life of another, putting their own lives at great risk. It is our objective, therefore, to provide a platform for these individuals to be recognised at a national level," Foundation of Civilian Bravery Sri Lanka Founder and President Kasun Chandraratne said. He said for 23rd long years the foundation has continued the award scheme amidst many challenges while expressing special gratitude to Mr and Mrs Vijitha Yapa for their support at the initial levels.




The Foundation of Civilian Bravery Sri Lanka believes that civilian bravery knows no ethnic, social, or religious barriers, and makes its selection from everyday Sri Lankan citizens.

Addressing the gathering, Chief Guest Speaker Karu Jayasuriya commended the Foundation for its commitment over the past years where it has recognized over 300 unsung heroes in our community and added that the award scheme should be uplifted to an international level.

"Sri Lankan people are unique, nowhere in the world have people heard of selfless people like Sri Lankans that go to the extent of donating eyes, blood and even kidneys to save another person's life," said Jayasuriya.

Guest of Honour Australian High Commissioner Bryce Hutchesson said there was no better time to conduct this award ceremony as Sri Lanka is still coming to normalcy in the aftermath of the floods and it was more important than ever to acknowledge those civilians who risked their lives while saving others.

"Each of the 12 stories which I just read in the booklet, that will be awarded today, are truly inspiring," he stressed.

Hutchesson pointed out that even a number of Sri Lankans living in Australia had been recognised by its National Bravery Award scheme.

"Quick action, instinct and selflessness of Sri Lankans are not only found here, but there are many that had won Bravery Awards even in Australia. Sri Lankans are known for their bravery the world over," he said.

Acknowledging that Australia and Sri Lanka enjoyed 70 years of longstanding relationship, Hutchesson stressed that the cooperation between the two countries have enhanced in many areas.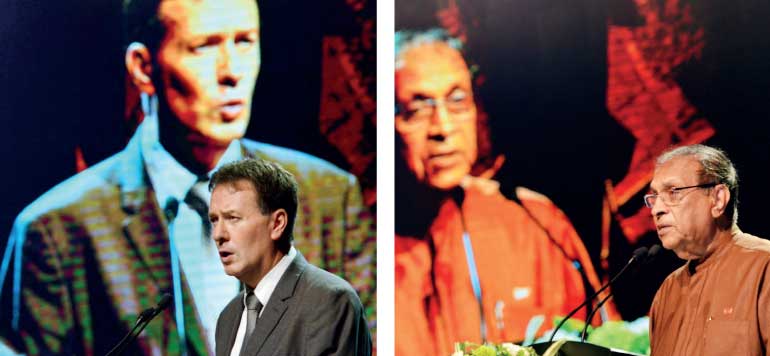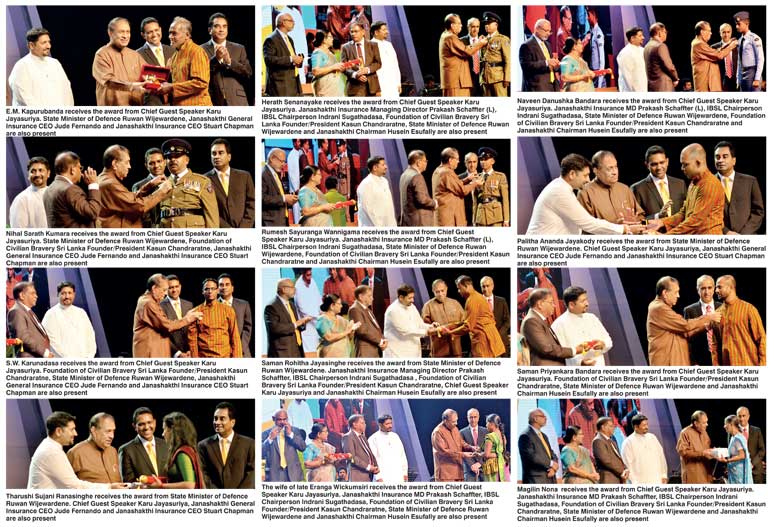 http://static.ft.lk/ftadmin/wp-content/uploads/2017/06/18232230/LRG4.jpg
The High Commissioner said: "Bravery inspires all; heroes can be found anywhere, even during the worst of times."

Janashakthi General Insurance Ltd CEO Jude Fernando expressed that it was a great privilege to partner the Foundation for Civilian Bravery Sri Lanka for the second consecutive year to conduct the Janashakthi National Civilian Bravery Awards, in a combined effort to celebrate unsung heroes who have engaged in selfless acts of bravery and philanthropy for the wellbeing of others.

"Our nation's heritage consists of many noble and heroic individuals who have performed commendable feats of bravery over the centuries, helping establish Sri Lanka as a great and fearless nation," he noted.

As an insurance provider with strong local roots, he said Janashakthi's duty is to support this type of endeavour in a mission to bring to light the remarkable acts of heroism displayed by ordinary citizens.

"It is our strong belief that endeavours such as the Janashakthi National Civilian Bravery Awards will further help inculcate exceptional values such as selflessness and bravery in the community and help continue the legacy of a resilient nation," Fernando stated.

Janashakthi Insurance PLC stepped forward to partner this worthy national cause with the aim of amplifying its reach to a larger national audience, and thereby encourage more citizens of Sri Lanka to apply for the awards.

The Foundation of Civilian Bravery Sri Lanka is a non-profit organisation, established by Act No 4 of 2009, dedicated to honouring civilians who voluntarily risk their lives saving or attempting to save the lives of others. Established in 1993, the Foundation bestows medals of bravery annually at ceremonies in Colombo.

Pix by Shehan Gunasekera