Key insights at Daily FT-Colombo Uni. MBAA and HSBC Forum
Main focus of new Cabinet will be to create policy consistency
Bureaucracy reform biggest challenge over next few years
Says SL has world's largest investment agency in the world
No intention of promoting protectionism
Wants private sector to come up with practical suggestions


By Uditha Jayasinghe

Sri Lanka has the capacity to punch above its economic weight, observed State Minister of Finance Eran Wickramaratne yesterday, pointing out the country was already well integrated with regional giants China and India, but acknowledged reforming its bureaucracy to foster investment would be an uphill battle.

Delivering the keynote address at the Daily FT-Colombo University MBA Alumni Association and HSBC organised full-day forum titled 'Growing with Giants,' Wickramaratne noted that as Asia continues to grow, the Asian Development Bank (ADB) has predicted that in 2050 GDP trade and investment will be half the world's GDP. The forum focused extensively on the advantages Sri Lanka could derive from China's Belt Road Initiative (BRI).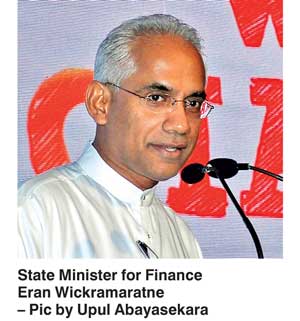 Accordingly, the per capita incomes of the region will grow at least six-fold. By year 2030 it is estimated that Asia will surpass North America and Europe combined in terms of global power based on GDP, population growth and technological advancement. Asia would be in the dominant economic position that it held more than 250 years ago, before the industrial resolution, he said.

"When we were growing up we had a fixation of how the world would be but in one generation the world is changing."

In the context of the two major partners, India and China account for 42% of Sri Lanka's imports. China has become Sri Lanka's largest source of imports with nearly 22% and India is close with about 20%. China and India are also the largest two countries when it comes to tourism, with almost 45% of arrivals stemming from these two countries. China and India are among the top five FDI sources to Sri Lanka, accounting for about 20%, showing the strong connections between the three economies.

The State Minister also spoke extensively of the collective history Sri Lanka shares with India and China. "The Chinese Ambassador spoke about policy stability and consistency challenges. He spoke about the ease of doing business and lack of implementation on the ground. I think all these observations I would accept as valid, these are constructive criticisms we need to accept, we need to change. "Our focus over the next few months will be to create stability and consistency in policy. The Doing Business Index will change over time because there are many different things that need to be done. Implementation is a big issue. The reform of the Sri Lankan bureaucracy is probably the biggest challenge that this country will face over the next few years.

"We probably have the largest bureaucracy in the world, per capita, compared with any other country. I was just told the other day that we have the largest investment agency in the whole world. Obviously we need to look at how we are going to reform our bureaucracy."
"This is not something only this Government or a few politicians can do; you all have to get together. The Ceylon Chamber paid a call on me and the Minister the other day and I told them please come up with practical suggestions as to how we might start this journey."

Analysing trade statistics between the two countries, Wickramaratne noted China and India provided much-needed investment and intermediate goods to Sri Lanka and therefore limiting imports was not an option. But he went on to say that tourism on the other hand was a valuable source of foreign exchange to the country. He also called for increased exports to China and India.

"As much as 44% of Sri Lanka's total trade deficit is with India and China, which implies a big opportunity of two giant markets, but what is the way forward? Sri Lanka must become competitive to reach out to these markets."

He pointed out that Sri Lanka's exports, which accounted for 28% of GDP in the 1990s, had fallen to half of that. Sri Lanka is smaller and less open than it was three decades ago, insisted the Minister.

"Concentration in a few markets and lack of market diversification is obvious. Generous subsidies have been poured into agriculture since 2005, tax breaks, protection and infrastructure that have long gestation periods have all contributed to the erosion of our competitiveness. Furthermore cess has also contributed to the lack of competitiveness. Therefore the current Government has proposed to eliminate cess altogether but we have to do it gradually over time."

"FDI has to be the foundation. FDI to provide long-term balance of payments enhancement, sophistication of exports and technology transfer is essential. We need to learn about the new Chinese economy. We need to rebalance our external trade; we can certainly find regional resources to redistribute to minimise the gaps that exist. BRI would be a major element in this endeavour. The Ambassador said we are not a tiny island but I would like to mention that we are a noisy democracy and we are fiercely independent but we make great friends."