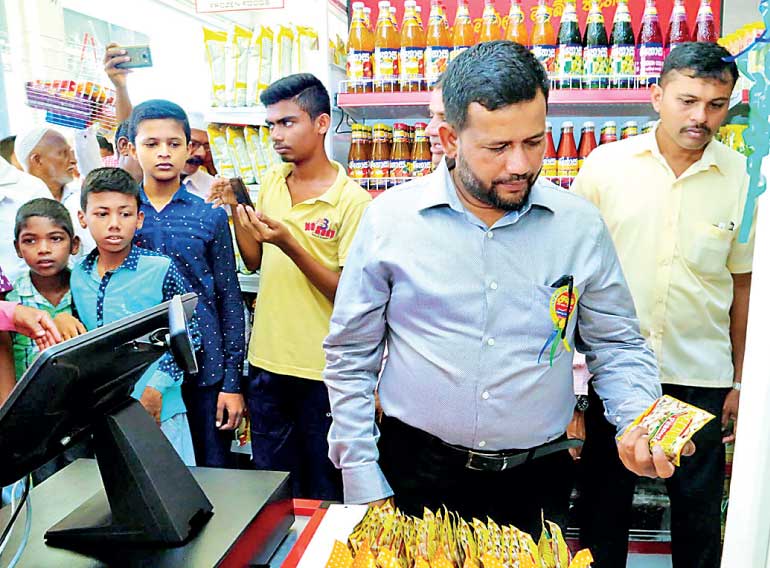 Minister of Industry and Commerce Rishad Bathiudeen, having launched the 379th Lanka Sathosa outlet in Kattankudy, inspects a product at the outlet on 10 June
Bathiudeen launches two Lanka Sathosas in East within a day
Now 479 outlets
'Will expand even more, but no privatisation' - Bathiudeen
Says Lanka Sathosa not only for business, but for disaster relief as well
'Already distributed Rs. 10 million in relief to victims in Ratnapura from Lanka Sathosa alone' - Bathiudeen
The Lanka Sathosa network is growing from strength to strength and there are no plans to privatise it, according to Industry and Commerce Minister Rishad Bathiudeen.
"The Lanka Sathosa expansion program is to strengthen our largest State-owned supermarket system and not to privatise it as falsely claimed by certain individuals," said Minister of Industry and Commerce Rishad Bathiudeen on 10 June in Kattankudi, Batticaloa.
Minister Bathiudeen was speaking at the opening of a 479th branch of Lanka Sathosa in Kathankudy, having opened the 478th branch just two hours before in Kokkadicholai.
"After I took over Lanka Sathosa, we improved it in many aspects. With the two branches we opened today in Kokkadicholai and Kathankudy, the total number of branches that was at 300 when I took over now stands at 379," said Minister Bathiudeen

"This number will be increased to 500 outlets by December. I even removed Lanka Sathosa's personnel recruitment procedure from it and handed it over to the consultancy firm KPMG who recruited qualified personnel to run it. As Lanka Sathosa expands to a 500-outlet strong network, another 8,000 franchise shops will be enlisted in the future. Lanka Sathosa not only serves Sri Lankan consumers but even steps in to assist at times of disaster. This is done by giving out dry rations to the Government to be given to the people. For example, Lanka Sathosa in the Ratnapura electorate alone delivered Rs. 10 million in dry rations to Divisional Secretariat officials to be distributed to the flood victims there."
Lanka Sathosa's annual sales turnover is now around Rs. 30 billion. Almost 93% of its expenditure in 2016 was spent for capital development projects. It plans to open 8,000 franchise outlets with SME businesses in the coming year while expanding its present 379 branch network to 500 by December 2017.