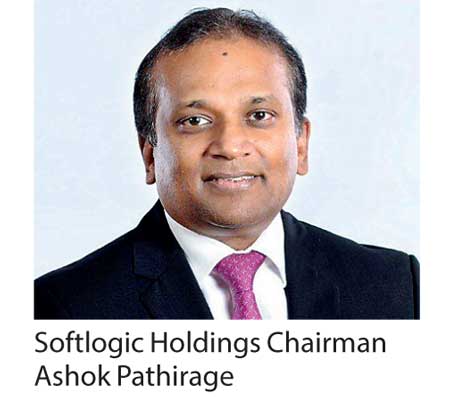 Conglomerate Softloigic Holdings Plc has seen its profits dip sharply in the 2016/17 financial year with the company attributing this drop to external factors.

Pre-tax profit was down 41% to Rs. 1.68 billion and after-tax by 48% to Rs. 1.08 billion. Profit from connoting operations was down by 58% to Rs. 825 million. After a profit of Rs. 145 million from discontinued operations, the profit figure was Rs. 970.6 million, down by 48.5%.

Net profit attributable to equity holders of the parent was down by 80% to Rs. 112.5 million with the figure of the non-controlling interest bottom line being Rs. 858 million, down by 34%.

Group annual turnover reported an 8.2% growth to Rs. 59.1 billion while the fourth quarter recorded a 5.4% growth to Rs. 14.3 billion.

"The general economic slowdown coupled with VAT and other fiscal reforms during the year impacted topline growth and bottom line. Further, the increased effects of one-off tax and provisioning in the last quarter, together with losses from the recently opened hotel affected profitability," Softlogic said.

The key contributors to Group turnover for the year were Retail (33%), Healthcare Services (18%), Financial Services (15%) and ICT (7%) followed by the automotive and leisure sectors.

Group Gross Profit increased 9.2% to Rs. 19.7 billion, maintaining GPMs at 33%.

Operating profit reached Rs. 5.3 billion for the year under review while the quarter reported a Rs. 1 billion operating profit. Administrative expenses increased 18.0% to Rs. 12.2 billion (a 20.6% cost margin in FY2017 as opposed to 18.9% in FY2016) with the quarter also reporting 17.6% cost growth to Rs. 3.6 billion.

"The increase in administration cost was related to the commercial opening of the city hotel and management's conservative decision to increase provisioning of ageing debtors and inventory in the retail sector," Softlogic said. Annual distribution costs also increased 9.4% to Rs. 3.2 billion with the quarter also registering an increase of 11.4% to Rs. 935.4 million.

PBT for the year was Rs. 1.68 billion, following a corporate tax charge, PAT reached Rs. 1 billion during the year. In addition, the dividend tax increased to Rs. 256.6 million (up 69.9%), which resulted in earnings for the year to report Rs. 825.3 million. Thus, the profit for the financial year ended 2017 was Rs. 970.6 million.

Softlogic said earnings were predominantly led by the Financial and Healthcare Services sectors, followed by Retail and ICT.

Commenting on the future outlook, Softlogic Holdings Chairman Ashok Pathirage said: "Although the economy presents a challenging environment, we are focusing more on operational efficiency and product diversity in an effort to extract the significance of market potential intrinsic to the Group."

"We are cognisant that the leisure sector will take time to normalise, but we are also confident that the investments made will contribute to profitability going forward," he added.

In conjunction with expected optimism in economic performance, retail and ICT would move in tandem with economic growth and, similarly, Softlogic sees that happening now at Odel and in retail stores. Pathirage said expansion of the Healthcare and the Financial Services sector promises greater stability and rewards given their performance during the onerous times witnessed recently.

"Softlogic's sector portfolio is key to enhance growth and earnings notwithstanding the ongoing value creation of the businesses per se through expertise, equity buildup and more efficient cash flow generation," he added.