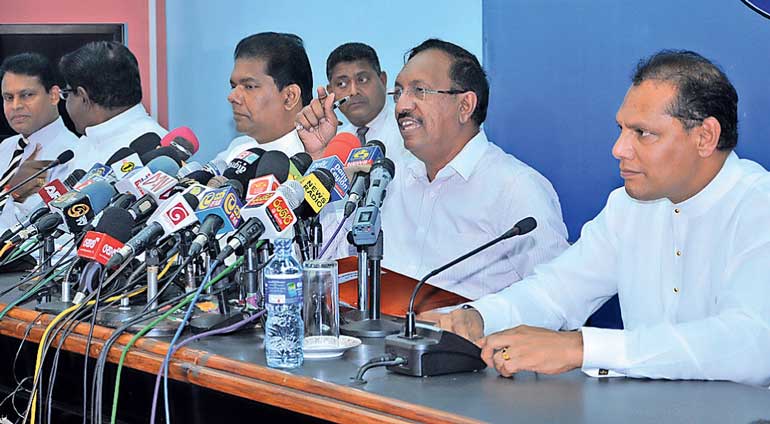 Disaster Management Minister Anura Priyadarshana Yapa - Pic by Nisal Baduge
By Uditha Jayasinghe

Staying calm in the face of fire, Disaster Management Minister Anura Priyadarshana Yapa yesterday justified his absence from the country during the worst floods in 14 years by insisting that the Government did its utmost to respond to relief during the disaster and so did not require his presence.

Yapa, who was in Mexico to attend a conference on natural disasters, insisted that the Government apparatus, including the President and Prime Minister along with his Deputy Minister, other Cabinet members and the institutions under the ministry, functioned competently during the flooding and therefore negated any need for him to be present on the ground.

"I went to Mexico to represent Sri Lanka and I was also holding the position of Co-Chairman. I knew that my Deputy Minister as well as the rest of the ministry officials along with other Government departments and the military was responding well to the disaster situation. I made daily calls to stay updated on the developments and gave instructions from Mexico. I worked hard to wrap up as soon as possible and returned four days earlier than planned," he told reporters at the weekly Cabinet briefing.

The Minister also said Cabinet had decided to immediately start demolishment of illegal construction, warning that had the cyclone not moved away from Sri Lanka it would have caused worse havoc. It is estimated that Colombo alone has 10,000 unauthorized constructions. Yapa also called for fresh legislation to punish public officials who often take bribes to turn a blind eye on illegal buildings.

Yapa also defended the Meteorological Department, which he insisted released a weather update warning of rain but acknowledged that Sri Lanka does not have the necessary technology to give detailed weather prediction updates giving the volume of possible rain.

Responding to a barrage of questions from the media, Yapa initially said the Government had no warning torrential rains would wreak havoc in May but then under cross questioning noted that the Government had received a warning of rain two days ahead of the deluge but insisted it had no idea the rain would be so severe, with some areas receiving more than 500 mm in just one night.

"Even when people are warned they do not leave their homes. Then when the water comes they climb onto the roof and call us for help. This is also a reality. I am considering bringing laws to compel people to obey a weather warning and actually move to safe areas. A lot of deaths could have been prevented if this could be done. Hundreds of people dying is traumatic and the Government is aware of its responsibility."

During the 40 minutes Yapa was grilled by the media he also admitted that despite serious floods in May 2016 his ministry had failed to set up a mechanism to warehouse emergency supplies but claimed he did not agree with the list of supplies requested by his ministry from the United Nations. He also called on TV stations to have a dedicated weather segment to disseminate warnings faster and encourage people to be more aware of the weather.

"The mechanism we have is when a disaster occurs we get funds released by the Treasury, which we send to different officials to purchase essential relief items. This means that the provincial and local level officials have the capacity to purchase what they most need rather than having to deal with what we give them. However, I agree we should stockpile emergency relief items to be used in a future disaster but they should not just be stocked in Colombo. They have to be in critical areas where they will be most needed. We need to come up with a mechanism for that."

The Disaster Management Ministry has already ordered 100 boats from the Navy to be distributed to vulnerable areas, the Minister added, reiterating that more such measures would be taken in the future to improve disaster response.

Yapa was also grilled on why the Government had chosen to earmark millions of rupees for luxury vehicle purchases for ministers when the funds could have been used to buy better weather warning technology for public safety.

"Buying vehicles for ministers is not relevant here. These are two separate issues," he claimed. "A Doppler system and satellite imagery of the quality needed to make accurate weather predictions are so expensive it cannot be met by forgoing purchase of vehicles. This requires billions of rupees, which is not easy to acquire, but we are working on it. We are in talks with a Japanese company to get two Doppler machines. We hope to get them before the end of the year."

When asked for details of Government compensation, Yapa claimed 90% of families who suffered in the Meeriyabedda landslide have been compensated. "People who lost their homes in Salawa have also been given money though there are a few outstanding cases where people are contesting the Government valuer estimates. We will not hold back any funds. The Government has already increased compensation and insured all homes as an additional measure. We are the only Government that will pay up to Rs. 1.2 million for a house. We have even started mapping flood prone areas to give better information to officials of the potential dangers their areas face."
---
Dayasiri presents united front
Freshly minted co-Cabinet spokesman Dayasiri Jayasekera yesterday fanned down speculation that his appointment was to sooth a rift in the Coalition Government by insisting it would instead be an opportunity for the two main parties to strengthen their cooperation.

Jayasekera also dismissed allegations that his appointment would reduce the clout of Health Minister Dr. Rajitha Senaratne, who also holds the position of Cabinet Spokesman along with Lands and Parliamentary Reforms Minister Gayantha Karunathilaka. Dr. Senaratne has come under fire several times in the past for making contentious statements at the weekly Cabinet briefings, which at times had caused discomfort to members of the Government.

"We are a National Government that believes in vibrant democracy. Therefore it is only right that we have politicians who represent the different political parties in this Government. I was appointed after this was raised during a Cabinet discussion and it was suggested that the presence of a SLFP Minister would better serve to maintain the balance between the two main parties."

Jayasekera was also adamant that Minister Senaratne would continue to play a key role as Cabinet Spokesman and rejected claims that his statements had caused any controversy.

"None of us use the title of Cabinet Spokesman to make party statements or to promote one party over another. We are here to be the voice of the Government and to communicate Government policy to the people through the media. There is no personal advantage to doing that. It is simply a post," he added.