By Uditha Jayasinghe

The Government has picked global catastrophe reinsurance specialist Renaissance Re, with a total cover of Rs. 15 billion, to be the lead reinsurer of its State-run National Insurance Trust Fund (NITF) which provides reinsurance cover for Sri Lanka.

The 'A'-rated Renaissance Re of Singapore submitted the lead terms in the winning bid accepted by the Government from Strategic Insurance Brokers Ltd., backed by Crescent Global South Asia Ltd. at a cost of Rs. 816,750,000 as annual premium payable. Cabinet green lighted the selection this week after it was presented by National Policies and Economic Affairs Minister Niroshan Perera.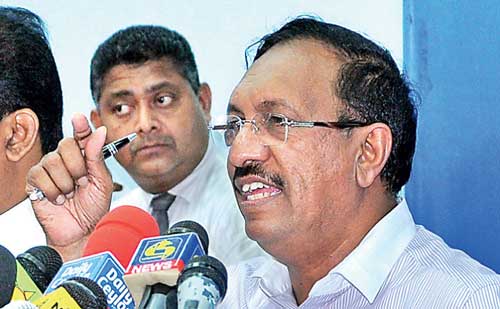 In April 2016 the Government reinsured for the first time through NITF for a reinsurance premium of Rs. 336 million and is expected to recover Rs. 2.7 billion from its international reinsurance as compensation for the floods that hit last year. As many as 50,000 households and 10,000 small businesses are expected to receive payment, according to the Cabinet paper.

As an additional measure the Central Bank has also instructed banks to waive loan repayments for three months and has ordered banks to funnel as much funds as possible to rebuilding loans for SMEs.

"Cabinet has also instructed the Finance Ministry to inform the private sector that it would be eligible for tax concessions if they contribute to rehabilitate damaged houses and infrastructure. Donations would only be used for house construction and a Cabinet subcommittee would be appointed to obtain funds by reprioritising Budget 2017 allocations for rebuilding damaged houses and infrastructure," said Cabinet Spokesman Gayantha Karunathilake.

Finance Minister Mangala Samaraweera, Foreign Affairs Minister Ravi Karunanayake and Public Enterprise Development Minister Kabir Hasim have been appointed to the subcommittee.

"Cabinet also formally expressed its condolences and gratitude to all who helped provide relief including the armed forces, volunteers, civil society and the media," he added. Cabinet has also decided to repeal the Flood Protection Ordinance and draft a new Flood Management Act.

Fitch, in a report published last year, predicted floods are likely to raise awareness and increase demand for non-life insurance. Sri Lanka's uninsured population is high, with non-life penetration at around 0.6% of GDP.

The non-life insurance market is dominated by motor insurance (65% of gross written premiums in 2015). Motor is covered under excess-of-loss reinsurance covers in the event of a natural catastrophe.

Changing weather patterns, leading to increased frequency and severity of errant rainfall, raise long-term risks and highlight the need for insurance and proper pricing of such risk, as well as robust flood defence mechanisms.

In April 2016 Sri Lanka was among 20 new countries that were added to a global ranking listing climate vulnerable nations or V20. Since then the Insurance Development Forum, a collaboration of insurers, the World Bank and the United Nations have grouped together to help developing countries pool risk to make insurance from natural disasters more accessible to governments.