Invests Rs.300m to cater high quality service to different customer segments

First company to offer unlimited mileage for car rental

Plans to partner with airlines and booking agencies

Highlights high taxes on vehicles, expensive business slots at BIA concerns for expansion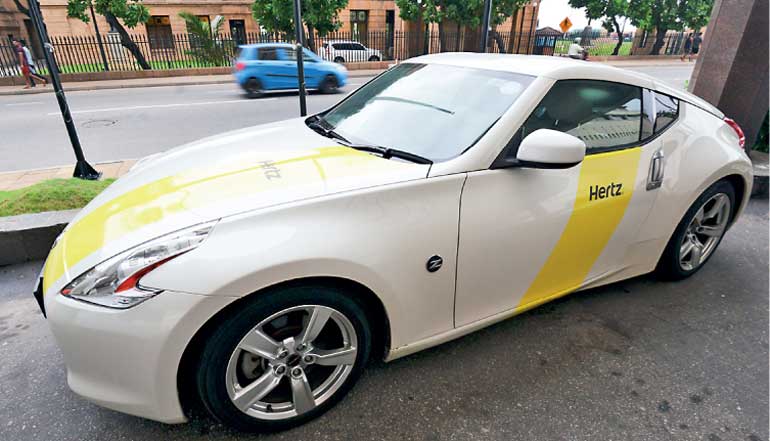 By Charumini de Silva

Banking on Sri Lanka's booming tourism, growth in expatriate relocations and increase in international investments, Hertz Global Holdings Inc recently entered into a local franchise agreement with Andrew The Car Rental Company to operate the Hertz, Dollar and Thrifty car rental business.

With an investment of over Rs. 300 million, the firm is committed to provide a high quality service to different customer segments where rental options include short and long term, self-drive and chaffer-drive with a wide selection of brand new vehicles.

Commenting on the partnership Hertz, Dollar and Thrifty Sri Lanka Managing Director Mahen Kariyawasan said they would continue to strengthen its operations, offering international travellers and locals high quality car rental options for different budgets and needs.

"Hertz is already partnered with FlySmiles, the frequent-fly program of SriLankan Airlines and we also hope to tie up with more online agencies and airlines in the near future," he added.
From left: Andrew The Car Rental Company Head of Operations Kemin Perera, Hertz International Director Franchise - Asia Pacific Nick Waring, Andrew The Car Rental Company Managing Director Mahen Kariyawasan, Andrew The Car Rental Company Executive Director Dinooshi Kariyawasan and Hertz International Manager Franchise - Asia Pacific Doris Goh


He said they were the first company to offer an unlimited mileage option for its customers, with fully insured, brand new vehicles. At present, the company has a fleet of 40 vehicles including wagon/state, luxury cars, SUVs and mini-buses. It was pointed out that the firm now has around 20 licensed and experienced drivers.

In addition, he said the firm was keen on promoting Sri Lanka as a leisure destination.

While acknowledging their services are currently based in Nawala, Colombo, Kariyawasan said they hope to expand its services to the Bandaranaike International Airport (BIA) as well as to another downtown locations by early 2018.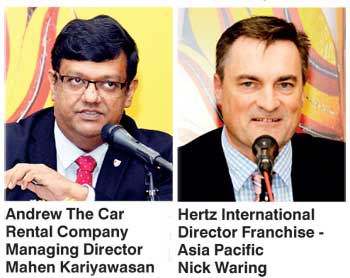 Despite further opportunities to enhance business, he explained high taxes on vehicles and expensive business space at the BIA were highlighted as major concerns of the industry.

He pointed out that Hertz fleets caters to customers who desire to travel in premium comfort and style, while Thrifty provides vehicles appealing to adventure seekers and Dollar offers convenient, no-frills options.

Hertz International Franchise Director - Asia Pacific - Nick Waring said it was exciting to enter Sri Lanka at a time where business is growing in this part of the world.

"We see the business is growing and it was an opportune moment for us to launch in Sri Lanka. We hope the long and successful partnerships with various entities will ensure thriving business," he noted.
Pix by Daminda Harsha Perera