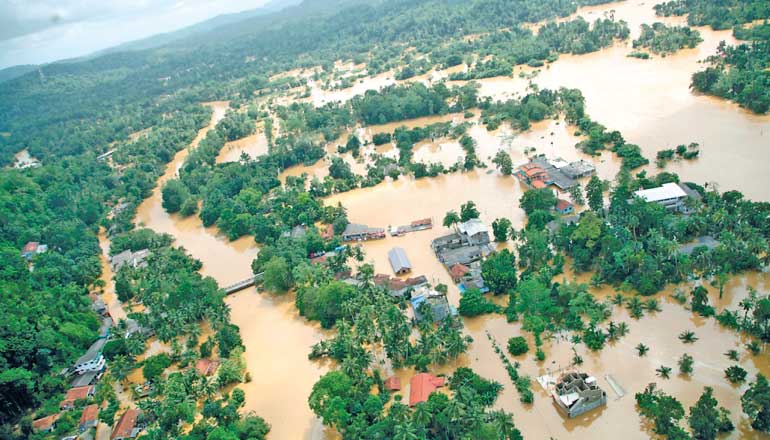 Houses submerged in water following torrential rain caused floods - Pic courtesy Air Force.
SL struggles as monsoonal flood death toll tops 150 with over 100 missing
Nearly half a million displaced
Save the Children says about a tenth of those displaced were children below the age of five
Govt. mounts global appeal for help
Bottled water, clothing and dry rations immediate needs
Over 2,000 houses destroyed
The nationwide despair over the deadly deluge grew yesterday as the death toll from the monsoonal floods and landslides topped the 150 mark, making it the worst disaster from torrential rains since 2003.
Officials last night put the number of dead at 151 with 111 missing or unaccounted for following torrential rain which led to earth slips in 15 districts covering mainly three provinces. Over 90 people were hospitalised.
The number of displaced was nearly half a million as the Government sought global support to manage the relief effort.

Ratnapura suffered the most casualties with 71 dead followed by Kalutara's 43 while in terms of people affected Galle saw over 140,000 people displaced followed by Matara.
President Maithripala Sirisena on Saturday, upon arriving from a State visit to Australia, chaired a top level meeting and ordered immediate relief. Ministers and MPs were also busy visiting affected areas and overseeing relief work, which was largely carried out by the security forces.
While people and civil society groups clamoured to rush essential goods to those displaced by the disaster, the Government mounted a global appeal for help. Closest neighbour India was first to respond by rushing urgent relief supplies over the weekend through two ships while more help is expected today from other friendly nations, with China committing $ 2.2 million worth of relief

support.
The Government has appealed for bottled water, clothing and dry rations for those displaced.

An AFP report said emergency teams on Sunday rushed food and water to half a million Sri Lankans displaced by the island's worst floods for more than a decade, as the death toll climbed to 151.
Government spokesman Rajitha Senaratne said relief operations had intensified following a break in the monsoon rains, with medical teams reinforcing hospitals in affected districts.
The official death toll had climbed to 151 with 111 people still listed as missing, Senaratne said. Another 95 were in hospital.

"Aid is now getting into the remotest areas which remained inaccessible in the past two days," Senaratne told reporters, adding there were help lines people could call if they needed assistance.
Most victims were killed by landslides, not the flood waters, as their homes on hillsides were buried under torrents of mud and rock.

Nearly 2,000 houses were damaged or destroyed. Almost half a million people had been forced from their homes and were sheltering in Government buildings or with friends and relatives.
The floods and landslides in the south and west of the island were the worst for 14 years.
Water levels in Ratnapura, Sri Lanka's gem district east of Colombo, had subsided but many villages in Kalutara, south of the capital, were still under water, officials said.
Residents in the south of the island also face the threat of crocodile attacks after a river known for its dangerous wildlife burst its banks overnight.
Save the Children said about a tenth of those displaced were aged below five. It raised fears of stagnant floodwater becoming breeding grounds for dengue-spreading mosquitoes and noted that young children were more vulnerable.
Medical teams were sent to the worst-hit areas to help prevent an outbreak of waterborne diseases.
"We have the expertise to deal with this situation," Senaratne said, adding that cholera and diarrhoea had been successfully prevented during past floods.
The Government withdrew an evacuation order for thousands of residents in the southern district of Matara as water levels subsided.
Soldiers took advantage of the lull in rains to clear access to most of the affected areas and the military has deployed helicopters, boats and amphibious vehicles to distribute aid pouring in from residents in areas of the country unaffected by floods.

The United Nations said it would donate water containers, water purification tablets and tarpaulin sheets while the World Health Organization will support medical teams in affected areas.
The meteorological department said the rains ended a prolonged drought that had threatened agriculture as well as hydropower generation.
The flooding is the worst since May 2003 when 250 people were killed and 10,000 homes destroyed after a similarly powerful monsoon, officials said.

Monsoon rains last year caused flooding and landslides, killing more than 100 people.

Major General Sudantha Ranasinghe, who is heading the search and rescue mission, told the AP news agency that he does not expect to find any more survivors.
"The situation is very dire," Al Jazeera's Minelle Fernandez, reporting from Matara in southern Sri Lanka, said. "The water levels are receding, but very slowly."
"The sheer scale and number of landslides as well as flooding around the country have stretched authorities," she said, adding that entire villages are still under water.