Crosses Rs. 100 billion turnover to finish 2016/17 with Rs. 111.4 b, up by 21% over the previous year
Posts highest ever pre-tax profit of Rs. 7.03 b; results from operating activities up 14% to Rs. 9.67 b
Leading Sri Lankan conglomerate Hayleys Plc said yesterday it had concluded the 2016/17 financial year with its strongest performance to date, setting a new benchmark for turnover among listed Sri Lankan corporates.

Revenue during the year increased by 21% Year-on-Year (YoY) to Rs. 111.4 billion supported by strong performances across the group's core businesses spanning transportation, purification, agriculture, construction materials and power and energy. This led to a substantial 14% YoY improvement in the group's results from operating activities, which closed the year at Rs. 9.67 billion.

These remarkable performances enabled the group to cross another important milestone during the year to post its highest ever Profit Before Tax of Rs. 7.03 billion.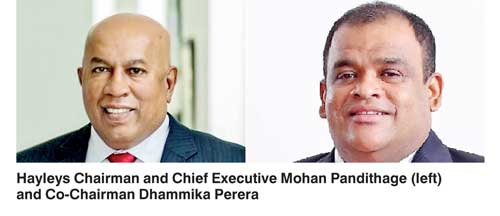 "We take great satisfaction and encouragement from the outstanding performance of the Hayleys Group over the last financial year.

The strength, vitality and innovative spirit of our group continue to be demonstrated through our record-breaking revenues and PBT, and in the many other remarkable milestones achieved during the year. In this regard we wish to commend the efforts of our employees across the Hayleys Group. It is through their skill and dedication that we continue to thrive in the domestic and international markets. Moving forward we will continue to consolidate our operations with a view to further strengthening overall profitability while also exploring opportunities to expand growth within our current business segments," Hayleys Plc Chairman and Chief Executive Mohan Pandithage stated.

All of the group's top five performing sectors were able to register PBTs in excess of Rs. 1 billion. Transportation and logistics recorded a PBT of Rs. 1.79 billion, purification products posted a PBT of Rs. 1.18 billion and the group's agriculture segment achieved a PBT of Rs. 1.1 billion.

The group's power and energy sector achieved a PBT of Rs. 1.02 billion whilst commissioning one of Sri Lanka's largest solar power plants of 10 MW during the year. The construction materials segment posted a PBT of Rs. 1.02 billion during the period under review.

Over the final quarter of the year, the group's performance received a strong boost, particularly from its agriculture, construction and transport segments, to finally register turnover growth of 19% YoY up to Rs. 29.2 billion while results from operating activities rose to Rs. 3.52 billion, reflecting 24% YoY growth. Similarly, PBT for the final quarter rose by 9% YoY to Rs. 2.96 billion.

Hayleys Global Beverages, a state-of-the-art manufacturing facility producing tea extracts which include tea powder, concentrates and aroma, commenced commercial operations during the year.

In addition to the group's outstanding financial performance, during the financial year Hayleys also set new benchmarks in triple bottom line achievements by winning the Best Corporate Citizen Award awarded by the Ceylon Chamber of Commerce for the fifth time. Also notable was the Gold Award for Sustainability Reporting at the CA Sri Lanka Annual Report Awards 2016.

The Hayleys Group's flagship CSR initiative Sathdiyawara supports 16 villages, 25,500 people, operating 11 reverse osmosis water purification plants, contributing to Sri Lanka's national goal of mitigating the spread of Chronic Kidney Disease (CKD).

The Hayleys Group's sustainability initiatives were further bolstered by its pioneering new 'Jeevadhara' program providing one million Moringa plants to families in Jaffna and areas of the Northern Province via a network of 100,000 outgrowers, with a view to supplementing rural livelihoods and nutrition.

Established in 1878, Hayleys Plc is one of Sri Lanka's largest multinational business conglomerates driving a globally competitive business portfolio cutting across manufacturing, agriculture and services. The group is internationally recognised as a leader in innovation and currently operates manufacturing facilities in Indonesia and Thailand, and marketing operations in Australia, India, Bangladesh, Italy, Japan, The Netherlands, the UK and the US and offers transportation and logistics solutions in the Maldives, Myanmar, India, Singapore, Indonesia and Malaysia.

The group accounts for approximately 3.53% of Sri Lanka's export income and 3.4% of tea and 3.8% of rubber production.

The Board of Directors of Hayleys Plc comprises Chairman and Chief Executive Mohan Pandithage, Co-Chairman Dhammika Perera, Rizvi Zaheed, Sarath Ganegoda, Rajitha Kariyawasan, Dr. Harsha Cabral PC, Dr. Mahesha Ranasoma, Lalin Samarawickrama, Ruwan Waidyaratne, Hisham Jamaldeen , Aravinda Perera and Noel Joseph.