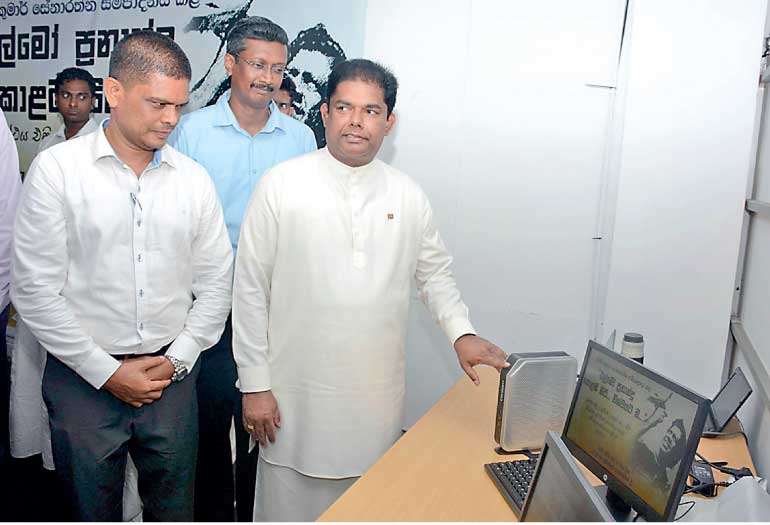 From left: Rangana Fernando, son of the late Elmo Fernando, Sri Lanka Press Institute CEO Kumar Lopez and Media and Parliamentary Reforms Minister Gayantha Karunathilaka – Pic by Akila Jayawardana
The Sri Lanka Press Institute (SLPI) has launched a Hot Desk, giving journalists on the move a place and computer to do their work. The computers were donated by Rangana Fernando in memory of his late father Elmo Fernando, who was the former BBC correspondent in Sri Lanka.

The computers were handed over at a ceremony held at the SLPI on Tuesday, 16 May, to launch the biography of the late Elmo Fernando. The Minster of Media and Parliamentary Reforms Gayantha Karunathilaka was the Chief Guest at the event.

The concept of the Hot Desk is to provide journalists on the move with a location with computers and internet facilities to report and research information to support their work. This initiative has also enabled the SLPI to be a Wi-Fi zone where journalists can also bring their own devices and work from its premises.

SLPI CEO Kumar Lopez said: "The SLPI is a place which the media community patronises often and this facility will be of much support to journalists and students of journalism."

Journalists on the move can access this facility by producing their media card at the SLPI, which is located at No. 96, Kirula Road, Colombo 5.