President Maithripala Sirisena yesterday said that the Government is committed to strengthening the tri-forces and fulfilling its duty on national security, regardless of all criticism.

Speaking at the National War Heroes' Commemoration Ceremony 2017 held in front of the War Heroes' Memorial near the Parliament Grounds yesterday, the President said that the Government will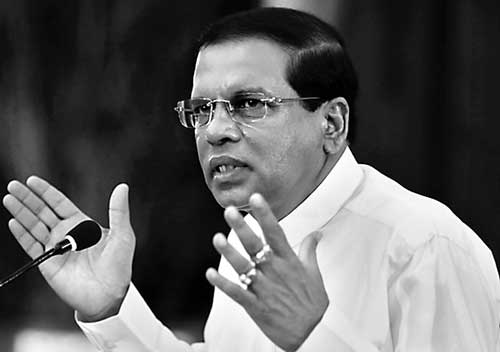 fulfil its responsibilities towards the fallen and disabled soldiers of the 30-year- long war.

The Government will also look after the welfare of Tri-Forces members who are in service at present, the President added.

The President said that over the past two and half years the Government has implemented a number of new programs focused on the welfare of soldiers who served the country, adding that at present a program to provide houses for every member of the forces has been implemented.

President Sirisena commended the great service rendered by the members of the tri-forces not only in the issue of national security but also other national initiatives including drug prevention activities, development work and social welfare.

President Sirisena paid floral tributes to the fallen soldiers at the War Heroes memorial, built to commemorate those who sacrificed their lives to protect the motherland.

The Maha Sangha, other religious leaders, Governors, Ministers and MPs, Secretary to the President, Secretary to the Ministry of Defence, public servants, Heads of Security Services including the Tri-Forces Commanders and family members of war heroes also took part in the event.