Chairman of Asia Pacific tourism grouping predicts only 3.7 m arrivals by 2021 whereas Govt. is targeting 4.5 m figure by 2020
PATA forecasts 10.4% average growth in tourist arrivals in Sri Lanka between 2017 and 2021
However Sri Lanka's growth well above South Asia's average of 7.5% per annum and Southeast Asia's 6.6% forecast
PATA says imperative stakeholders from both public and private sectors work in collaboration for the benefit of the sustainable tourism industry of Sri Lanka
Minister John Amaratunga highlights Sri Lanka's increasing dependence on tourism industry to deliver it from economic woes
By Charumini de Silva

Asia Pacific tourism's industry grouping is forecasting a much lower tourist arrivals in Sri Lanka over the next five years than the more optimistic estimate of the Government though the island nation will be among top performers.

The Pacific Asia Travel Association (PATA) yesterday shared its forecast for 2017-2021 at a top gathering of tourism leaders from the region in Negombo though subject Minister John Amaratunga sounded confident.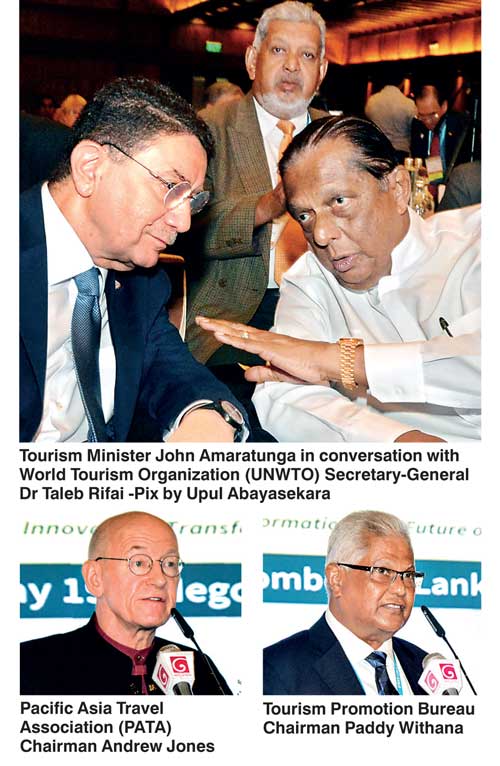 "According to PATA's upcoming Asia Pacific business forecast of 2017 -2021, international visitor arrivals in Sri Lanka will continue to grow at an average of 10.4% annually between 2017 to 2021. It is expected to reach nearly 3.7 million in tourist arrivals by 2021," PATA Chairman Andrew Jones said in remarks at its Annual Summit at Jetwing Beach in Negombo yesterday.

This is lower than the Government target of 4.5 million tourist arrivals by 2020.

PATA expects annual growth in international visitor arrivals to Asia Pacific to reach 6% in 2017 and continue at 5% per annum to 2021. In that context Sri Lanka's growth will above South Asia's average of 7.5% per annum and Southeast Asia's 6.6% though both are among the fastest growing destination sub-regions between 2016 and 2021 according to PATA.

Tourist arrivals to Sri Lanka crossed the 2 million milestone for the first time in the history, reaching 2,050,832 arrivals, recording an impressive annual growth of 14% in 2016. Post-war Sri Lanka has enjoyed 93-month streak of tourist increases until February this year when arrivals were impacted because of partial closure of Bandaranaike International Airport.

PATA's Jones said at yesterday's forum that for Sri Lanka a significant increase is expected from China, which will the largest inbound market from 2017 onwards.

With this expected growth, Jones said it is imperative that stakeholders from both public and private sectors need to work in collaboration for the benefit of the sustainable tourism industry of Sri Lanka.

He also commended all PATA members for their passion and dedication for the responsible development of the travel and tourism industry over the years.

Noting that Sri Lanka has been a longstanding member since 1962, he said the country has a very strong PATA chapter and extended an invitation to the stakeholders to enjoy the warm hospitality of Sri Lanka.

Tourism Development Minister John Amaratunga said Sri Lanka is increasingly depending on its tourism industry to deliver it from its economic woes.

"Last year Sri Lanka is earned $3.7 billion, which helped to offset 41% of our balance of payments (BoP) deficit. Tourism earnings are now higher than all our agricultural and industrial exports. This year we hope to achieve $4 billion in earnings," he noted.

Amaratunga said this year's PATA Summit theme 'Disruption. Innovation. Transformation: The Future of Tourism' is extremely timely given the fact that the disruption is real and already affecting the industry in a major way and added that the summit was one of the best things that have happened to tourism in Sri Lanka in the recent past.

"This summit will no doubt show the way forward for destinations, hotels, airlines tour operators, to transform quickly and capture the technological wave that is sweeping the globe."

The Minister said that huge advertising budgets and mega multimillion dollar campaigns can no longer guarantee results in an industry where social media has levelled the playing field, adding that Sri Lanka is a shining example of this phenomenon.

"I would like to point out that except for a brief international media campaign in 2014, this growth is has essentially been driven by word of mouth on social media. Just seven years ago we had less than 500,000 tourists arriving in the country, today that figure has risen to over 2 million," he added.

He pointed out social media as the biggest disruption, which is radically changing the traditional tourism model.

Technology could be identified as a primary resource which will help identify the key motivators that drive tourists to select a particular destination and therefore, he said, it is profoundly important to learn how this technology could be leveraged to obtain maximum results for the country.

"In the end the ultimate winners in the global race to attract two billion travellers in the next 15 years will be the destinations that optimise the way they communicate with the evolving traveller," he stressed.

According to the UNWTO forecasts, international travel will reach two billion travellers from the current 1.3 billion in the 15 years. These two billion travellers will head to destinations that create market share by strategically investing in sustainable tourism.
---
Cabinet approves over 56 hectares of Kalpitiya land for tourism
The Government has initiated a fresh plan to develop new tourist destinations and infrastructure to attract high end tourists to Kalpitiya.

Identifying the need to develop the infrastructure in the Kalpitiya area which has attracted both local and foreign tourists in the resent times, Prime Minister Ranil Wickremesinghe as the National Policies and Economic Affairs Minister presented a paper to develop five land plots with an extent of 56.35 hectares in the Kalpitiya Divisional Secretary for tourism related projects.

Stressing that the existing facilities are currently unable to meet the demand of high end tourists, he said that the land area will be utilised by Sri Lanka Tourism Development Authority to develop hotels and other related facilities.