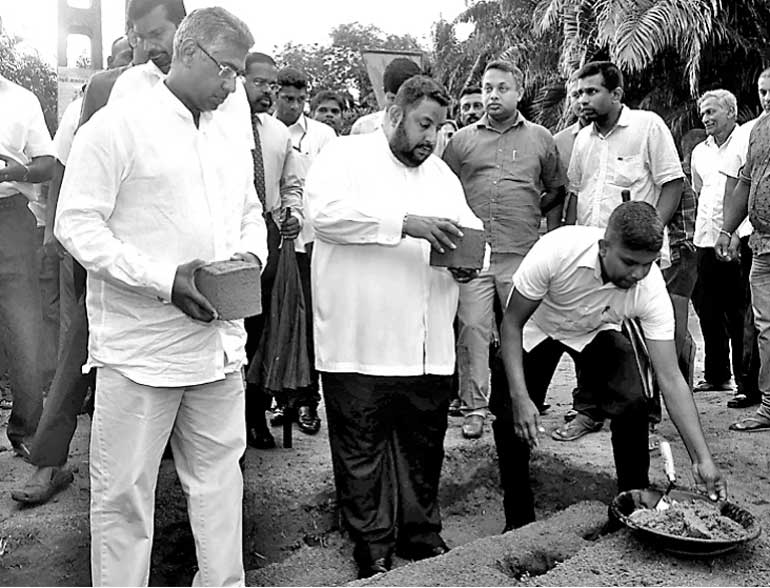 The Rural Roads and Bridges Development Project implemented and carried out by the Ministry of Provincial Councils and Local Government yesterday initiated another two projects to construct rural bridges at Nagoda and Yakkalamulla areas in Galle District.

Attending the inauguration ceremony which was held yesterday, Minister Faiszer Musthapha addressed the gathering: "The Government we have today was appointed by the general public themselves. We too joined hands together with President Maithripala Sirisena for the betterment of all of you. This is why we could initiate such rural development projects for you."

"It is essential to uplift the infrastructure in here, as Galle is a district which supports the economy of our country. Deputy Minister Nishantha Muthuhettigama, who is my friend, knows well about the needs of this area and act accordingly without expecting any political benefits. I will support him in any means to carry out his development procedure. Most of the people say that the Government is useless. But President Maithripala Sirisena is a maturate politician. His concept is 'good governance'. His upmost vision is to support the general public to accomplish their needs while protecting the democracy of the country."

The Ministry of Provincial Councils and Local Government has allocated Rs. 53 million to construct bridges in Udugama, Aluthwatta, Galle and Kalumada, Yakkalamulla. Late Minister Amarasiri Dodangoda had pointed out the need of these bridges, but it had been inactive so far. Minister Faiszer Musthapha took immediate steps to provide necessary provisions to initiate this project.

Southern Provincial Councilor Sumanasiri Liyanage, former Chairman of the Nagoda Pradeshiya Sabha Ajith Endera Arachchi and some regional politicians attended this ceremony.