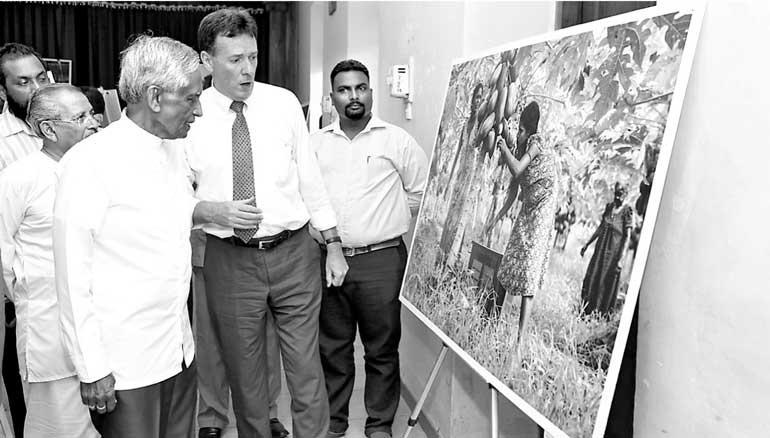 Australian High Commissioner Bryce Hutchesson launched a photographic exhibition at the Trincomalee Urban Council on 16 May celebrating 70 years of development cooperation between Australia and Sri Lanka.

Over the last seven decades, Australia has supported Sri Lanka's development island-wide, including in the East. The exhibition highlights how Sri Lankans have benefited from the humanitarian, health, education and employment projects delivered by Australian aid.



"Partnerships with all levels of government, civil society, the private sector and NGOs have been central to the success of these programs," said Hutchesson.

The exhibition also captures the future of Australia's development cooperation in Sri Lanka.

"Many of our new programs focus on partnering with the private sector in innovative ways to create more and better jobs and opportunities for all Sri Lankans, especially women," said Hutchesson.

"We are particularly excited about our new Skills for Inclusive Growth Program, which will create jobs in the tourism sector through skills development in the Eastern Province and Polonnaruwa District."Education has been an important feature of Australia's development assistance. "Through our partnerships we have re-built schools, developed curriculum, trained teachers and improved access for boys and girls," said Hutchesson.

The Australian Government has provided scholarships for over 1,000 young Sri Lankans to study in Australian universities.

Australia has also long supported the development of Sri Lanka's agricultural sector. Since the end of the conflict, we have provided much needed assistance for demining, new housing, rebuilding of schools, roads, market places and created new jobs.

Similarly, post-tsunami, Australia assisted with a range of reconstruction efforts.

The exhibition also celebrates, with a series of select portraits, the significant contribution Sri Lankans have made to Australian society. "These portraits showcase just a small representation of the large and vibrant Sri Lankan community that has contributed so significantly and positively to Australia's multicultural life," said Hutchesson.

The exhibition is open to the public from 17 to 20 May at the Trincomalee Urban Council.