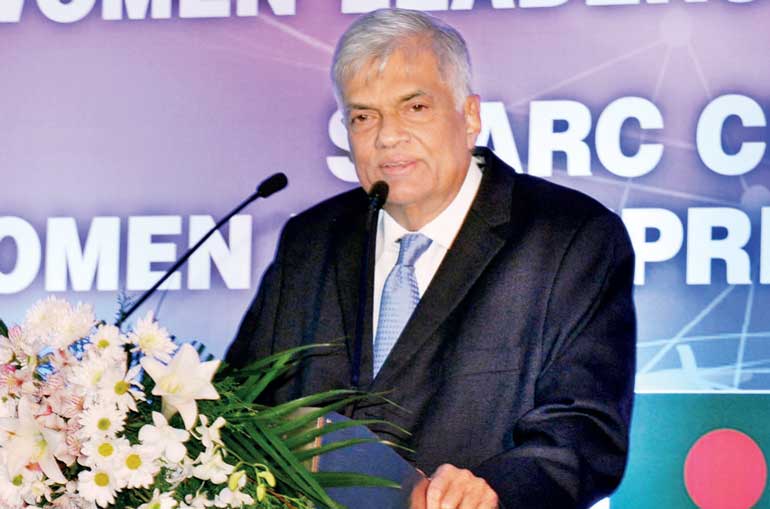 Prime Minister Ranil Wickremesinghe addresses the inauguration ceremony of SAARC Women Leadership Summit 2017 - Pic by Lasantha Kumara.
​
Emphasises exports key to resolve serious Balance of Payments, debt servicing problems and women migrating for jobs
Assures deepening of trade ties with India and China will be in a phased out manner
Local industries and entrepreneurs to be supported and encouraged to become exporters
By Charumini de Silva

Hot on the heels of Sri Lanka securing the crucial GSP+ boost, Prime Minister Ranil Wickremesinghe yesterday said that the United Kingdom has promised to extend duty free access even after it exits the European Union.

"We have been assured by the UK that although they leave the European Union, trade preferences already enjoyed by the country will be maintained. This is one of the richest markets in the world," the Prime Minister said during his address at the SAARC Women Leadership Summit 2017 yesterday in Colombo.

EU is Sri Lanka's biggest market with $ 3 billion worth of exports, of which UK buys most with $ 1 billion.

Wickremesinghe said regaining GSP+ was a significant achievement as it would mark the beginning of Sri Lanka becoming an export-oriented economy.

He pointed out that the serious Balance of Payment (BoP) problem and debt servicing could only be resolved by increasing the country's exports, which also resolves the connected question of remuneration for workers which seems to be a vicious circle.

"We can no longer send large numbers of our females to go abroad and work in domestic positions just because we did not have the courage to become exporters," the Premier stressed.

In a two-way approach to expand exports he said: "Firstly we will ask the existing exporters to utilise GSP+ to leverage their volumes and earnings. Secondly, we will ask our domestic manufacturers to become exporters."

The Prime Minister assured that the Government would provide its fullest support to local entrepreneurs and businesses by way of tax incentives, trade adjustment packages and other facilities. "We will help them. Many of the domestic manufactures are quite close to becoming exporters. It is a few more steps and our job is to encourage them."

He also acknowledged that Sri Lanka was in the process of discussing deepening some of the existing free trade agreements (FTAs), which would greatly benefit domestic enterprises.

"These (FTAs) are not going to come into effect overnight destroying our domestic industries. We are spreading it out, sometimes over 10 years so that there is time for them to adjust and become more competitive," he explained.

In addition to the exports, Wickremesinghe said the Government was also focusing on new sectors such as encouraging foreign direct investments (FDIs) which include low-hanging fruits like tourism and the digital economy.

"In order to attract FDIs, to enable our existing manufacturers, existing tourist entrepreneurs, existing entrepreneurs involved in the digital space, we want to ensure that we create a better policy environment. Tourism has the potential in the short term to generate employment and income. This is to make Sri Lanka the hub of Indian Ocean," he stated.

To become a hub against this backdrop, the Premier highlighted the importance of ensuring connectivity by becoming a logistics centre for shipping and airlines.

"We are having a South West Economic Corridor starting from Kandy going all the way to Hambantota, which has two airports and harbours. Then we will develop the North East and around Trincomalee planning has commenced. This is an area where there will be hard infrastructure development and a focus on logistics connectivity," Wickremesinghe pointed out.

Furthermore, he said that the process of setting up the offshore financial sector in the Colombo Port City was in the offing, adding that the Government was in discussions with different parties in getting the legislation and framework ready.

He also assured that administrative barriers and red tape would be removed to ensure the ease of doing business while enabling banks to be more competitive.

"These are the measures that we will take in the next year because we want to achieve a high rate of growth and sustainability. There are some we can achieve as the hub of the Indian Ocean, but others we must achieve as a region. Therefore, South Asian enterprises can help all of us to sustain growth," the Prime Minister stressed.