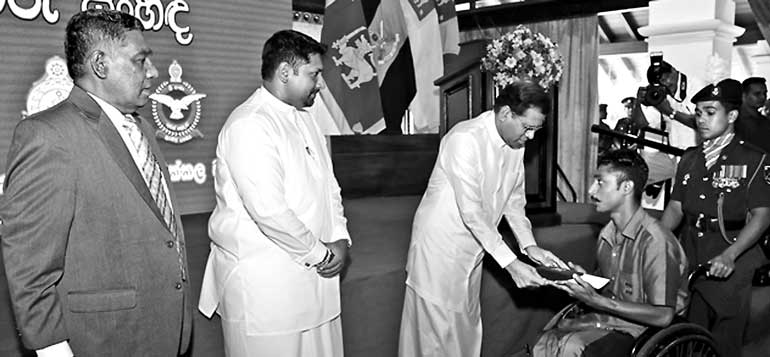 President Maithripala Sirisena was the chief guest at the 'Sathwiru Sanhinda' house handing over ceremony held at the Ape Gama in Battaramulla this week. State Minister of Defence Ruwan Wijewardene and Secretary to the Ministry of Defence Eng. Karunasena Hettiarachchi were also present at the occasion.

Making a brief welcome address, Secretary Hettiarachchi welcomed the distinguished guests and highlighted the objectives of the noble project. Speaking at the event President Sirisena highlighted that providing welfare and honour for war heroes is an utmost charitable cause to attend on the Vesak Poya Day.

The President said that, each and every person who values peace, democracy, independence and territorial integrity of the country should always respect and honour the war heroes who defeated the ruthless terrorist from the nation. Focusing on ongoing welfare projects for war heroes and their family members, the President noted that the welfare projects that are conducted by the Ministry of Defence have significantly increased during the last two and half years.

Further speaking the President said that, the amount of training and development for military forces has also been increased to raise standards and knowledge of military personnel who are currently on active service.

In conclusion the President said that the service rendered by the military personnel in protecting the country will always be in our hearts and minds, and will always uplift the ongoing welfare projects for the benefit of war heroes.

During the ceremony, 90 fully built houses, 503 partly funded houses and 65 land plots were presented to family members of fallen war heroes, disabled war heroes and to a section of selected serving security forces personnel. Over 77 children from war hero families who had excelled at the Grade 5 Scholarship Examination also received educational scholarships at the event.

Chairperson of the Seva Vanitha Unit of the Ministry of Defence Wasantha Gunawardena, Chief of Defence Staff, tri forces commanders, Director General of CSD, Chairperson of the Ranaviru Seva Authority, senior MoD officials, senior military officers and beneficiaries with their family members were present at the occasion.