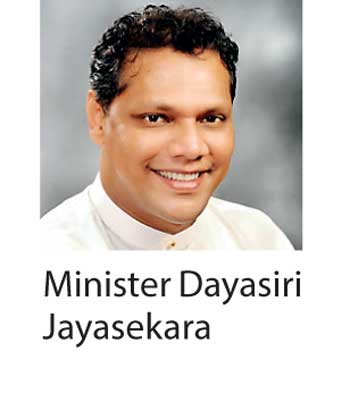 Cautioning against the unchecked verbatim adoption of foreign legislation, a senior Minister yesterday said that the proposed Inland Revenue Act was approved by Cabinet subject to amendment.

Responding to questions raised at a forum held to obtain public opinion on international trade policy, Sports Minister Dayasiri Jayasekara said that the process of making amendments to the draft Act will need to be carried out in Parliament, after which further matters can be ironed out.

"This is why I say we can't cut and paste these things from other countries," he said. The controversial draft Act has been criticised by sections of the media as being a carbon copy, almost word for word, of the Inland Revenue Act of Ghana drafted by the International Monetary Fund (IMF).

"This is a cut-and-paste thing. I have opposed this before. Some old white men from the IMF or the World Bank tell us that this should be Sri Lanka's Inland Revenue Act. Don't we have taxation experts of our own in Sri Lanka?" asked Jayasekara.

The draft reportedly includes provisions for the much-needed Capital Gains Tax and also seeks to remove excessive tax incentives and expand existing rules on sources of income. If passed, the Act will further empower the Inland Revenue Department.

The criticism, however, stems from the fact that the draft is reportedly a copy of the model proposed to Ghana by the IMF prepared with that country's economic capacities in mind.

Regardless, the Act will likely be approved subject to amendment, going by Jayasekara's comments.

The Minister was critical of politicians who he said were unable to take criticism.

"It's this inability to take criticism that has cost this country today," he said.

These politicians, he charged, hold their views in high esteem. "Previous governments have been guilty of this. If this Government is also doing the same, the people will respond to that in due course," he said.

"As politicians, let's not be stubborn and let's listen to what civil society organisations and professional bodies have to say and not try to teach them lessons. They may have their own political views, but we have to put the country first and listen to the experts in order to formulate policy that is favourable to the country," he added.