The collapse of the Meethotamulla garbage mountain killed unsuspecting poor and also shocked the politicians who refused to take action for decades – Pix by Shehan Gunasekara
For many families living near the Meethotamulla garbage dump, what should have been a joyous celebration of the Sinhala and Tamil New Year became a nightmare on Friday afternoon when the infamous garbage mountain crashed on their houses in a devastating landslide. Some escaped the disaster while others were caught unawares. Rescuers, who worked through the night, managed to pull out 11 people alive from the rubble and rushed them to the National Hospital.

According to police, the collapse killed nearly 31 people including five children and another seven victims were undergoing treatment at the hospital. The collapsing garbage damaged or destroyed145 houses resulting displacement of 625 people from 180 families. Among the affected is the local Grama Niladhari, along with members of his family.


Garbage mountain

While different parties gave the height of the garbage mountain to be as high as 600 feet, the Minister for Megapolis Patali Champika Ranawaka informed the press that the 21-acre land was expected to be filled only to a height of 30m. But the height of fill had reached 48.5m when collapsed. When the 21 acres was the only land available for dumping garbage, the operators of the waste dump had no option but to go higher.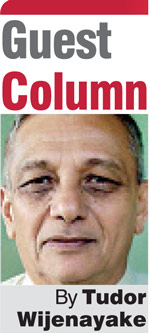 Adjacent to the garbage mountain is a short-cut from Kelani Bridge to Battaramulla and when the writer took the route three weeks ago, at least eleven excavators were working on the dump hill, mixing and compacting the received garbage. Around the garbage mountain roads were cut and maintained for vehicles carrying garbage to climb to the top. Some road sides were very steep. It is these steep cuts at the base that would have initiated the landslide, when upper regions of the garbage mountain got saturated and heavy with rainwater.


Promised action

The Government promised no more garbage will be dumped at Meethotamulla and arrangements were being made to transfer some 500 tons of garbage daily. Meanwhile, Minister Harsha de Silva has informed that the government has identified two temporary sites to dump garbage. "It's ironic that it was only a few weeks back that agreements were signed to begin waste to energy projects to finally deal with this perennial issue." But the promised waste to energy projects would be at least two years away.

He also said that it's unfortunate that even though payments had been made for those families under risk of landslides to move out, some had not done so. They had even been advised to leave as recently as two days ago.


Garbage transport to Puttalam

During the past years plans were made to transport Meethotamulla garbage by train to a landfill at Aruakkalu, north of Puttalam, to be buried in voids created by excavation of limestone and to cover with soil. The cost of the Project was expected to be $ 107 million (Rs.16 billion). The costs exclude transport from collection to loading point, from Aruakkalu station to dumping location and running costs. Project implementation necessitates extension of railway lines and purchase of rolling stock, would be years away.

When the ministers promise to transport Meethotamulla garbage at 500 tons per day, questions remain where would they be dumped, whether environmental approval has been obtained and the reaction of locals.

A better method would be to convert trash into compost at site and transport non-decomposing component to Puttalam.


Brighter side of the catastrophe

Although the death of large number of persons was a tragedy, the event was an eye-opener of everyone who neglected the problem for many decades. Pradeshiya Sabhas, Local Governments, Provincial Governments, from various line Ministers to the Minister for Environment who happened to be the President are directly responsible and are forced to find a solution to the problem.


Article on Daily FT

My thoughts of garbage problem and proposed solutions were published in Daily FT, on 1 October 2014 and are available on wwwft.lk/2014/10/01/garbage-transformation-from-liability-to-asset. My proposals were based on disposal of garbage by converting into compost and using for cultivation purposes.

However, the article received no response from the Government, very few from public and now with the catastrophe there should be better responsible reactions.


Past actions

Colombo until a decade ago was a stinking mess with its streets strewn with trash and the Beira Lake used as a dumping yard for the slums occupying the lake edge. It was transformed to the current stage by the last Defence Secretary, Gotabaya Rajapaksa, who stepped in to supervise trash collection and street cleaning, along with cracking down on public who dumped refuse in public places. However, the CMC's collected refuse remain dumped at different locations, while the former Bloemendahl garbage dump has been abandoned and shifted to Meethotamulla.

At present 700 metric tons of solid waste is collected in Colombo each day, while 1,200 metric tons are collected from other urbanised local authorities as Nugegoda, Kaduwela, Moratuwa, Ratmalana, Mt. Lavinia, Ja-Ela and Kolonnawa.


Garbage problem

Waste produced by the populace needs to be collected and disposed. For a long period public were educated in separating types of garbage. While Municipal Councils, etc. collect garbage, they do not differentiate between separated items.

The disposal of collected garbage can be achieved in several ways

(a) burying inside ground

(b) burning

(c) burning to produce electricity and

(d) conversion to compost.


Creation of garbage

In Sri Lanka, each household generates 0.7 to 1 kg of garbage a day, comprising of 80-90% organic matter which are biologically degradable, along with varying components of paper, plastic, glass, metal and e-waste. In addition hotels, fish and meat sales points, debris decompose fast, but produce an unpleasant smell. Also waste from hospitals and nursing homes need disposal.


Burying inside ground

Burying garbage is no easy task as discovered in the attempt to do so in land-fill in Aruakkalu in Puttalam district. In addition, leachate formed during the decomposing process seeps through the ground creating water pollution. Decomposing garbage results air polluting emissions as methane, ammonia, hydrogen sulphide and leads to global warming, in addition encourage stray cats, dogs, rats and mosquitoes.


Burning

Decades ago CMC used number of incinerators to burn the garbage. However, the incinerators could only handle small quantities and were discontinued due to public protests. Burning also release toxic gases and smoke, resulting in atmospheric pollution.


Burning to produce electricity

Local garbage, which contains 70-80% vegetable-matter with a high content of water, is considered unsuitable for burning unless dried or turned into compost and dried. In developed countries garbage is burnet at high temperature avoiding pollutants to produce electricity. But in those countries garbage contains high component of paper, etc., which are separated at source.

Thus plastics and glass could be recycled, burnable items as paper and cardboard if separated at source could be burned at high temperature in plants to produce electricity, as numbers of prospective investors have indicated.


Composting garbage

In nature's way of composting, leaves falling to ground soon rot, returning their nutrients to the trees which bore them. Similarly garbage too could be converted into compost. Composting collected garbage have been successfully practiced in few local government councils with Balangoda Urban Council in Ratnapura District paving the way, Bandaragama and Horana councils along with some others making some progress, where garbage is recycled in an eco-friendly manner.

Solid Waste Management Unit run by Balangoda Urban Council have been the torchbearer in the field, operating since 2003. They have been successful in the sale of their final product – compost as well as by-products. The Council was awarded the National Productivity Award in 2005. Other councils too could learn from them.


Getting rid of compost

When Colombo collects nearly 750 tons of garbage per day, total garbage in Colombo District may exceed 2,000 tons, which may lead to 1,000 tons of compost per day. In addition the garbage mountain at Meethotamulla, Bloemendahl, Karadiyana all have a large volume of collected garbage, most already converted into compost naturally, over the years. Thus biggest problem would be to get rid of the produced compost. Over the years no information was given of the availability of compost to public.

Electricity produced by burning waste paper will cost far higher than hydro-power or coal. Proposed transfer of garbage to Puttalam was expected to cost Rs.16 billion plus running costs. Thus in every method of garbage disposal government will incur a cost. The cheapest way of disposing garbage is conversion to compost. The refusal of government to bear a part of composting cost, difficulties in disposal of final product, resulted non-expansion of composting facilities by the local Government institutions.

Thus the Government has to bear part of the composting costs and offer compost to public free or at a nominal price to encourage compost usage.


Cleaning and packing

Existing garbage in mountains are years old and have already been converted into compost could be issued to prospective customers. Prior to disposal compost need to be cleaned from impurities as polythene, cloth, plastics, metal pieces, etc. and packed suitably. This could be easily done by sieving, in rotating sieves similar to those used in metal crushers and packed in polysack bags. There are numbers of fabricators in the country capable of turning out sieves for separation. The existing plants owned by local authorities need to be helped to expand their compost production and in turn they will share their knowledge and experience with others.


Receivers of compost

If given free or at nominal cost sieved compost would be accepted by coconut, pineapple and vegetable cultivators and home gardens and they will be prepared to pay the transport costs. Estate owners would accept lorry loads of cleaned compost without further packing. Small lorry owners would fill poly-sack bags with compost and sell them to consumers around Rs.100 a bag.

In the long run even given free, cultivator's requirement may not consume the total produced compost. In addition Meethotamulla, Karadiyana and Bloemendahl mountains have colossal quantities to be disposed. As such new consumers need to be found.


Port City to rescue

The possible largest customer for compost on the horizon is the Port City, which is expected to have gardens eight times the size of Galle Face Green. Port City is built with filled sea-sand and the ideal composition to grow plants and trees would be to mix with a layer of compost. One foot layer of compost mixed into the sea sand would form an ideal growing medium. But Port City's requirement would be at least one year away.

If discussions are conducted with the management of Port City, they could import equipment to sieve the rotten garbage and will collect their requirement when the need arises. If Port City agrees, entire Meethotamulla mountain would be cleared in less than two years from now. Chinese after collecting their requirement would agree to donate the sieving equipment to Sri Lanka.


Organic paddy and vegetable cultivation

Today, most supermarkets offer organically grown indigenous rice varieties, vegetables and fruits, and consumers willing pay premium prices. These items could ideally be produced with compost provided by the Government. This trend could be made use to dispose compost from manufacturing plants around the country.


Replacing imported chemical fertiliser

Currently all chemical fertilisers are imported and chemicals have been found guilty of resulting kidney diseases in the dry-zone. Thus throughout the country compost could replace part of the chemical fertiliser usage, giving plants a better fertiliser mix while saving valuable foreign exchange.


Grass cultivation for milk production

In Colombo and Gampaha Districts over 80% of paddy fields lie idle, although current laws allow such lands be taken over by the Government. These unused paddy fields can be brought under cultivation of paddy, vegetables or grass. Grass could be harvested mechanically to feed cattle, who in turn will yield milk for the populace for consumption.

Public are reluctant to consume milk from small farmers due to concerns of hygiene; small farms with few milking cows, milked by hand, using unclean containers comes to mind. For fresh milk to be acceptable to the consumer, such farming units should convert to mechanised milking. According to the Internet mechanised milking machine prices start from $ 500 or Rs. 75,000 duty free, would not be beyond a prospective small investor.


The proposed dairies

would be

1.Current large milk producers who can start pilot units in each district.

2.Farmers who already have few cattle

3.Current land owners wishing to commence dairying

4.New ventures

Idling paddy lands could be acquired by the government and avail to Companies producing milk products to establish milk based factories; also to raise cattle fed on grass from former paddy fields. They will run cattle farms, buy milk from small producers, also buy grass from small cultivators.

In addition, local cattle farmers too could allocated idling paddy fields for grass cultivation, produce milk and sell them directly to consumers. Local fresh milk to consumers at cheaper prices will create a set of self-sustaining entrepreneurs, saving foreign exchange to the country.


Options available

The Government's proposal to solve garbage problem by transporting to Puttalam is years away and will cost over Rs. 16 billion plus running costs. The proposal to transfer Meethotamulla garbage to other locations at 500 tons per day would be costly and has already met with people's protests.

The announced two projects to produce electricity from garbage are minimum two years away, and already one investor has been rejected by UDA. But the plants could utilise combustible garbage such as waste paper.

Thus the most practical and cheapest option available would be to convert garbage to compost, for which know-how is already available. But the available plants need to be expanded to handle larger volumes of garbage.

In Meethotamulla, Karadiyana and Bloemendahl, large separators need to be installed to separate polythene, glass and metal from compost. Plantations and land owners would queue to accept truckloads of compost. For smaller users compost would have to be packed for which they would pay. Thus, the Government does not have to bear the transport costs.

If the Government accepts and announce the policy of garbage converting to compost and offer subsidised compost for paddy, vegetable and fodder cultivations; also acquire and distribute idling paddy fields for cattle rearing and milk production, substantial percentage of existing paddy land owners too would start cultivating their fields.


Green Sri Lanka

The collapse of the Meethotamulla garbage mountain killed unsuspecting poor and also shocked the politicians who refused to take action for decades. The Government should immediately issue a policy statement accepting compost production and usage; and follow up with a working programme including additional financial assistance to set up and expand composting facilities at local government level. Composting is the least cost and most beneficial way of disposing garbage, also is the most environmentally friendly.

Proper implementation of the above proposals would convert garbage from a liability into an asset, the country would become cleaner and garbage mountains would disappear. Abandoned paddy fields from being an eye-sore would yield income to owners and create employment, supply organically grown rice, vegetables, fruits and offer lower cost fresh milk ensuring country becoming self-sufficient in milk.

Usage of compost will reduce fertiliser imports and usage, reduce kidney problems among farming communities. People would become more concerned of environment, home gardens will increase, polythene usage will reduce, consume more organically grown food and fresh milk leading Sri Lanka towards a green country.