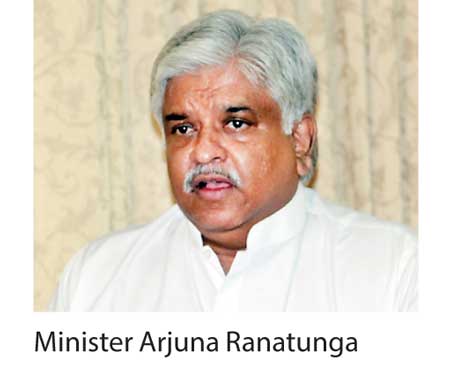 A sourly disappointed Arjuna Ranatunga yesterday levelled scathing criticism against ministers of the current Government, alleging that they were working with individuals who were engaged in business with the Rajapaksa regime.

In a bitter tone, the Ports and Shipping Minister went on to say that those who stole from the Ports Authority while in the previous Government had now joined Chinese companies lobbying with the current Government.

"I am greatly disillusioned," the Minister said while speaking at a media conference held at the ministry.

"Those who struck deals with the previous Government are now lobbying with ministers of this Government. Those who stole during the last regime have not been punished. They have evaded any form of punitive action."

He alleged that corrupt individuals working for Chinese firms had gotten around a number of ministers in the current Government as well.

Ranatunga, who was one of the first five to defect from the former regime along with President Maithripala Sirisena, also claimed that although they came with promises to stop corruption and those who were guilty, they have been unable to do so.

Shutting down speculation that he was planning to resign from his ministerial portfolio, he said he was not ready to give up the fight. "If I give the post up it would be so easy for them to just sell this. That is what they want. If I leave then it would be easy for them to sign the agreement, and later give Mahinda Rajapaksa also something. I have not abandoned my fight yet. There are more changes that need to be made," he said.