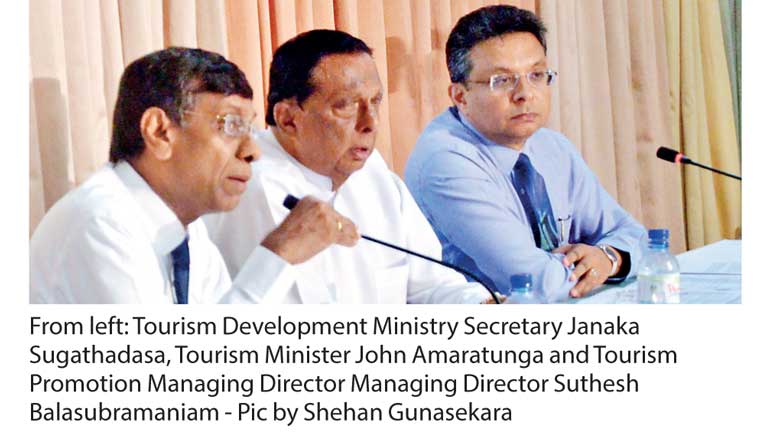 By Charumini de Silva

Promotional campaigns of Sri Lanka Tourism are being stifled due to unpaid bills running into Rs. 500 million, owed to three international broadcasting agencies, while the institution is also grappling with Rs. 600 million in additional liabilities owing to issues in procedures followed in retaining the services.

Tourism Development Ministry Secretary Janaka Sugathadasa explained that the overdue bills were for the period from September 2014 to March 2015, for marketing done on Aljazeera, Sky News and Bloomberg.

"We have to settle little over Rs.500 million to three media channels, namely Aljazeera, Sky News and Bloomberg. The details are being presented to the Cabinet seeking approval, which will be settled from the funds of Sri Lanka Promotions Bureau (SLTPB)," he told journalists at a press briefing held yesterday.

According to him, these were direct contracts signed by the previous regime, where the total cost for the entire campaign was over Rs. 700 million out of which Rs. 200 million was settled by the former authorities.

In addition Sugathadasa said the unsettled liabilities of SLTPB added up to Rs.600 million, which had been used for promotional and sponsorship events.

"There are many grey areas in these projects. The nature is not clear, the legality is in question, whether they had valid contracts, necessary approvals taken, tender procedure has been followed and so forth. Most of these are local companies, but there are few foreign companies as well," he added.

Tourism Development Minister John Amarathunga however assured that those broadcasting agencies have agreed to support the new promotions, which will be ready by next month.

"The problem that we faced was that previous regime has embarked on massive promotional campaign and not settled the dues. We are now unable to do our promotions through those agencies. The Secretary prepared a Cabinet paper last week in order to settle these dues. They (agencies) are now prepared to come back and do that publicity for us. In one month, we can get back to that level of publicity again," he said.

However, the Minister admitted that the promotional campaign done conducted by the previous administration had a positive impact on tourist arrivals to Sri Lanka.