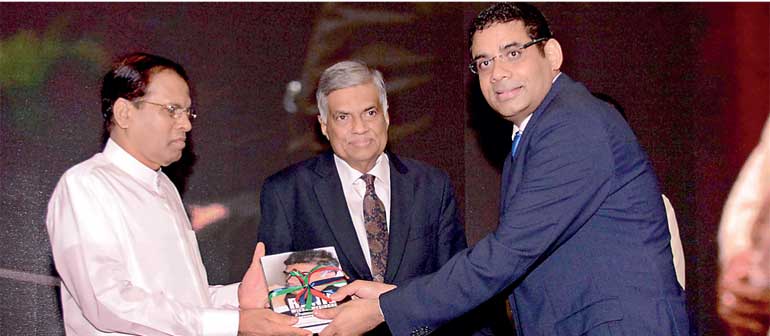 President Maithripala Sirisena receives the first copy of the biography of Ranil Wickremesinghe from author Dinesh Weerakkody at its launch yesterday at the BMICH as the Premier Wickremesinghe looks on - Pix by Pradeep Pathirana
Praise for Prime Minister at launch of his biography authored by Dinesh Weerakkody
Recounting 40 years in politics Ranil says patience is a virtue
Reiterates time for Sri Lanka to write its own success story by uniting to achieve lasting peace and equitable development
Galboda Gnanissara Thera says best tribute to PM is a united Sri Lanka for prosperity and peace
Rajitha says Ranil wasn't a racist but worked with Sinhalese to protect Sri Lanka and its multiethnic identity
By Nisthar Cassim

The launch of a biography on Ranil Wickremesinghe last night at the BMICH saw praise being heaped on the Prime Minister, who credited patience for his success but said that it was time to ensure victory for Sri Lanka by uniting for peace and development.

"There are many who helped me but it is time for all of us to unite for lasting peace and equitable development," the Prime Minister told a packed audience at the BMICH comprising political leaders, clergy, diplomats, business leaders, civil society members and public servants.

"We all, including the main Opposition and other opposition parties, must discuss and move forward jointly. This will be a great victory. Let us all spend the time ahead of us on this challenge and within the next five years create a new political culture, a good Sri Lankan identity and a prosperous economy," the Prime Minster said during his brief speech.
He said Sri Lanka needed to forge ahead by recapturing opportunities lost to the 30-year war. "For this we need unity," the Prime Minister said, recalling how all parties put forward Maithripala Sirisena as a common presidential candidate and formed a national government for at least five years, which was a key achievement.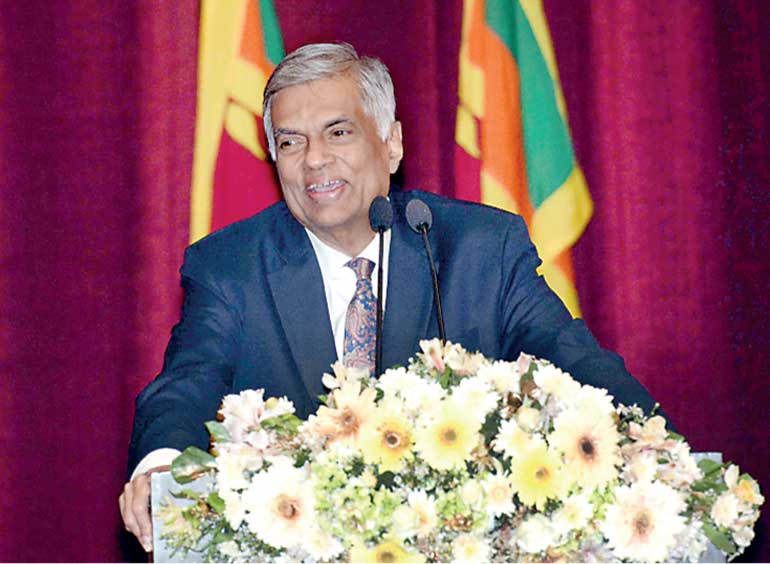 Prime Minister Ranil Wickremesinghe addresses the launch of his biography
Wickremesinghe was the youngest member when he entered Parliament in 1977, followed by the youngest Deputy Minister, Cabinet Minister and eventually Prime Minister.

In response to the address of the event's keynote speaker, Indian MP and world-famous author Dr. Sashi Tharoor, who captured the entire gamut of Indo-Lanka ties, scope for the future and challenges, the Prime Minister said it was time for the South Asian region to regain its global pre-eminence.

"We see a lot of opportunities in the region, the wealth of which helped the West in the past. It is now time for us to ensure we can rebuild the Indian Ocean and strengthen ourselves. There is much more scope for us to work together with India," the Premier said.

"There is nothing for Sri Lankans to fear. It is not that our markets will be taken over by Indians but it is a question of win-win for both," Wickremesinghe said, referring to the need to expand the Indo-Lanka Free Trade Agreement to a comprehensive economic and technological cooperation agreement.

He reiterated that Sri Lanka was a hub of the Indian Ocean and the country needed to strengthen itself.

He also stated that the countries of the Bay of Bengal, the five southern states of India and Sri Lanka could focus on a future not on a trillion-dollar economy but much larger. "It is time for us to shape the political and economic order in the region, one which focuses on closer relationship," Wickremesinghe added.

Humour was not missing in the Premier's speech. Earlier on in his speech the Premier, while thanking Tharoor (who was a Minister of State in the previous Congress Government) for being present at the launch, said: "In life whether you are in the Opposition or the Government, both are occasions to shine. Whether you are batting or bowling it is the same."

He also recalled former President J.R. Jayawardene's answer to the question of how he became President. Jayawardena responded saying: "I survived all my contemporaries." "So patience has a virtue and you carry on," Wickremesinghe stated.

In fact the book authored by Dinesh Weerakkody, a regular Daily FT columnist, focuses on Wickremesinghe's intelligence, knowledge and virtue of patience. The launch ceremony also played an instrumental version of the famous Frank Sinatra song 'My Way', which incidentally is also a favourite of Wickremesinghe's.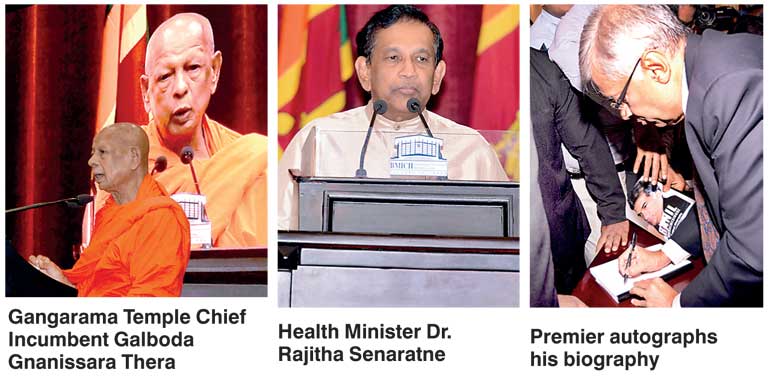 It was Health Minister Dr. Rajitha Senaratne who spoke of Wickremesinghe's "royal" character (in reference to his alma mater) and linked that to his success in politics apart from being the first Sri Lankan university-educated Prime Minister of Sri Lanka.

"It was at Royal College where Wickremesinghe learnt the virtue of being a liberal and this lesson he carried with him during his political career," Rajitha recalled. "Wickremesinghe wasn't racist but a Sri Lankan who believed in freedom and liberal policies," the Health Minister added. "He didn't side with the Sinhalese opportunistically but worked with the Sinhalese to protect Sri Lanka and its multiethnic identity," emphasised Minister Senaratne.

The Chief Incumbent of the Gangarama Temple Galboda Gnanissara Thera (Podi Hamuduruwo) said the best tribute to Wickremesinghe was a united Sri Lanka for equitable prosperity and peace.

Tourism, Land and Christian Affairs Minister John Amaratunga said the biography of Wickremesinghe would certainly inspire future young politicians as a credible and successful roadmap.
Tharoor flags off India's concern over growing Chinese involvement in SL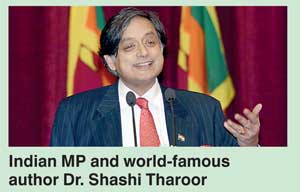 Indian lawmaker Dr. Shashi Tharoor yesterday voiced his country's concerns about China's presence in Sri Lanka as well as its growing influence in the Indian Ocean.

"There are some concerns in India if China's interests here undermine our own historical and cultural links built over generations," Tharoor said in his keynote at the launch of a political biography of Prime Minister Ranil Wickremesinghe authored by Dinesh Weerakkody.

Dr. Tharoor said that China 's ambitions in the South China Sea have extended well into the Indian Ocean and the prospect of an emerging superpower casting its shadow has caused anxiety in a number of states that have been looking to India as an alternative security provider.

Referring to China's latest push, the 'One Belt One Road' initiative, he said it must be remembered that the older silk route at that time carried serious geopolitical tensions too.

"India has been better at projecting soft power in the region than hard power but there are concerns that we are gradually being strangled by China's string of pearls around our oceanic neck, "he said.

Dr. Tharoor said while India investments in Sri Lanka today amount to over a billion dollars, with another billion in the pipeline, there were concerns among the India business community if they were getting a level playing field on par with their Chinese competitors.

"One concern that many in the private sector in India have expressed to me is the extraordinary stringency of Sri Lanka's Environment Impact Assessment (EIA) s applied to Indian firms. They feel Chinese companies don't face as many hurdles as Indian companies do," he said.

Dr. Tharoor, who is also a former UN Under-Secretary-General, former Indian Minister of State for Human Resource Development and Minister of State for External Affairs, said India has consistently expressed the need for national reconciliation through a negotiated political settlement in Sri Lanka which is acceptable to all communities and is consistent with democracy, pluralism and respect for human rights.

He said that India cannot help but be involved as Sri Lanka's closest neighbor but also due to the India Tamil population which remains greatly concerned about their ethnic cousins across the Palk Straits.

"We are not merely committed to mending the past but we are also committed to Sri Lanka's future," he added.