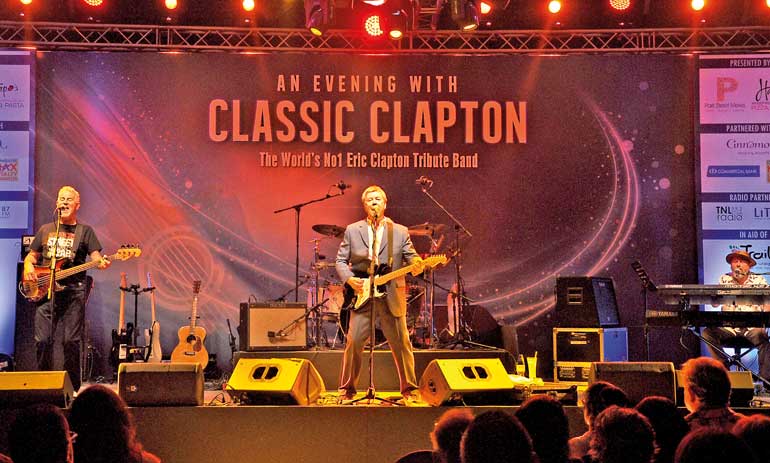 By Malik Gunatilleke

When Mike Hall first heard Eric Clapton play live with the band Cream in 1967 in his hometown of Newcastle upon Tyne, England, he may not have known that the guitar maestro would shape the course of his future. He was young, enthusiastic and instantly enamoured by the guile and emotion of Clapton's understated but undeniably indomitable guitar work.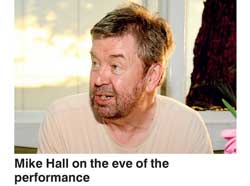 It wasn't until 1985, when Hall was in University, that his future would become much clearer to him. While watching Clapton perform live for a second time, at the 1985 Live Aid concert, something came over Hall. A shroud he described as something of a calling. Watching Clapton riffing elegantly and effortlessly on his classic black Fender Stratocaster in front of thousands convinced Hall of what he might have already suspected at the time – he wanted to be just like the great Eric Clapton.

However, the mere decision of wanting to be like Clapton is as far away from the finished product as you might get. After all, the person he had chosen to emulate is not just any musician, but one for the ages; a guitar genius described by some as defining a generation of Blues and Rock music; one that inspired a generation of youngsters to pick up the guitar and still continues to inspire musicians all around the world; he was a virtuoso on a level barely touched by any. He's won an incredible 19 Grammies and still remains the only man to be inducted into the Rock and Roll Hall of Fame three times. To many, Clapton is Blues; Clapton is Rock; Clapton is God.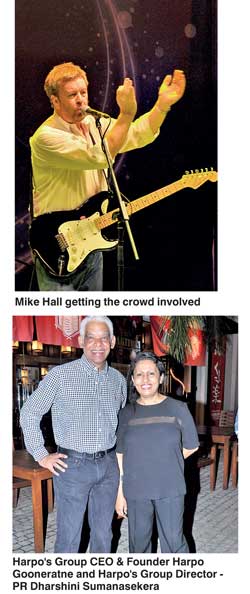 So how does one go about trying to become the best version of a guitar hero aside from the real deal? Hall decided he'd first get a crew together. A team that's just as passionate about Blues as he was. The thought of being a Clapton tribute band had still not entered Hall's mind although he might have already known that his band would cover much of Clapton's work, considering the influence Clapton had on Hall's study of the instrument.

"I put an ad in the paper calling for musicians to play with back in 1985, soon after the Live Aid concert. After we had formed our group we decided to call ourselves 'After Midnight' after Clapton's first solo hit," he stated while having a chat with Daily FT on the eve of their performance in Colombo.

In their formative years, After Midnight covered much of Clapton but also played a lot of other music from Blues and Rock stalwarts. All its members had other occupations, Hall being a surveyor by day, but they were no less passionate about their music than any full-time musician. Balancing their jobs, businesses and families with music was a challenge at first, Hall admits, but their passion always won the day.

In the following years, the band played in several venues in the UK as well as outside, while not only increasing their abilities and understanding between each other but exponentially raising their profile amongst those who came to watch them. Chief amongst their notable gifts was their astonishing ability to recreate Clapton's performances on stage. As Hall has a somewhat eerie resemblance to old Slowhand, it wasn't difficult to get the crowd questioning if they were actually witnessing Clapton riffing at the local pub.

"The guitar work is hard enough, but something that people don't always notice with Eric is that he has such a smooth tone to his voice. Playing Clapton riffs and singing at the same time was always going to be my challenge," he stated.

It was due to this growing esteem that in 2000 they finally decided to exclusively cover Clapton's music across his time with bands such as John Mayall & the Bluesbreakers, Cream, The Yardbirds, Derek and the Dominoes as well as his reputed solo work. Their show would come to be known as Classic Clapton and would gain international recognition and maybe most rewarding of all, the attention of Slowhand himself.

Hall had met his idol a couple of times but nothing could have been as gratifying as the legend himself writing a personal note to Hall on the back of a Concorde menu. The note simply stated: "To Mike Hall, I've heard all about you man! Best wishes, Eric Clapton."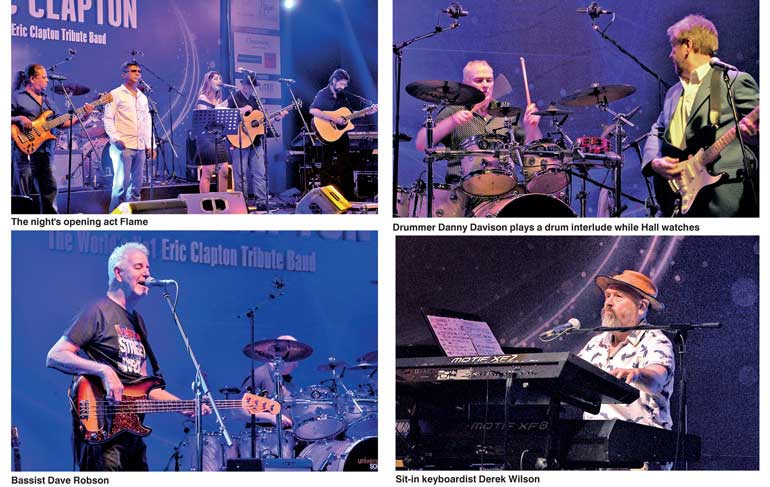 The band has had members come in and out over the years. While Hall is the face and heartbeat of the band with his Clapton'esque look, voice and guitar style, Paul Warren provides the keyboards and backing vocals to the band, with Danny Davison on the drums and Dave Robson on the bass guitar. Robson is also a former member of the Newcastle-based glam rock band Geordie – a band that once boasted the likes of Brian Johnson who went on to join AC/DC and produce some of the greatest and best-selling rock music of all time. Warren joined in 2007 but Derek Wilson played keyboards for the band for their performance in Colombo last week.

The band has now played in several countries including Ireland, Scotland, France, Spain, Netherlands, India and Estonia; as well as grand venues including The Royal Festival Hall, Durham Gala Theatre, St. Andrews Byre Theatre, Cumbernauld Theatre and the birthplace of the Beatles – Cavern Club. They've even played classic music festivals such as the Sotogrande Blues Festival (2007, 2008), The Acoustic Festival of Britain (2008) and the infamous Glastonbury Festival (2002) – which Clapton himself has curiously never performed at.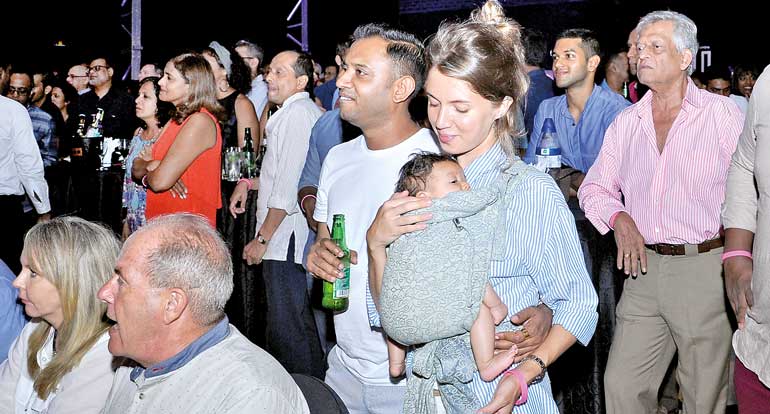 The world's foremost Eric Clapton tribute band performed at the Stables, Park Street Mews, Colombo on 18 March. The evening opened with the sounds of Flame, who covered several well-known classics, softening the crowd for what magic was to come.

After Midnight then took to the stage with their first set, covering Clapton's classics with Cream: Crossroads – a cover of the great blues pioneer Robert Johnson's classic hit – as well as I Feel Free and White Room. They also played many Blues classics as covered by Clapton. Muddy Waters' Hoochie Coochie Man as covered by Clapton on his album From the Cradle, Bo Diddley's Before You Accuse Me on Journeyman, and Key to the Highway. The first set also featured the Beatles classic While My Guitar Gently Weeps, to which Clapton contributed the non-credited lead guitar work. The band went on to cover some of Clapton's solo Blues classics including Lay Down Sally.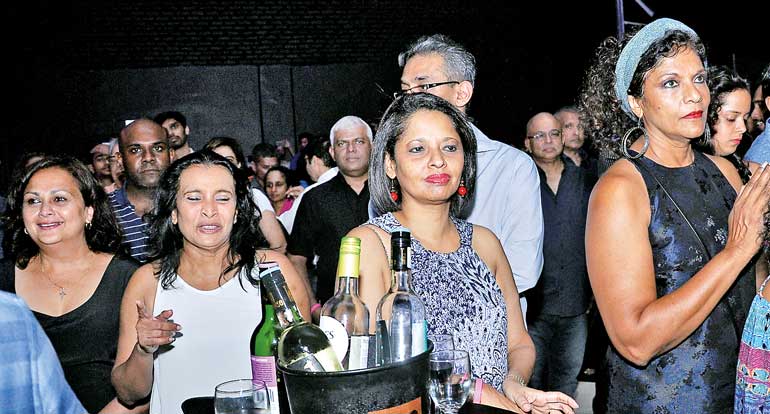 Their second set started with a tribute to one of Clapton's most iconic live performances. Hall swapped the smooth Blues licks on his classic Strat for the more subtle and intimate sounds of the acoustic guitar, in a homage to Clapton's Unplugged album. After Midnight performed the now infamous acoustic version of Layla as well as Tears in Heaven to start off the set. Hall swiftly moved back on to the electric guitar as the band went on to play the classic Clapton hits including Promises, Cocaine, I Shot the Sheriff (Bob Marley cover), Wonderful Tonight, Sunshine of Your Love (Cream) and the iconic electric version of Layla.

The night was unforgettable and the band's performance was professional and flawless. They created a special experience during which if you closed your eyes you would have believed you were listening to the great Slowhand himself and when you opened them, the man you saw on stage would do little to break the illusion. For all those Blues-lovers, Rock-fanatics and Clapton-worshippers, who crowded the Stables at the Mews that evening, Clapton was present; and unlike the unrequited love that inspired Clapton to pen those famous lyrics on Layla, the crowd's appreciation and love was felt throughout.

'Evening with Classic Clapton' was organised by Park Street Mews and Harpos Pizza & Pasta with Cinnamon Hotel & Resorts as event partners along with Commercial Bank and Com Bank Max Loyalty, and radio partner TNL and Lite FM with proceeds towards Trail project.

Pix by Nisal Baduge

and Krishan Ranasinghe