Govt. beams on solar generated electricity, massive boon for home solar installations
Rs.3.5b subsidy program to pay 50% of home installation loans
Tendering 60 new solar projects countrywide at $1m cost for each
New 100MW floating power plant also in pipeline
By Uditha Jayasinghe

Treading in the footsteps of the rest of the world, the Sri Lankan Government has decided to redirect its power policies from a mixture of hydro and coal to solar and wind power with a slew of new measures to subsidise home solar installations, purchase power at higher prices and build a floating solar farm.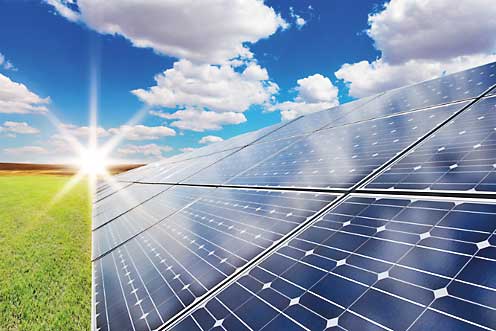 The Government has earmarked Rs.3.5 billion to pay 50% of the interest incurred by home owners when applying for a loan to install a solar power grid onto their roofs. The new measure is aimed at encouraging home owners who would otherwise be deterred by higher prices of solar panels.

"There are many companies doing this now, and most of them have set up loan arrangements through banks. However, some people are still cautious because of the interest rates. Therefore, as a government, we thought we would take half that burden away from the people. We will keep this subsidy going until every last cent is spent," Deputy Power Minister Ajith P. Perera told reporters.

The Ceylon Electricity Board (CEB) would also purchase excess power from the homeowners at Rs.22 per unit to provide an incentive for more people to install solar panels in their homes.

"We are very clear that the way forward is renewable energy and we want to source the bulk of Sri Lanka's power from wind and solar. With this in mind the Government will on 1 April call tenders for 60 solar power plants at a cost of $1 million each to increase the footprint of solar in Sri Lanka," the Deputy Minister added.

The Government is also planning to call bids for a 100MW floating solar farm with storage, which the Cabinet approved this week.

The go-ahead would mean the Power Ministry can call for international tenders for a 100MW floating solar farm in the Maduru Oya reservoir which is expected to cover an area of 500 acres of the 15,790 acre water body.

The solar plan will be a joint venture with Sri Lanka's Mahaweli Authority which will have to be paid a 10% royalty fee.

Prospective investors would have to bid for the cost of the plant and battery. Stored energy will be released to the grid during the night peak when CEB operates diesel reciprocal engines at over Rs.20 a unit and gas turbines at higher cost.

The CEB is also expected to buy any energy that the battery cannot store in the day time.