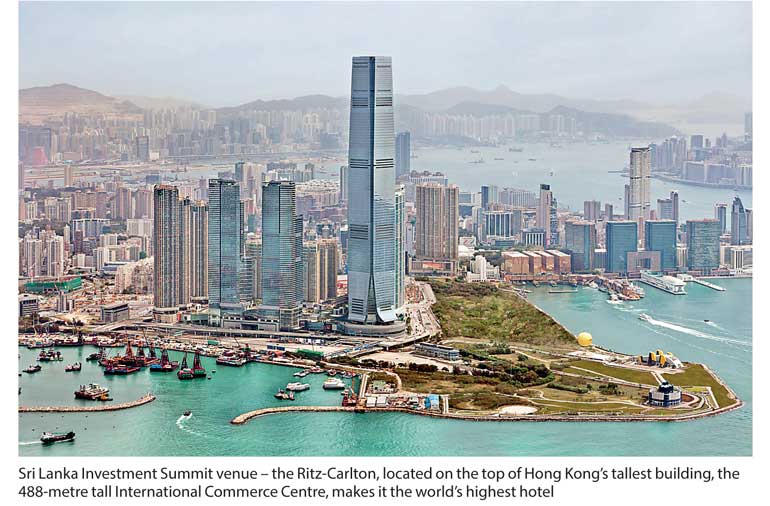 Nearly 200 foreign delegates registered to listen to 'Sri Lanka – Open for Business' insights
Finance Minister Ravi Karunanayake, IMF Sri Lanka Rep. among officials to speak
Over 40 Lankan business leaders and existing foreign investors to reinforce push to woo interest from Hong Kong
Key initiative by Finance Asia backed by Standard Chartered Bank, Asia Securities, CHEC Port City, Altair and MAC Holdings; Daily FT official media partner
By Nisthar Cassim

in Hong Kong

Nearly 200 foreign delegates are scheduled to attend the first-ever Finance Asia-organised and multi-stakeholder-supported Sri Lanka Investor Summit in Hong Kong tomorrow (16 March) at the iconic Ritz-Carlton Hotel.

Organisers said as of Tuesday around 190 foreign companies/representatives had registered for the full-day Summit. The number is likely to be higher as Sri Lanka makes a serious pitch to woo investor interest from companies based in Hong Kong via the summit titled 'Sri Lanka – Open for Business'.

Finance Minister Ravi Karunanayake will be the Chief Guest. IMF Sri Lanka Resident Representative Eteri Kvintradze will figure in a panel as well and is likely to highlight the success so far of the IMF's program in Sri Lanka

There will be over 40 Sri Lankan business leaders and officials who will figure as speakers or panellists as well as participants to reinforce the message the time is right for global investors to consider Sri Lanka.

This is the second Summit by Finance Asia, an influential industry magazine, with the previous one held in Singapore last year.

Organisers said the Central Bank, leading international banks, local capital market specialists and some of the largest-ever international investors into Sri Lanka will help attendees navigate the opportunities and pitfalls that investing in Sri Lanka offers, not only to institutional investors, but also to private investors, family funds, corporations looking for FDI opportunities, equity and debt investors and private banks.

The Standard Chartered Bank is once more the international lead sponsor of the Summit. Asia Securities adds its special brand of insight to the Summit as lead sponsors and CHEC Port City Colombo, Altair and MAC are all on board as distinguished corporate sponsors. The Daily FT is the official media partner. Supporting organisations include the Ceylon Chamber of Commerce, the American Chamber of Commerce and the Oxford Business Group.

Minister Karunanayake will speak on 'Macroeconomic Policy Targets, Fiscal Consolidation Plan and Recent Track Record' at the Sri Lanka Investment Summit at the Ritz-Carlton, the world's highest placed hotel, on top of Hong Kong's tallest building, the 488-metre tall International Commerce Centre.

After opening remarks by Standard Chartered Bank CEO Jim McCabe and Asia Securities Chairman Dumith Fernando, the Summit will kick off with a session focusing on 'Macroeconomic and Policy Expectations: The Outlook for Key Economic Growth Drivers, Policy Priorities and Financial System Stability in Sri Lanka'.

Panellists will include Eteri Kvintradze, Resident Representative Sri Lanka and Maldives, IMF Saman Kelegama, Executive Director, Institute of Policy Studies Nishan De Mel, Executive Director, Verite Research K D Ranasinghe, Assistant Governor, Central Bank. This session will be moderated by Dumith Fernando.

The Summit will also have a session examining the medium-term trends and opportunities across sectors and the Government's investment targeting goals. Panellists will be Hemas Holdings PLC CEO Steven Enderby, WNS Global Services Ltd. MD Dinesh Wickremanayake, MAC Holdings Ltd. Chairman and MD Andre Fernando, Board of Investment Sri Lanka Director General Duminda Ariyasinghe and Standard Chartered Bank CEO Jim McCabe. This session will be moderated by the Daily FT Editor.

A dedicated session on real estate and leisure sector will see Indocean Developers Ltd. Director Pradeep Moraes, CHEC Port City Colombo Ltd. Chief Sales and Marketing Officer Liang Thow Ming and Shangri La Group Vice Chairman Madhu Rao serving as panellists. It will be moderated by Jones Lang LaSalle, Sri Lanka Head of Transactions Sunil Subramanian.

In the afternoon, the Summit will focus on 'Equity Markets and Key Opportunities' with panellists being Asia Securities Ltd. Head of Research Kanishka Perera and Lynear Wealth Management Managing Director Dr. Naveen Gunawardane and moderated by FinanceAsia Editor Matthew Thomas.

The Summit will also enlighten participants with a session on 'Business Operating Environment in Sri Lanka' with panellists being

Singer Asia Ltd. President and CEO Gavin Walker, IFC Sri Lanka Country Manager Victor Antonypillai,

Colombo International Container Terminals Ltd. GM Commercial and Marketing Tissa Wickremasinghe and Courtaulds Clothing Lanka Ltd. MD Michael Massey. It will be moderated by The Ceylon Chamber of Commerce Chief Economist Anushka Wijesinha.

The session on 'Generating Returns in Fixed Income Opportunities in Sri Lanka' will be moderated by Fitch Ratings MD/CEO Maninda Wickramasinghe with Commercial Bank Head of Global Markets P. Prins, Sri Lanka Insurance Corp. Deputy GM – Investments Dhanuka Liyanagamage, ADM Capital Principle Tom Holland, Standard Chartered Bank Head Capital Markets South Asia and Co-Global Head High Yield Product Group Jujhar Singh as panellists.

The Summit will conclude with a session focusing on the anatomy of a successful Sri Lankan investment with Creation Investments Managing Partner Patrick Fisher and Commercial Credit and Finance CEO Roshan Egodage as panellists and moderated by Asia Securities Ltd. Vice President Lakshini Fernando.

Ahead of the Summit, Standard Chartered Sri Lanka CEO Jim McCabe said in a statement: "This is excellent timing for a summit such as this. Sri Lanka is well poised to welcome FDI and infrastructure development projects. The Government is investment friendly and encourages a national appetite for inbound business projects. Once more we will showcase Sri Lanka as one of the fastest growing economies in Asia, and demonstrate the value of leveraging historical trade corridors to potential investors. Standard Chartered is delighted to be associated with such a forum that could only further the national image and economic agenda."

"The summit will create an excellent opportunity to meet with leading Government officials for a first hand guide to future developments, network with corporates and co-investors, hear from past investors how to make the most of this opportunity and discover how to leverage the growing links between Asia and Sri Lanka," he added.