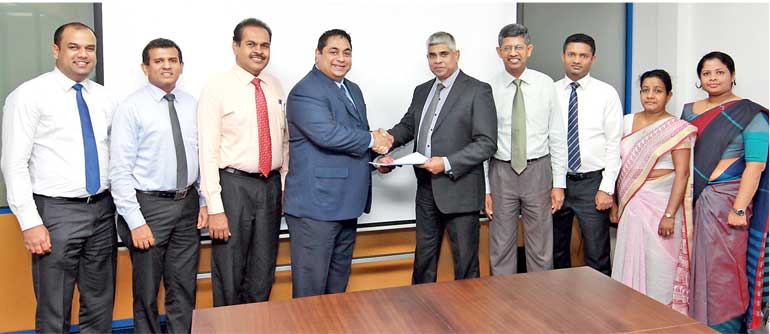 NITF CEO Sanath C. De Silva (right) hands over the MoU to Hemas Hospital Group Managing Director Dr. Lakith Peries. NITF Chairman Manjula De Silva, General Manager Marketing Nishantha Jayamanna and Head of Operations Prabhan Gunawardana are also present
Hemas Hospitals renewed its landmark partnership with the Government-owned National Insurance Trust Fund (NITF) to update its comprehensive range of healthcare benefits and services to its members at highly competitive rates.

The newly renewed partnership with Hemas Hospitals will enable Government sector employees who are entitled to benefit under NITF's Agrahara scheme to receive a wide spectrum of high quality healthcare services at specially discounted rates of up to 10% from any of Hemas Hospitals' state-of-the-art facilities.

Consequently, Agrahara members will continue to be entitled to the existing list of benefits from the facility of their choice – in Wattala, Galle (Hemas Southern Hospital) or Thalawathugoda - covering in-patient charges, room charges, laboratory investigations and radiology investigations.

Moreover, the updated partnership agreement also added a host of new surgical packages for NITF beneficiaries covering orthopedics, urology and general surgery while existing packages have all been made even more competitive when compared against discounts previously made available in 2016.

The MoU was signed by NITF's Chief Executive Sanath C. De Silva and Hemas Hospitals chain Managing Director Dr. Lakith Peiris.

With over 2.5 million state sector employees and their family members currently being registered under the program, NITF's Agrahara represents one of the single largest groups of health insurance beneficiaries in Sri Lanka.

Commenting on the significance of the partnership for the group, Hemas Hospitals Chain Managing Director Dr. Lakith Peiris said: "We are greatly encouraged by our continuing relationship with the National Insurance Trust Fund. Since our partnership was first initiated in 2015, Hemas Hospitals been able to support the NITF in its mission to uplift the living standards of the public service and provincial public service and their families through the provision of superior healthcare facilities and services and we will continue to do so moving forward."

Hemas Hospitals is one of Sri Lanka's leading internationally accredited, multi-specialty, family hospitals managing three state-of-the-art healthcare facilities situated in Wattala, Galle and Thalawathugoda and is a subsidiary of the Hemas Group – one of Sri Lanka's most prestigious conglomerates operating across multiple sectors of the Sri Lankan economy including FMCGs, Healthcare, Transportation and Leisure.

The National Insurance Trust Fund (NITF) is a statutory body established in 2006 with the goal of providing Agrahara Insurance to the public sector, including comprehensive general insurance coverage and a growing medical insurance scheme and is currently the only company engaged in the reinsurance business in Sri Lanka.