Ceylon Tobacco Company Plc (CTC) said yesterday that its contribution to Government revenue through excise tax fell to Rs. 87.4 billion during the year ending 31 December 2016.

The company notes that the dip in its tax bill was a result of an unprecedented 43% price increase due to an excise increase in October and the introduction of 15% VAT in November. The company delivered record excise gains for the Government of Rs. 72.6 billion during the first nine months - a 16% increase compared to 2015.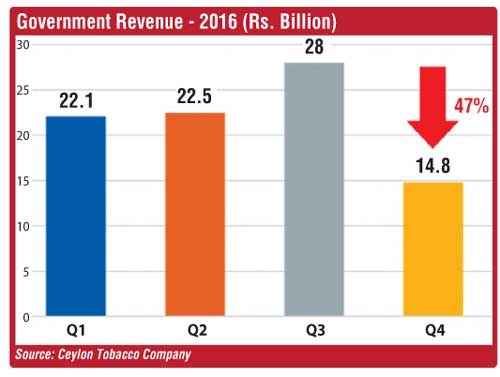 However, according to the company's full year results, Government revenue from excise in the fourth quarter fell by Rs. 13.2 billion compared to the third quarter of 2016. It is anticipated that this will continue to impact both the company's and the Government's revenue in 2017. As a result of the business impacts faced, the company closed two leaf depots and reduced factory shifts by a third in early 2017.

With legally manufactured cigarettes becoming more expensive and unreachable to average consumers, the company warns that a large percentage of cigarette consumers will be forced to turn to smuggled cigarettes or cheaper substitutes such as beedi.

CTC said as prices currently stand, smokers can purchase around 10 beedis for the price of one cigarette, while smuggled cigarettes are widely available for half the market price.

The CTC notes that during the past year, law enforcement agencies have continued to work towards curtailing the spread of unauthorised and illicit tobacco products reaching the local market with a total of 1,842 raids.

However, based on the increase in the number of detections which have taken place since the price increase, the company notes that it is apprehensive that high prices in legal cigarettes have accelerated the influx of smuggled tobacco products.

Company results also indicate that expenditure in 2016 was greater than that of the same period of the previous year as a result of a 10% increase in raw material costs due to the rise in imported tobacco leaf. Increased importation of leaf is a consequence of, among other things, farmers being pressured to stop cultivating tobacco, and thereby putting the livelihoods of over 20,000 persons involved in the tobacco farming sector at risk.

The company's Profit after Tax stood at Rs. 12.56 billion for the year ended 31 December 2016.