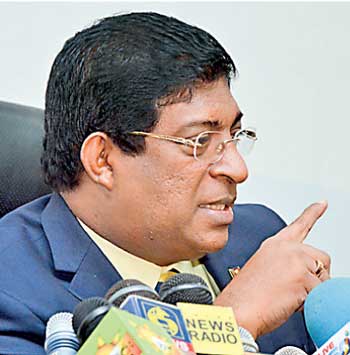 Govt. to hold road shows in the Middle East, Japan, Korea, China, Europe, US
By Charumini de Silva

Despite the fact that the US Federal Reserve plans to increase its rates, Finance Minister Ravi Karunanayake yesterday expressed his confidence over the upcoming $ 1.5 billion sovereign bond issue and insisted the Government was looking at multiple road shows in the near future.

"We are planning to do several road shows with regards to the sovereign bond issue. We will see what is the best place positioned to go for it. We are mainly looking at the Middle East, Japan, Korea, China, Europe and the US," Minister Karunanayake told journalists in Colombo.

Considering that the world had gone in a different direction, the Minister said he was quite satisfied with the response he had received so far.

"I am happy with the response that is coming in. In the previous syndicated loan approach the responses that came were extremely good and it was better than last year.

As a result, even though the external world has gone in a different direction, we are heading towards the same at least," he added.

Karunanayake acknowledged that the favourable response was a reflection of the financial discipline brought into the system by the coalition Government and that he believed as a result, the rates could be better than what they were before.

However, he refrained from announcing market sensitive information such as a timeframe, tenure, amount, etc.

"We are confident. As we managed to go change our outlook from negative to positive, we will have a good response. It was not an easy task to turn around the negative outlook to stable at a time when the US President is taking a different economic policy, Britain is exiting the European Union and where there was economic turmoil. It is a pretty big achievement to bring everyone's attention to this little island," he said about the recent Fitch rating.
Ravi K accuses Templeton Investment of manipulating securities market
Finance Minister Ravi Karunanayake yesterday said he was not overly worried about the exodus of foreign investors from Government securities though he charged that it was manipulated by the Templeton Investment Group.

"When you say exit, you know very well it is one guy and that is Templeton," he told journalists at a press briefing in Colombo.

Templeton is managed by emerging markets guru Mark Mobius, who has remained a longstanding investor in Sri Lanka.

The Minister claimed that the firm was involved in coming up with a fixed rate back then and is also engaged in the outflow now.

"They are the ones who created it when they came in with a fixed rate of 14.85% and it is the same guys who are creating the exit that is there. It is these manipulative hands," Finance Minister added.

Although it is obvious that they are doing that, Karunanayake acknowledged that they are also businessmen.

"We have been caught up with the past practices. They came in and you cannot keep them by force. We are going to respond in a market-oriented manner," he stressed.

Despite exits by foreign investors, Karunanayake expressed confidence in the Lankan economy especially with Fitch Ratings last week revising the economic outlook to stable from negative.