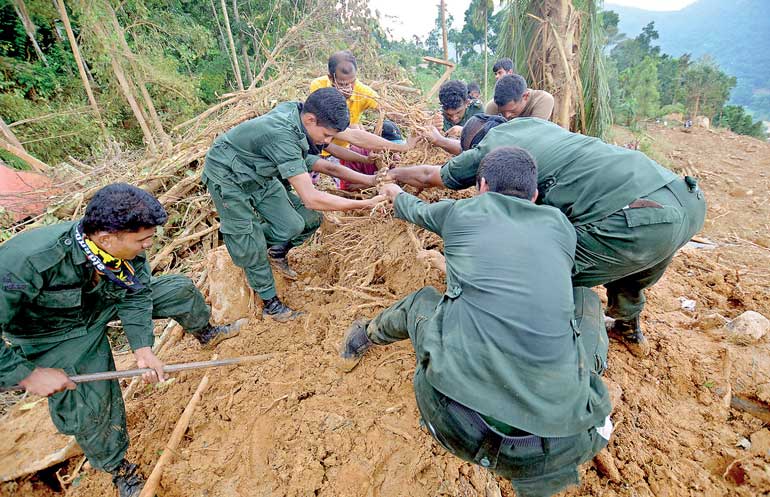 Soldiers looking for survivors after a massive landslide in Aranayaka last year. The consequences of climate change will create a new pool of conflicts and will force people to survive and find a suitable way to live somewhere else – Pic by ShehanGunasekara
As it was an important event, I would like to refer to Sir Robert Watson's presentation some weeks back on climate change. Not only has the Professor outlined the global threats linked to climate change, he also described feasible actions Sri Lanka can take to mitigate negative climate change consequences.

The presentation started with 'Climate Change is one of the Greatest Threats to Human Wellbeing'. It outlined that human activity is changing the Earth's climate to warmer and extreme weather, the main impacts will be harmful especially for developing countries and that the Paris Agreement Pledges are inadequate to limit climate change to 2C.
Consequences of climate change
When considering the world today, we have several conflicts and our daily news consists usually of political events and unrests. Now we believe that the situation is bad and we have to fight terrorism and deal with refugees, however looking at the prognosis, what we experience now is only the start. And not because there will be more countrieswhich start war with each other based on the usual reasons, because the consequences of climate change will create a new pool of conflicts and will force people to survive and find a suitable way to live somewhere else.

It will force governments to assure food security, health and safety for their own population. We can already see the trend of countries acquiring land on other continents to produce food there for their own population at home. Already our conflicts are linked to supply of energy, food and other products. Countries are interdependent on each other in various ways since years.

In addition today we already have climate refugees – where droughts and floods make it hard for people to sustain their livelihood they move in search for a better future in another location, or even country. Islands are going to be covered with water in the near future, even if we change our unsustainable behaviour.

Asking Prof Watson about Maldives, he confirms that in the future the country will not exist anymore, it does not matter what we are actually doing now to mitigate climate change. Even if measures are put in place, the oceans are already heated up and increasingly acidic, that they will rise anyways (including the melt water which will join in from the poles and Greenland). Asking the expert another question on if there are any policies in place which regulate climate refugees, the simple answer was: No.


Landand oceans continue to heat up
Currently land and oceans are continuing to heat up, and even if we all keep the promises made under the Paris Agreement, the

earth will heat up more. Main sources of carbon emissions are carbon emitting industries (including transport, agriculture, etc.) (91%) and deforestation (9%). Forests, air and water are carbon sinks, with every tree we cut, we reduce the sinks we need – now more desperately than ever.

Sri Lanka is going to face more frequent and extreme floods and droughts, sea level rise, warmer and more acidic oceans, extreme temperatures and unpredictable rainfalls. All of this will in turn affect agriculture, fisheries, energy supply, tourism and so on. Looking at the presented data, it is very easy to understand.

To improve the situation, we basically need to focus on building a low carbon economy and we need to do it now. The good news is, that a change is possible and solutions are available. Based on Professor Watson's presentation Sri Lanka has to increase energy efficiency in all sectors, develop renewable energy resources, set a price on carbon and other pollutants, execute policies which tackle consumers behaviour change and retire least effective coal power plants where no new coal power plants without carbon capture and storage should be built. These guidelines seem clear and reasonable.
Top emitters
Top emitters are industries and fossil fuels. In Sri Lanka the majority of electricity in households and larger buildings is used for fans and air conditioning as well as refrigerators. Sri Lanka is a hot country. Naturally houses need to be cooled somehow. Similarly process heat is important considering the manufacturing industries we have in the country. There are two ways of improvement, either use less which means building houses which include natural cooling and better insulation or produce the same amount of energy however from renewable resources.

A hot tropical country has the advantage that the sun shines almost each day a year, and also at the same time each day. There is enough roof space available in industry parks and even urban areas to supply renewable energy, I would dare to say for the majority of Sri Lanka. Solar, hydro, (sustainable) biomass and wind can form a realistic and sustainable package for the country. Technologies are available globally and increasingly become cheaper and more efficient at the same time. Such technologies will lead to savings for Sri Lanka as it can gradually stop importing unsustainable energy/ energy sources.
Transport
Similarly, transport can be tackled with improved public transport and electrification of transport. Having solar energy in the country, charging stations can be powered by solar too. Storage technologies are available, currently prices are still high, however as technology development goes on, it will be come again cheaper fast.

I am convinced everyone – not only in Sri Lanka – will agree that the majority of cars on the road are only transporting maximum two persons. In rush hour only a small share of vehicles carry more than two people. Roads are blocked at least three times a day and congested areas such as for example Nugegoda, Nawala, Colombo 7 (just to name a few) will become worse with the new apartment projects developing in the same areas.

Where some under all circumstances prefer using their own car, there are many persons who would like to use a public transport system however do not feel comfortable in overcrowded busses. Especially females face a challenge having to deal with groping and uncomfortable situations in addition. There are enough accounts of accidents of passengers trying to board the bus or get off it, when the bus already drives off in a hurry competing with the other private bus companies. It is an open secret that the bus system in Sri Lanka is not an efficient or safe one. We can learn from other countries where public transport is regulated, efficient, safe and a real alternative.

We are talking about building metros and a tram system, it is a nice thought but it will take another 10 years to have the required infrastructure in place. As a first step we can simply restructure and modernise our bus system, introduce electric tuk-tuks and more electric vehicles as well as financing models. An efficient bus system will facilitate behaviour change as well as low carbon emissions.

There are countries where electric busses are included into the transport system. More than a year ago, when taxes for electric cars were reduced, a large number of such vehicles were sold – to those who believe in green vehicles and those who were attracted by the lower price. By creating similar incentives the government can facilitate change into the right direction.
Renewable energy
Annual investments in renewable energy are rising rapidly. Creative ideas on how to build sustainable cities seem limitless. Sri Lanka should analyses which of those available solutions fit the country best and even more, in which areas can the country contribute and establish an expertise.

Sri Lanka has many important industries such as garment industry and agricultural products which are in demand globally such as spices, tea, nuts and fruits. It can be a best practice example in terms of sustainable industry development. It can reap financial benefits as well as reputational gain which again would lead to increased investment into the country.

Prof.Watson listed our President's policy commitments included into thePolicy Statement 8th Parliament, 1 September 2015:
Fulfil the basic energy needs of people through renewable energy
Enhance energy security by protecting against escalating imported fuel prices
Improve environment by inclusion of environmental factors in decision making
Build biomass power plant so that rural peasantry supplying fuel-wood will benefit
Remove subsidies for fossil fuel and support renewable energy
Obtain long term concessionary loans for clean energy from global funds​ Furthermore Sri Lanka committed to the SDGs in September 2015 to:
Minimise risks of climate-related environmental hazards
Study how climate change aggravates Sri Lanka's contemporary development challenges and offer adaptation and mitigation optionsFurther it committed to the Paris Climate Agreement in October 2015:
Unconditional 4% reduction by 2030 against 2010 baseline
Conditional emission reduction with external support of 16% by 2030
Sri Lanka has all the necessary conditions to create change and a best practice example in Asia. It can reap benefits from solar and wind which exceeds the electricity supply largely! Even the electricity demand forecasted for 2030. Which country can compete with that?

We have the solutions and we have the opportunities in our hands, let's start today! Let us leave the old behaviour patterns and short-term thinking behind and focus on managing the challenges which are going to come our way, if we want or not. We can either wait and then drown in them, or act now and use these challenges as opportunity to grow.