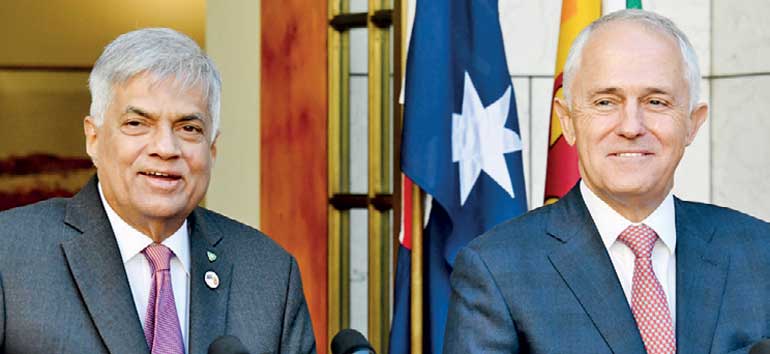 Sri Lanka's Prime Minister Ranil Wickremesinghe (L) and Australia's Prime Minister Malcolm Turnbull participate in a press conference at Parliament House in Canberra, Australia, February 15, 2017 - AAP via REUTERS
Ranil Wickremesinghe claims compatriots broke the law in trying to flee to Australia but insists it is safe for them to return


Prime Minister Ranil Wickremesinghe has urged compatriots who are being held in Australian-run immigration detention centres to come home.

Ranil Wickremesinghe claimed the Sri Lankans had broken the law in trying to flee to Australia but insisted they would not face prosecution if they returned. "Come back. All is forgiven," Wickremesinghe said as he stood beside Malcolm Turnbull in Canberra on Wednesday.

Asked about those who might prefer to remain in the camps than return in fear for their safety, he insisted they were mistaken, pointing to a newly-established missing persons' office in his country.
"Some of them have left from places where conflict didn't even take place," Wickremesinghe said. "All of them are not even Tamils and even we want all the Tamils to come back. We should not make a mess of ourselves like they've gone and done in Europe and the Middle East.

"They left Sri Lanka illegally. They are welcome to return to Sri Lanka and we won't prosecute them, so they can come back to Sri Lanka, and we will have them, but remember, they broke the law in coming to Australia, attempting to come to Australia."

When asked by reporters whether it was safe for asylum seekers to return, Wickremesinghe said: "We just started a missing persons' office. It is quite safe for them to come back."

Australia and Sri Lanka shared a number of bonds through their history, Wickremesinghe said.

"Sri Lanka and Australia have shared a common past. There are many values we inherited from the British empire to which we added our own values, and Australia today is one of the leading members of the Asia-Pacific region."

(Guardian.com)
---
Sri Lanka, Australia sign MoUs on development cooperation, strengthening cooperation in sport
Canberra: Prime Minister Ranil Wickremesinghe, who is visiting Australia at the invitation of Prime Minister Malcolm Turnbull, held discussions with the Australian Premier at the Parliament House in Canberra yesterday.

Following bilateral discussions between the two sides, the two leaders witnessed the signing of two Memorandums of Understanding on development cooperation and on strengthening cooperation in sport.

Addressing a press conference following their meeting, the Australian PM said they had a fruitful discussion, reflecting the very deep relationship between Australia and Sri Lanka.

The discussions focused on maritime cooperation, Australia's support for Sri Lanka's economic development, trade and cooperation in sports.

"We are Indian Ocean neighbours and we have a shared interest in a secure, stable and prosperous region. In particular, safe and open Indian Ocean trade routes are critically important to both our nations and it's fitting then that maritime cooperation is such an important focus," Premier Turnbull said.

He said as Sri Lanka is making great strides to recover from years of terrible civil conflict, Australia through its aid program will play a small part in supporting the Sri Lankan Government's reconciliation agenda, which is laying the groundwork for long-term, sustainable and inclusive peace.

"We're proud to play a small part in supporting this through our aid program, which assists with skills development, fostering market opportunities for small businesses and women's participation in the workforce," Turnbull said adding that the MoU on development cooperation sets out a framework for the program going ahead.

The Aussie Premier noted that the economic relationship between the two countries is growing and the trade between Sri Lanka and Australia was worth around $1 billion last year. Australian companies are investing in Sri Lanka, encouraged by the Sri Lankan government's economic reform agenda, he said.

Turnbull pointed out that Australia remains a popular destination for Sri Lankan students to study abroad and some 7,500 Sri Lankans are studying in Australia.

Sri Lanka and Australia also signed a MoU to strengthen cooperation in sport which will see exchanges of athletes, coaches, managers, health professionals, sports scientists, as well as sharing of anti-doping technology.

Wickremesinghe said Sri Lanka formed a national government, for healing, for reconciliation, for further deepening and strengthening the democratic structures and now has to look to the future and is seeking Australia's support.

"When we look to the future, we have no better friend than Australia. We have worked together, we have been together in the most difficult times, and have stood with us during the internal conflict in Sri Lanka," Wickremesinghe said.

He said Sri Lanka seeks to build on its position as a strategic hub in the Indian Ocean for business and for logistics, for manufacturing.

"We are going to expand in these areas and I have been talking to the Prime Minister on closer cooperation between our two countries, and how we could, with similar-minded countries and other leaders, influence the outcome. We want peace, we want everyone to prosper and we want to ensure that secure navigation, lanes of shipping in our area," Wickremesinghe said.

"So we look forward to Australia to gain some of the technology that is required to look at the prospects of coming to Sri Lanka, and investing and more than anything else, a very, very close relationship that will carry on for the next few decades. We can set an example of that close friendship, beyond cricket," Wickremesinghe added.