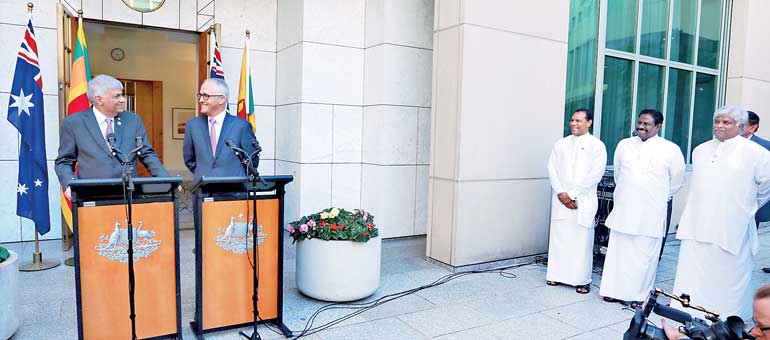 Prime Minister Ranil Wickremesinghe (left) and Australia's Prime Minister Malcolm Turnbull speak at a press conference at Parliament House in Canberra, Australia, yesterday. The two leaders discussed bilateral cooperation on combating people smuggling – Mick Tsikas/AAP Image via AP
Canberra, Australia (Associated Press): Sri Lankan asylum seekers held on Pacific island camps who could potentially find new lives in the United States are free to return home without fear of persecution, Prime Minister Ranil Wickremesinghe said Wednesday.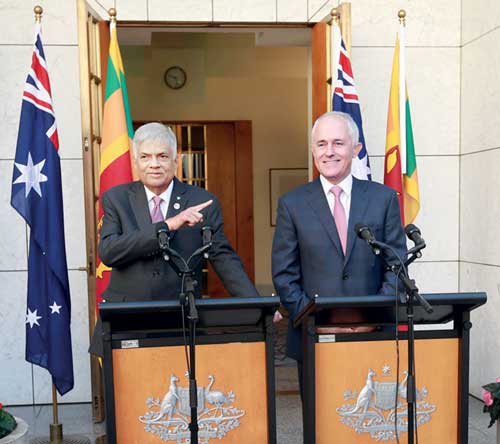 Wickremesinghe made the comments during a visit to Australia in which he discussed with his Australian counterpart Malcolm Turnbull cooperation on combating people smuggling. No Sri Lankan asylum seeker has reached Australia by boat since 2013.

But Sri Lankans, Iranians and Afghans are the largest national groups among more than 2,000 asylum seekers living on the Pacific islands nations of Nauru and Papua New Guinea. Australia pays the countries to house them.

Australia refuses to resettle any of them and President Donald Trump has agreed to honour an Obama administration deal to take up to 1,250 of them. Trump added that they will undergo "extreme vetting".

Officials from the US State Department's Resettlement Support Center left Nauru last week after initial interviews with refugee candidates, and a team arrived on Papua New Guinea's men-only camp on Manus Island on Tuesday to commence interviews there, refugee advocate Ian Rintoul said.

The US Embassy in Canberra later confirmed that the interviews had begun on Manus this week.

Behrouz Boochani, an asylum seeker and journalist from Iran who has been detained on Manus since 2013, said around 10 refugees were interviewed by officials from the resettlement agency on Wednesday. The interviews lasted four hours, and the refugees were told they will have just one further interview, with the Department of Homeland Security, as part of the vetting process.

None of the refugees were told when that interview will take place or how long it will be until a decision is made, Boochani said by text message from Manus. Many of the men have already languished on the island for nearly four years, and are consumed with worry over their futures, he said. Trump has called the resettlement deal "dumb," leaving refugees concerned that it will be called off.

"We don't know, do they really want to take people to America or not?" said Boochani, who fled Iran fearing arrest over his work for a Kurdish magazine.

Wickremesinghe said the Sri Lankan asylum seekers had broken Sri Lankan law by fleeing to Australia for asylum. But they had nothing to fear from returning.

"They are welcome to return to Sri Lanka and we won't prosecute them," Wickremesinghe told reporters. "Come back. All is forgiven. .. It is quite safe in Sri Lanka."

Sri Lanka has been attempting to reconcile its population since a bloody 26-year civil war ended in 2009.

Deakin University expert on Southeast Asia, Damien Kingsbury, said all the Sri Lankan asylum seekers he knew of who were sent back by Australia or prevented by Sri Lankan authorities from leaving had been jailed. Dissatisfaction with the government is often interpreted as support for ethnic Tamil Tigers rebels.

"If the Prime Minister is offering a blanket amnesty, then that's something quite new but I don't think the Prime Minister has the authority to do that," Kingsbury said.

Sri Lankan asylum seekers on Nauru and Manus would be wary of assurances that they were safe to return, with Sri Lanka's north still effectively under military occupation and subject to ongoing reports of human rights abuses.

"Things are not as bad as they were there a few years ago, but they're still difficult," Kingsbury said.

Before becoming prime minister in January 2015, Wickremesinghe had accused the Australian Government of turning a blind eye to human rights abuses in Sri Lanka in return for Sri Lankan Government support in preventing asylum seekers from reaching Australia.

Wickremesinghe stood by that criticism on Wednesday, but said the bilateral relationship under the current Sri Lankan Government had not suffered because of it.

"We felt that there could have been more emphasis on the human rights situation," Wickremesinghe said.

Turnbull said Sri Lanka was making great strides to recover from years of civil conflict.

"The Sri Lankan Government's reconciliation agenda is laying the groundwork for long-term, sustainable and inclusive peace," Turnbull said.