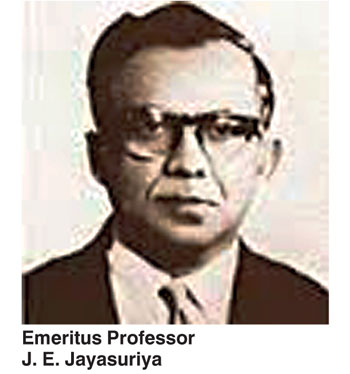 The 27th J.E. Jayasuriya Memorial Lecture will take place on Monday 13 February.

Emeritus Professor J. E. Jayasuriya was the first Sri Lankan Professor of Education at the University of Ceylon. He served as Dean of the Faculty of Arts and as acting Vice Chancellor. A modern lecture theatre funded by the World Bank was named after him.

He wrote a series of mathematics books which were widely used in all schools. He introduced the Bachelor of Education degree program, which was soon replicated by several Australian and British universities.

From 1960/1962 Professor Jayasuriya served as the Chairman of the Royal Commission on Education which consisted of several leading educationists including Dr. C.W.W. Kannangara. Some of its recommendations were later endorsed by the UNESCO Delors Commission Report.

In 1971 Professor Jayasuriya was appointed by UNESCO as its first Regional Adviser on Population Education for Asia and the Pacific.

Some of his well-known books include Educational Policies and Progress during British Rule in Ceylon, 1796-1948; Education in Ceylon Before and After Independence; Dynamics of Nation Building in Malaysia; Education in Korea – A Third World Success Story; and Population Education through Curriculum Innovation.

He has been conferred many titles including a hony D. Lit (University of Colombo) and hony. D. Sc. (Open University) He was a Chartered Psychologist (U.K.).

Since 1990, the annual memorial lecture has addressed various aspects of education in Sri Lanka and related areas. Prof. Nandadasa Kodagoda, Dr. Gamani Corea, Prof. W.D. Lakshman, Dr. Nimal Sanderatne, Prof. Laksiri Jayasuriya, and Dr. Upali Manpitiya are among the distinguished scholars who have delivered this lecture over the years.

This year's lecture will be delivered by Dr. Saman Kelegama, Executive Director of the Institute of Policy Studies of Sri Lanka. The lecture will be on the topic 'Non-State Actors in Higher Education in Sri Lanka: Issues and Challenges'. The event will take place at 5 p.m. at the Sri Lanka Foundation Institute and is organised by the J.E. Jayasuriya Memorial Foundation.