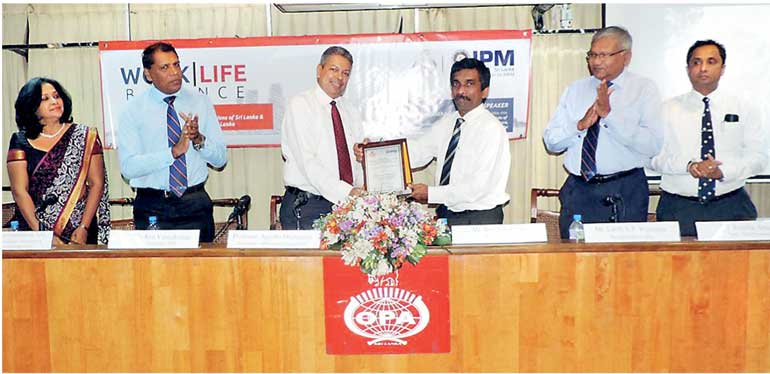 OPA Vice President and Seminars and Workshop Committee Chairperson Ruchira Gunasekara, IPM SL Secretary of the Council Ken Vijayakumar, IPM SL President of the Council Prof. Ajantha Dharmasiri, OPA President Ruwan Gallage, OPA President Elect and IPM SL Past President Lalith Wijetunge, IPM SL Immediate Past President and IPM SL External Affairs Committee Chairman Rohitha Amarapala
IPM Sri Lanka – the nation's leader in human resources management – together with the President, OPA and Seminars and Workshops Committee successfully organised and hosted the seminar 'Work-Life Balance' held at the Auditorium of the Organisation of Professional Associations of Sri Lanka (OPA) on Wednesday 18 January. The session was conducted by IPM Sri Lanka President Prof. Ajantha Dharmasiri, in his inimitable style.

He argued that the 'myth' associated with the so called 'work-life' balance should be replaced by work-family-society 'harmony'. With a philosophical base and practical basics, he elaborated the need to have such a harmony in pursuing a purpose.

Chris Obeysekera, a past president of IPM moderated the Q&A session and many interesting and intriguing questions were posed to Prof. Dharmasiri by the members of the audience. IPM hosted all participants to fellowship and dinner at the OPA premises at the conclusion of the seminar.

"I was delighted to conduct the seminar for the professionals in the OPA who are in the forefront of the business community in Sri Lanka. Knowing how to have harmony in life is very important for a professional to be efficient as well as successful," said Prof. Dharmasiri.

The 'Work-Life Balance' seminar was initiated by the Chairman of the External Affairs Committee of IPM Sri Lanka and Immediate Past President – IPM Sri Lanka Rohitha Amarapala and the Deputy Chairman of the External Affairs Committee, Council Member Group Captain Kumar Kirinde and the External Affairs Committee Members. Lalith Wijetunge, the President Elect of OPA, who is also a past president of IPM played a key role in initiating the event.

The resource person for the seminar Prof. Dharmasiri is also the Director and Chairman of the Board of Management of the Postgraduate Institute of Management (PIM), University of Sri Jayewardenepura.

He serves as the Adjunct Professor in International Human Resources Management at the Price College of Business - University of Oklahoma, USA. Dr. Dharmasiri was the recipient of the prestigious IPM Lifetime Gold Award 2014, the highest honour for an HR professional in Sri Lanka.