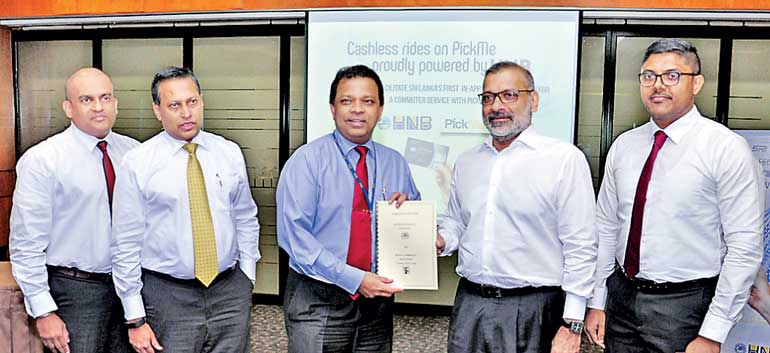 HNB MD/CEO Jonathan Alles and PickMe Chairman Ajit Gunewardene launch the PickMe in-app payment gateway. HNB Card Center Senior Manager Roshantha Jayathunga, HNB Chief Digital Officer Sidath Wijeratne and PickMe CEO Jiffry Zulfer are also present - Pic by Sameera Wijesinghe
Pay for your PickMe ride by Visa or MasterCard credit and debit card
Your next ride in a PickMe could be cashless. Sri Lanka's most popular mobile app for transportation has picked the country's largest private sector bank, HNB, as their payment solutions provider for Visa and MasterCard debit and credit cards.

As Sri Lanka's largest acquirer of Visa and MasterCard, having 44% market share, HNB is now also the first and only bank in Sri Lanka to facilitate an in-app (mobile) payment gateway which allows Visa or MasterCard credit and debit cardholders to pay for their taxi rides within a mobile application.

"HNB has commenced a very ambitious program to bring superior digital capability to its customers. Conducting a seamless financial transaction in a highly convenient and secure manner at the end of a journey is a key driver for this initiative, which is on par with similar global solutions. During the year, HNB intends to launch many such consumer focused solutions in engagement with Fintech companies and this is the first step in that journey. HNB's digital vision goes beyond its own customer base and is focused on leveraging on the available electronic payment and transacting platforms of the country," commented HNB Chief Digital Officer Sidath Wijeratne.

Going forward commuters could avail themselves of this facility by doing a one-time registration. The credit or debit card details have to be entered once into the app. The platform allows for card details to be stored in a secure environment. Once the card information is entered and stored, payment will be automatically deducted once the commuter has reached the destination and the hire is over.

The new service was designed using the most up-to-date security protocols and is PCI DSS compliant (Payment Card Industry Data Security Standards) thus ensuring that any user's personal information pertaining to the cards stays safely encrypted at all times.

"The advantages are obvious," explained PickMe CEO Jiffry Zulfer. "Thanks to this new integration not only can our patrons enjoy the luxury of hailing a cab at their fingertips and receiving taxis at their doorstep within minutes, they now don't have to worry about having cash in hand either. A PickMe ride is now seamless. You simply get in and get out."

Jiffry also stated: "PickMe as Sri Lanka's leading tech-based mobility solutions provider envisions the intelligent upgrade of the local taxi industry and thereby hopes to inspire Sri Lanka towards effective problem solving via technology. Therefore, we at PickMe are proud to partner with HNB - another local leader in providing effective solutions across the country - in launching Sri Lanka's first in-app payment gateway. Now our patrons are able to enjoy cashless transactions even when traveling in a tuk-tuk and that is a first in the world, alongside many other features only PickMe patrons can enjoy! We're looking forward to a long-term partnership with HNB in providing more benefits and convenience to our patrons as we drive towards uplifting the local consumer experience to standards we can all be proud of."

PickMe Chairman Ajit Gunewardene added that he sees technology as the future of business and is not surprised that the concept was accepted by the market as rapidly and as successfully as it was.

"Efficiency is the key," he said. "I took immediate interest in the concept when it was proposed to me by Jiffry and I'm pleased that the business continues to attract valuable partnerships such as that with HNB. We have had three successful rounds of funding to date. We have a list of blue chips and business savvy investors who have supported the company in the multiple rounds of fundraising. We would have a fourth round once we have achieved our key performance indicators. Based on the performance of the company several existing and new investors have already indicated their interest in investing in the company.

"Seeing the current performance of PickMe I am confident that in three years PickMe will be catering to up to 500,000 rides a day," he added.

HNB Managing Director and CEO Jonathan Alles said the bank was thrilled to partner PickMe in facilitating hassle-free mobility. "Through this alliance with our country's most preferred mobility platform, we are proud to bring increased convenience to the citizens of Sri Lanka. Our effort and support in the drive to cashless transactions is very much a part of our commitment towards digitalisation, technology enhancement and accessibility," he stated.

Alles went on to note: "It has been our constant endeavour to build customised, 'made for Sri Lanka' solutions and as a bank it is rewarding to see the overwhelming response this initiative has garnered."

HNB Card Centre Senior Manager Roshantha Jayatunge said that the cashless era had arrived in Sri Lanka and HNB was at the helm of digitalising banking. There are over 12 million debit cardholders and 1.2 million credit cardholders in Sri Lanka who could easily convert to a cashless system," he explained.

In order to promote this convenient option amongst the bank's sizeable card user base, HNB announced a limited time offer to commence with the launch of its cashless facility. Through the promotion, HNB credit cardholders will enjoy Rs. 300 off their first three rides with PickMe, when they register and pay with their HNB credit card, from 1 February to 15 February 2017.

The bank for its part has gone ahead with the digital drive by introducing the innovative Momo point of sale device which is portable and can accept debit and credit card payments. This, together with their new world banking offering of enhanced ATM's through which any utility payment and electronic fund transfer to any bank can be made, has propelled HNB towards its goal of digitally transforming the banking and financial sphere in the country.