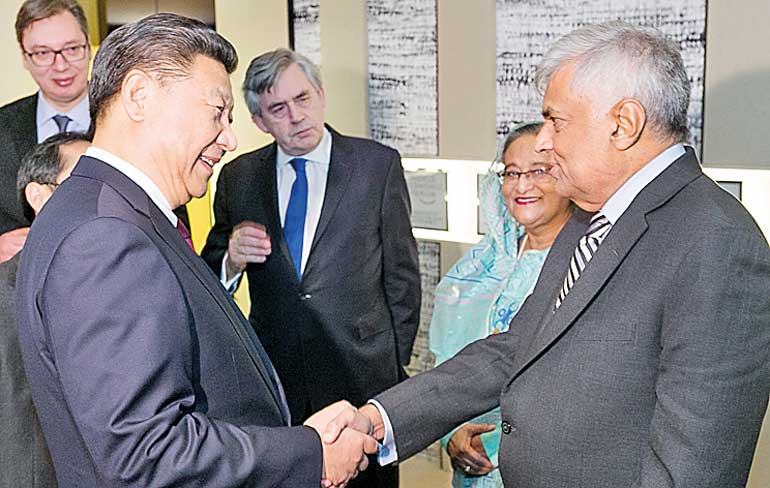 Chinese President Xi Jingping and Prime Minister Ranil Wickremesinghe greet each other warmly on the sidelines of the World Economic Forum in Davos, Switzerland yesterday – Pic by Pradeep Pathirana
Discuss Chinese-funded investment projects in SL and future plans
Meets with AIIB President; invites Nobel Laureate Prof. Joseph Stigilitz
Chinese President Xi Jingping yesterday met with Prime Minister Ranil Wickremesinghe on the sidelines of the World Economic Forum in Davos, Switzerland where discussions on the Hambantota port, investment zone and the Port City projects unfolded.

Ahead of Xi's address at the forum's opening ceremony, he met with Wickremesinghe, Bangladesh Prime Minister Sheikh Hasina Wazed, Serbian Prime Minister Aleksandar Vui and Swiss President Doris Leuthard. During this discussion Xi had paid special attention to the Chinese projects in Sri Lanka and exchanged views on future plans, according to a short statement released by the Prime Minister's Office. The Chinese President had also recapped investment pledged by his country as part of the 'One Road' policy of the Government.

Wickremesinghe also met with the head of Asia Investment and Infrastructure Bank (AIIB), Jin Liqun, where he had assured funding assistance to Sri Lanka. The Prime Minister also invited Nobel Laureate Prof. Joseph Stigilitz to undertake an observation tour of Sri Lanka and offer his advice to the Government. He was reported to have discussed in detail future development expectations and the plans of the Government with Wickremesinghe.

Later during his address, Xi offered a vigorous defence of globalisation and free trade in a speech at the World Economic Forum, which underscored Beijing's desire to play a greater global role as the United States turns inward.

Likening protectionism to "locking oneself in a dark room" to protect from danger, but at the same time depriving the room of "light and air", he cautioned other countries against pursuing their own interests at the expense of others, Reuters reported.

Xi did not mention Donald Trump in his speech of nearly an hour but many of the messages he sent seemed directed at the US president-elect, who campaigned for the White House on pledges to protect US industries from foreign competition and levy new tariffs on goods from China and Mexico.

"No one will emerge as a winner in a trade war," Xi told the forum in the Swiss Alps.

He said economic globalisation had become a "Pandora's Box" for many, but that it was not the cause of many global problems. He added that international financial crises were caused by the excessive pursuit of profits, not globalisation.

Xi's appearance, a first for a Chinese leader at the annual meeting of political leaders, CEOs and bankers in Davos, came as doubts emerge about whether the United States will remain a force for multilateral cooperation on issues like trade and climate change.

Over 2,500 leaders from business, government, international organisations, academia, media and the arts will participate in the meeting in Davos, Switzerland from 15-20 January. The theme of the meeting, Responsive Leadership, calls on global leaders to renew the systems that have supported international cooperation in the past by adapting them for today's complex, multipolar world in ways that foster genuinely inclusive growth.