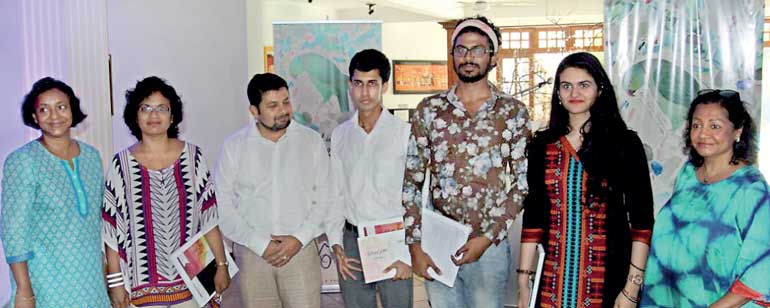 The recently concluded Fairway Galle Literary Festival 2017 that hosted 71 highly renowned participants both local and international, who were writers, novelists, journalists, poets, stage performers, singers, artists, architects, historians, conservationists and chefs in Galle proved to be an astounding success once again.

Judging by the patronage of the many literary enthusiasts that thronged the different events hosted during this festival, it was a wonderful sight to see both the many overseas nationals and locals who complemented the festive air that prevailed throughout the city. This year had an additional event where for the first time a poetry competition was initiated by the management of The Owl and the Pussycat resort hotel.

Promoted through a special website created for this competition, a record number of entries were received.

The judging criteria were based on relevance to the theme, judges' impression, poetic structure, originality and spelling. The competition was open to all Sri Lankan passport holders and Sri Lankans between the ages of 18 and 30 years.

The eminent panel of judges comprised three international judges and two local judges.

Ameeta Chatterjee who has over 20 years of corporate experience in developing, managing, financing and executing projects for the corporate sector across India and the UK was one judge. She now works as an advisor to startup companies on finance and business strategy with her consulting firm Espandere Advisors. She has also authored two books 'A Journey in Love' and 'Joyful Soul – Reflections of a Happy Soul'. Ameeta graduated in Bachelors in Commerce from Lady Sriram College for Women, Delhi University and is a management graduate from the Indian Institute of Management, Bangalore.

Pia Gadkari – a journalist with Bloomberg News, currently covering the global technology industry. She has worked at the BBC and Reuters in cities over the world, including Mumbai, London and Washington DC. Before that, Pia studied History at Oxford University and has a passion for films, literature and travel. She lives with her husband in New York City.

Gehan Talwatte a London based media entrepreneur and investor. He chronicles his search for the best martini at martinimandate.com

Vihanga Perera a writer of fiction and poetry, a literature critique and conservationist. He has won the Gratian Prize (2014) and the State Literary Award (2015) for his poetry. He has also been a lecturer in English Literature at the Universities of Peradeniya and Sri Jayewardenepura.

Dilhani Thantirimudalige, a poet and a freelance communication specialist who hails from Kandy, began writing and publishing poetry as a young student of Good Shepherd Convent. Her poem at that time 'The World I See' was chosen and published in the American Poetry Anthology of 1991. Among her favourite styles of writing are the narrative and confessional poems that share expressions of memories and experience. She owns a Bachelor's Degree in the stream of social sciences from the open university of Colombo. Presently she lives with her husband and two children in Homagama.

At the prize giving held on 13 January, the judges mentioned that the entries were of an amazing standard and selecting the five winners was indeed a challenging task. Amidst the distinguished guests were some of the five finalists who recited their poems. Some who weren't able to attend the function had their mum's read their entries.

Shafni Awam (who writes under the pen name – Benny Lau) is 30 years old from Colombo 4, loves writing and is pursuing a career in writing and publishing a collection of his poems.

26 years old Pawan Kalugala who hails from Colombo has been writing poetry since years and used to write little nonsensical poems as a child. She hopes to collate her poems into a children's book someday. She published her first book in the form of a collection of more grown-up poetry 'An Almond Moon and the White Owl' last year and is slowly making progress on a novel while completing her thesis in English literature. She wrote this poem a few minutes into the give deadline and sent it all the way from the States.

Ashwin Dias is a 25 year old, recent graduate of the Department of Civil Engineering, University of Katubeddha, Moratuwa. Working as a junior civil engineer in a private company, his passion is playing football and more recently, marathon running. Other interests include listening to classical music and creative writing. He participated in this competition for the challenge of writing limericks.

22 year old Ranga Rashmika Nambuwasam hails from Kottawa, is a student pilot and has 100 more hours to finish to get his commercial pilot license. He holds a degree from the Michigan University and loves to write as a hobby. He hopes to publish some of his work in the future.

Sarah Jauffer is a 20 year old from Kolonnawa. She is a writer by profession and is pursuing journalism. She hopes to publish a children's poems and short stories book in the future.

The winners were as follows with their respective creatively written poems:

1. Ashwin Dias – The Funny People of Sri Lanka

2. Ranga Rashmika Nambuwasam – In Quest for a Grander West

3. Pawan Kalugala – Misfortunes of a Fisherman's Daughter

4. Sarah Jauffer – Red Shoes

5. Shafni Awam – A collection of poems (A small scene/Asparagus, the ravenous /

Bakthi-Ektasis)

The highlight of the event was when Kate Tempest a poet and playwright gave a special performance that mesmerized the audience. Directors of the Board of The Owl and the Pussycat expressed their appreciation for the overwhelming participation of all the contestants, the media for the pre-publicity given, the Literary Fest Committee for including this initiative into their programme, and all those who supported this first time ever project. Presentations were made to the winners and the distinguished guests and media friends were hosted to refreshments.