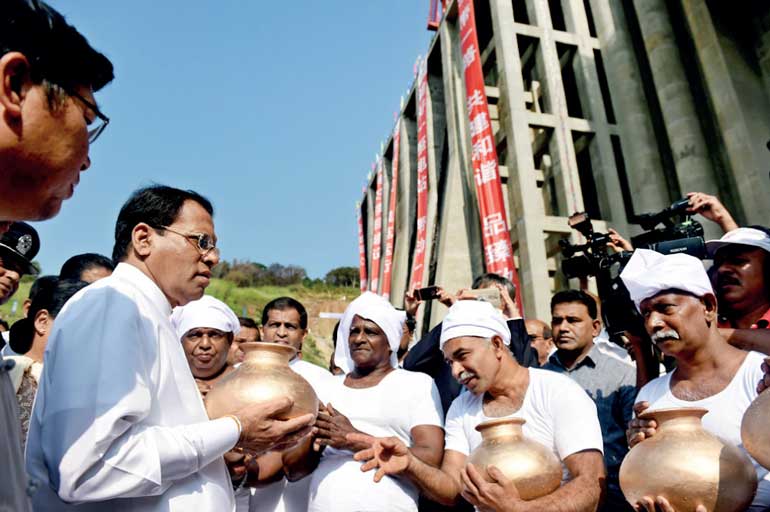 Sri Lanka President Maithripala Sirisena (2L) attends the inauguration of the filling of the Moraghakanda reservoir in Moragahakanda on 11 January 2017. The $ 220 million Chinese funded irrigation project is expected to help tens of thousands of farmers in the north-western, northern and eastern parts of the island - Ishara S. Kodikara /AFP
Insists no U-turn from pledge to abolish executive presidency
Says SLFP Central Committee decision not binding
Proposes talks with parties to reach fresh consensus
Sri Lanka will not have elections in 2020 but that will not deter the Government from working towards abolishing the Executive Presidency, said Cabinet spokesman Dr. Rajitha Senaratne yesterday, dismissing a decision made by the Sri Lanka Freedom Party (SLFP) to support the continuation of executive powers.

A visibly charged Minister contended that the Central Committees of parties could make decisions but they could change over time and insisted that President Sirisena had given no indication that he would reject one of his main campaign pledges. Dr. Senaratne's rejection of elections in 2020 comes despite the 19th Amendment reducing the previous six-year term to five.

"The abolishment of the executive presidency is still the focus," he told reporters, "obviously there will be dissenting voices and different opinions among politicians and parties but we will discuss things with them and come to a consensus."

The Cabinet spokesman rubbished claims that the SLFP would undermine efforts to roll out a new Constitution with the abolishment of Executive powers as part of the reform agenda of the Government. He stressed that President Sirisena as the leader of the SLFP would not allow the party to move contrary to his pledges.

Key members of the SLFP, however, have said that since the President Sirisena made his pledge not to contest a second term before he accepted the post as party chairman the statement can be compromised on.
Meanwhile, addressing the SLFP weekly media briefing, SLFP Central Committee (CC) member Minister Dayasiri Jayasekara expressed confidence President Sirisena would agree with party supporters to contest the next presidential election as, in his view, the party had no other suitable candidate.

"We will put this recommendation to the CC for further discussions and we will definitely support President Sirisena to win the next presidential election," he said.

Jayasekara said that Sirisena was the only person in the SLFP who could obtain all the votes of different communities. He noted that President Sirisena had the support of minority communities as well as the Sinhalese.

"Around 6.2 million people placed their trust in President Sirisena as the common candidate on 8 January 2015 and those people still believe that he can rule the country for another five years. We are certain that he will win by higher votes if he contests the next presidential election," he said.