Respected Chartered Accountant Ranel Wijesinha, a long-time participant in public policy dialogue, yesterday highlighted the need to "break free from being intimidated by historical, Sri Lankan or regional, economic growth statistics, and let us re-strategise at a national policy level, reincentivise private investment, enable and facilitate such investment and propel ourselves forward without any further paralysis of analysis."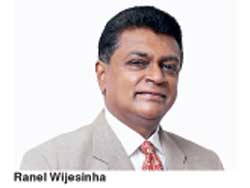 Wijesinha expressed these views to the Daily FT on the sidelines of the sessions at the BMICH on Monday in response to Prof. Ricardo Hausmann from Harvard Kennedy School's comments at a forum organised by the Ministry of Strategic Development and International Trade that Sri Lanka's growth statistic was strong by regional standards.

"Making things happen and happen fast is now a national imperative. Time is of the essence. We have to move beyond the drawing board and past the stage of paralysis of analysis. Listening to Hausmann, who started the first of the two-part session by saying that our growth was quite good in comparison with the region, I question the source of past growth and the by-products of that growth. Thus using a growth statistic as an anchor or as a benchmark should not give us comfort. I have said this many times before in public fora, and in the print and electronic media, that the euphoria of growth statistics and political party manifestos and competing roadmaps have misled too many for too long. If indeed the measure of success or the benchmark we strive towards is a rate of economic growth, consequent per capita income, etc. the issue is what percentage of the investment as a percentage of GDP, which made that economic growth statistic possible, was public investment and what percentage was private investment," he said.

"The previous Government beat drums about growth and per capita incomes but much of the investment as a percentage of GDP was public investment. Yes, we must grant that there were good public investments such as the Southern Expressway, which I frequently travel on, but what about the white elephants such as the Hambantota Harbour and the Mattala Airport? These are significant public investments that do not produce revenue to match the humongous debt service. I asked a young economist many months ago, as well as Prof. Hausmann, whether when using an accounting standard, we should go back to prior years and restate the economic growth statistic. Do we impair the carrying value of these investments!?"

"For example, China boasted impressive growth rates but we all know they have several ghost towns and projects which are unused or underutilised. Prof. Hausmann had a valid response to my question. He said, as for China, the ghost towns or unproductive investments are small as a percentage of the total and must be viewed against the impressive products they produced and the markets they captured. I grant that. But then, what about Sri Lanka? As his presentation pointed out - what we have known for more than two decades - we have not diversified our economy, our export products. Or shall I add that we have not diversified away our dependence on traditional export markets. That to my mind is the responsibility of the corporates which comprise our GDP. Thus we have to incentivise private investment and the private sector must make things happen. The Government has to facilitate such investments, whether through more effective and timely, administrative procedures or fiscal and investment incentives. That indeed is what the Premadasa and Wickremesinghe regimes of 1989-1994 did," Wijesinha added.

The current Government's attempt to convert debt to equity and make Hambantota happen is laudable. However, I would urge the Government to articulate the merits of the agreements and to market the rationale for the public-private partnership in order to counter rational as well as irrational detractors. I remain positive about the future of the nation," Wijesinha stated.