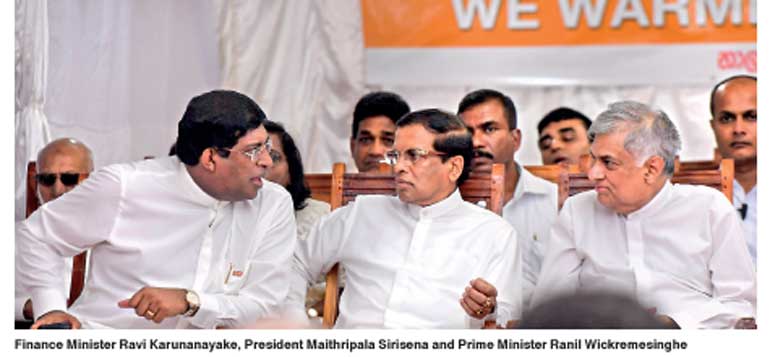 By Sisira Wijesinghe

Addressing a media conference held in mid-December, Finance Minister Ravi Karunanayake said that foreign investment would pour into this country in 2017 and he named the coming year as an advent of an economic battle. The Minister announced that the country would get nearly $4 billion foreign investment in 2017.

However, many people question the Government on whether it has received sufficient foreign investment as the Unity Government boasted. The answer to this question will be provided in 2017. Every community of people in this country made sacrifices in proportions in the effort to restore democracy in this country where human rights were violated indiscriminately. Democracy was denied to the people in the country and consequently, the international community marginalised our country during that period of time.

In this backdrop, 8 January 2015 became a turning point of the political history in this country after the Unity Government led by President Maithripala Sirisena and Prime Minister Ranil Wickremesinghe was formed to rejuvenate the already collapsed economy and heal the wounded social fabric.

Today, people can take to the streets and express their views freely accordingly their whims and fancies. Protests can be conducted. Therefore, people should realise that such a conducive environment was created as a result of the forming of the Unity Government. There could be various forms of elements to make divisions in this Unity Government. The objective of all such rival elements is to push this country back to the previous era of darkness.

What we should understand is this reality and not nonsensical racism and sacrilegious ideas propagated by a group of mockery politicians. It is clear that opportunity for all of us has dawned. To obtain such opportunities, we should rally round one objective, irrespective of various differences if we have any.

As the 20th Minister of Finance in this country, Ravi Karunanayake, a man with a strong backbone, did not hesitate to prepare necessary policy plans to rebuild the economy of the country. It is well known fact that all popular decisions cannot be taken when making plans to build an economy. Necessary decisions have already been taken under a long term plan to take the country forward although some of them are not pleasing to certain factions.

The Government is compelled to bear colossal maintenance charges on unprofitable institutions such as Mihin Lanka Airline, Hambantota Port and Mattala International Airport. In addition, repaying huge loan instalments for colossal foreign loans obtained to build these institutions is another crisis existing before the Government.

We do not see that the ordinary people have a clear understanding of these huge financial liabilities to foreign countries.

For instance, it does not seem that the people have any perception about the revenue collected by the Customs Department after the Unity Government came to power. The Unity Government was able to increase the Customs Department's revenue to Rs.787 billion in 2015 against Rs.575 billion in 2014. The Inland Revenue Department was able to increase its revenue up to Rs.421 in 2015 from Rs.366 in 2014. At the same time, the revenue generated by the Excise Department rose up to Rs.105 billion in 2015 against Rs.69 billion in 2014.

These institutions were able to collect a recorded income under a two-year period of the Unity Government as a result of its systematic economic policy planning but it does not seem that the people are aware of these realities.

We should also realise that the European Union (EU) lifted its fish ban on Sri Lanka by keeping confidence on the unity government. In addition, GSP+ concession will also be restored as the required foundation has already been laid by the unity government.

An economic victory of this nature was impossible during the previous regime and the reason for their failure should be debated and analysed separately. It is not a secret that some of the Government's strategies have taken in centre-stage of public criticism. But people should know that such decisions were taken to make white elephants created during the previous regime profitable ventures. Hambantota Port is one such controversial white elephant. The Government has already taken decisions to make it a profit making venture. However, it cannot help telling that ample freedom is ensured even to criticise openly such issues today.

However, the Chinese Government expects to invest $8 to 10 billion in the entire project. It is also expected that a large number of employment will be generated as the Hambantota Special Economic Centre is built. At the same time, it is no doubt that a large number of vessels which currently sail to India or Singapore for refuelling will reach Hambantota Port for refilling, once the new oil refinery is built in Hambantota.

However, Finance Minister Ravi Karunanayake is of the opinion that the country today badly needs foreign investment and not any more foreign borrowings. The Minister believes that a large number of foreign investments from leading countries in the world will pour into our country in 2017 accordingly.

In addition, another objective of this economic plan is to set up a 500MW liquefied Natural Gas (LNG) plant in Hambantota. The Government expects to increase its current power supply capacity 98% to 100% after the completion of this power plant. At the same time the Government will be able to save billions of rupees which it is compelled to pay to thermal power operators during drought seasons.

In addition, other major development projects earmarked to be launched in 2017 are: Megapolis development scheme, several major road construction projects to ease existing traffic in the city, new highways, flyovers, several irrigation schemes and housing schemes for middle class communities and Gam Udava housing projects.

One of the fundamentals of the economic policy planning of this government is to free ourselves from the burden of foreign borrowings first, if we need to pass on the development benefits to the people. This debt burden should not be left on the shoulders of the future generation. Otherwise, we cannot march forward as a nation while becoming conventional debtors to the world. Creating a just make-believe developed country is of no use.

If you are a person who loves this country and its values, you should be able to see through the commitments made by this Government and a clear picture about the happenings during the dark ear that we spent before 8 January 2015.

Then, not only 2017 will become a year full of hopes but also a new year which will transform such hopes into realities.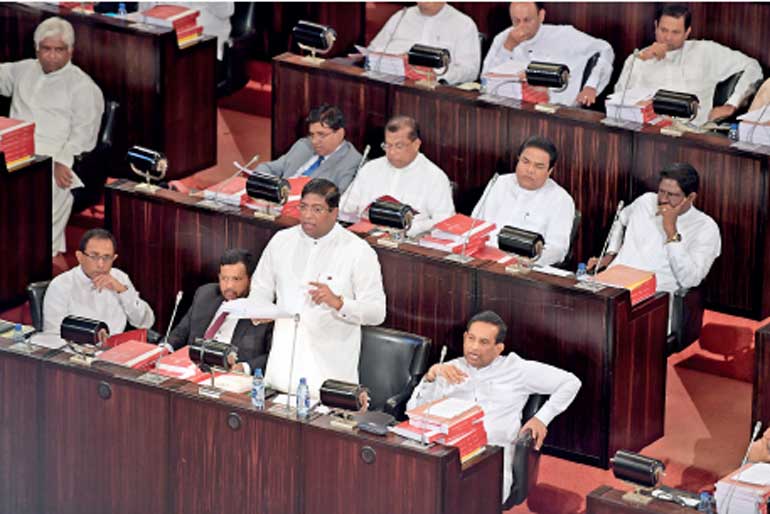 (The writer is the Media Secretary at the Ministry of Finance.)