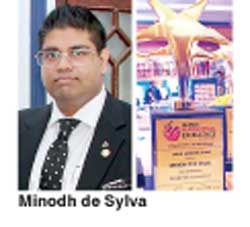 Minodh de Sylva won the prestigious Young Achiever Award - presented to those under the age of 35 with several significant achievements – at the Marketing Excellence Awards held at the Taj Lands End Hotel in Mumbai, India.

Having started his career at a very young age, Minodh has had the privilege of holding many management and senior management roles in marketing across diverse industries from FMCG (Elephant House), Insurance (Ceylinco Life), Banking (Nations Trust Bank), Finance (The Finance Plc) and Retail (Arpico).

In a career that has spanned more than 14 years he has provided leadership and facilitated the marketing function for many leading organisations. In his current role he is attached to Richard Pieris & Co. Plc. Minodh boasts of a proven track record, being one of the youngest members in many senior management teams while in the NBFI sector he was a member of many board subcommittees in Marketing, Integrated Risk Management and Asset and Liabilities.

He is also a sought after speaker and visiting lecturer in branding and marketing.

He holds the honour of becoming one of the youngest Chartered Marketers in the country at the age of 26, having attained the Chartered status from CIM (UK) in 2007. He was also awarded the status of Practicing Marketer (SL) from the Sri Lanka Institute of Marketing in 2013 in recognition of his exceptional contributions in branding and marketing.

Minodh has also received the Marketing Professional of the Year award from CMO Asia in Singapore and was awarded an accolade for Excellence in Marketing and Brand Leadership at the Golden Globe Tigers Awards and Summit in Kuala Lumpur, Malaysia, being selected from amongst many other senior marketing professionals from 24 countries in Europe, Asia, Australasia and the Middle East.

He was listed amongst the Most Influential Marketing Leaders – South Asia at the Marketing Congress in Mumbai, India. The listing was a result of an extensive research process and the selection of an international jury comprising top business professionals and educators of leading global institutes. He was also appointed as an advisory council member of the World Brand Congress in Mumbai, India in 2015.