The Group Chairman and Founder of leading real estate group Blue Mountain, Dr. Hiran Hettiarachchi, making the keynote speech at Kelaniya University's Entrepreneur Day
The Group Chairman and Founder of leading real estate group, Blue Mountain, Dr. Hiran Hettiarachchi delivered the keynote speech on the occasion of the launch of Futurepreneur Magazine by the Young Entrepreneurs Association from the Department of Commerce and Finance Management at the University of Kelaniya.

The launch of the magazine and his invitation as the keynote speaker and as a member of the panel discussion for the memorable occasion coincided with the institution's Entrepreneurship Day 2016. The event was held at the A.T.H. Sunil Shantha Memorial Auditorium at the University of Kelaniya in the presence of over 300 attendees.

Considered a role model for aspiring entrepreneurs, Dr. Hettiarachchi recently won The Most Admired Entrepreneur of the Year and CEO of the Year at The Global Marketing Excellence Awards.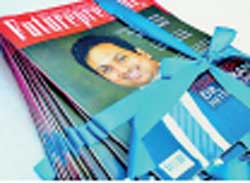 In his keynote speech at the event, Dr. Hettiarachchi delivered a motivational message by citing his own professional journey which was characterised by successes and failures from which he emerged stronger each time. He went into detail about how one could achieve goals and identify inner strengths and convert them into practice by creating a career focus. He further touched on aspects of leadership as well. He is an inspiration to countless Sri Lankans for his extraordinary vision and sound business acumen.

Dr. Hettiarachchi (MBBS-Colombo and MBA Australia) is the Founder and the Group Chairman of the Blue Mountain Group. He is a renowned real estate professional and visionary entrepreneur, with extensive experience in the real estate industry.

His leadership forte lies in delivering world-class real estate projects in Sri Lanka that are beacons of design, quality and innovation. He is a medical doctor by profession who graduated from the Faculty of Medicine of the University of Colombo in 2011 and is now respected as an energetic professional and dynamic leader within the business fraternity of Sri Lanka.