By Nisthar Cassim

World-renowned fund manager, strategist and author Ruchir Sharma is urging a radical change in thinking and policy if Sri Lanka is to succeed in a competitive yet de-globalising world.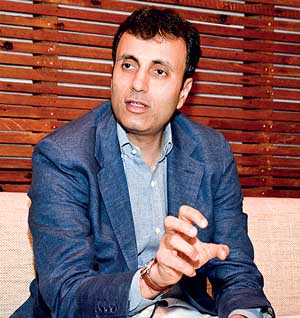 In Sri Lanka recently, the Head of Emerging Markets and Chief Global Strategist for Morgan Stanley and author of best sellers 'Breakout Nations: In Pursuit of the Next Economic Miracles' and the more recent 'The Rise and Fall of Nations: Forces of Change in the Post-Crisis World' said Sri Lanka is blessed to be in a "geographical sweet spot" with the potential to rise but the window of opportunity is fast narrowing.

Citing from his latest book which focuses on the 10 most important things to look for on whether a country is rising or falling (see box), out of 16 countries assessed, Sri Lanka's score is mixed with economies such as Bangladesh, Pakistan, Argentina and Romania doing better.

"Sri Lanka ranks in the middle with the potential to be good or rising but the window of opportunity is narrowing. The immediate issues are high public debt, the budget deficit and the size of the Government as well as the need for a tax regime that encourages the private sector," Sharma told the Daily FT in an exclusive interview.

He said the policy of increasing wages by higher taxation on the private sector as evident in the recent years needs to be changed, especially when the world and progressive countries are movingtowards lower corporate taxation. For example, he emphasised that US is tipped to reduce corporate tax from 35% to 15-20%, which will be a big competitive issue, forcing other countries to revisit their own policies.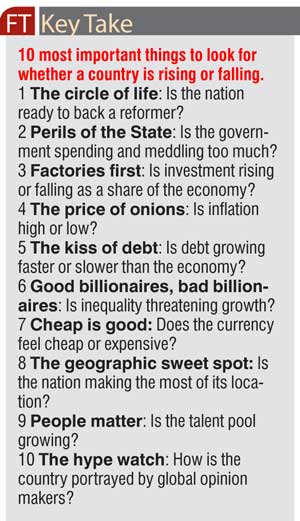 "One reform Sri Lanka has to be quick with is to reduce the public sector which does not seem to be on the priority list. Public sector reforms and divesting some of the nonstrategic entities will be a good way to attract international investors and use that as revenue for expenditure rather than taxing the private sector excessively," Sharma pointed out.
He suggested that such a course may be advisable because the global environment to attract FDIs has become difficult, requiring countries such as Sri Lanka to be more progressive in terms of tax policy.

Noting that Sri Lanka's reforms outcome has been mixed, Sharma reiterated that the new Government has an excellent opportunity to fast-track the process.

"Yes, there have been some positive political and other reforms, but the pace of macroeconomic reforms has been slow. Since the new Government is stepping into its third year, the window of opportunity to carry out reforms is closing fast," he opined.

Sharma also noted that he likedSri Lanka very much among emerging economies with quality of work force and management being good, but lamented the country's potential hadn't been fully realised, especially after the end of the conflict. He said the new Government was democratic and pursuing good governance but it should also be reformist and business friendly.

Referring to Sri Lanka's strategic geographic locationas biggest advantageand statingthat greater cooperation with China and India is welcome, Sharma however warned that global trade was slowing and lower than global GDP, hence expanding exports would be very challenging.

"The biggest challenge is the slowdown of global economy and lower trade growth. There is no rising tide to lift all boats. Sri Lanka cannot solely rely on geographical sweet spot to grow rapidly in an era of de-globalisation. Two years ago we weren't sure de-globalisation was going to be an enduring theme but it is now," he said.

"Export growth across the world is extremely weak. This reality makes Sri Lanka's aspirations very challenging.The 'exporting your way to prosperity' model is dead or under serious threat. It still can be done but it is extremely challenging," he emphasised. It was pointed out that in the absence of robust exports, a higher GDP goal would be difficult. "So a growth rate of 5-6% is the new realistic normal."

Sharma encouraged Sri Lanka to try on its hub aspirations even though it is challenging. "In the past decade, growth of global trade was higher than world GDP, which is not the case now."

Sharma noted that the world today is radically different to what it was 10 years ago. "A decade ago, around 60 countries grew by 7% per year growth. That number is down to just six countries today. This confirms how difficult it is to achieve 7% growth. You can shoot for the sky but be mindful that the probability of getting there is very difficult. So anything lower, Sri Lanka shouldn't despair.When I first wrote my first book 2011/12,I thought Sri Lanka would find it easy to achieve 7-8% growth given its potential. However today the world is on low growth mode and it is extremely difficult."

Sharma said that the world was facing crisis of 3Ds – Debt, Demographics and De-globalisation.

"In the past decade the world was globalising fast, but it is not the case now. The trend for protectionism was evident even before Brexit or Trump's victory. Trade, capital and people flows have slowed down from the developed world to emerging markets. Globalisation has stalled and a small economy such as Sri Lanka needs to be careful as it tries to get more open since opportunities are limited," he added.

He also said Sri Lanka's currency was competitive and the current account balance had narrowed, which was good. "However in a de-globalised world, running a current account deficit of above 3% of GDP can be problematic," he warned.

With regard to tourism he was cautiously optimistic on Sri Lanka. "Every country with an island and mountain thinks tourism is a competitive advantage. Yes, tourism has scope, but needs to improve yield. Manufacturing and agriculture have scope and can be harnessed," he added.

Sharma also observed Sri Lanka's private sector is "slightly" risk averse but it can be stimulated with more policy certainty on the part of the Government.