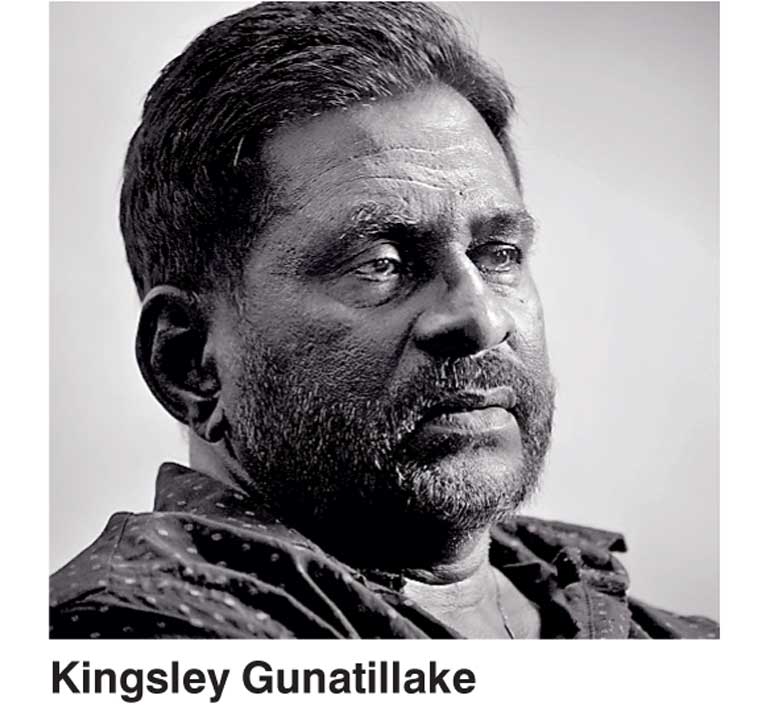 An exhibition titled 'Finding Space' by Kingsley Gunatillake opened yesterday at Paradise Road Galleries, 2 Alfred House Road, Colombo 3. It will remain open daily from 10 a.m. to midnight. Following are excerpts of an interview with the author:
Q: Tell us your inspiration behind these works?

A: I am really not sure from what I do not get inspired. Everything seems to inspire me. You know, even bitter, depressive experiences have given me strength and shown me direction. You can take 'bitter-ness' also as a 'taste', and then you will understand that taste is a very complex thing. So, I try to understand the complexity of small, mundane things through abstraction and in the abstract. The revelation of this 'journey of abstraction' is that there is nothing called bitter experiences.
Q: What is your strongest influence that drives you as an artist?

A: I think many things have affected me. I can't specifically separate one and point out. Love, affection, sweet music, nature and wilderness, even window-shopping in the city, have inspired me. I think I have been affected and my art is shaped by associating and getting exposed to all kinds of other art forms.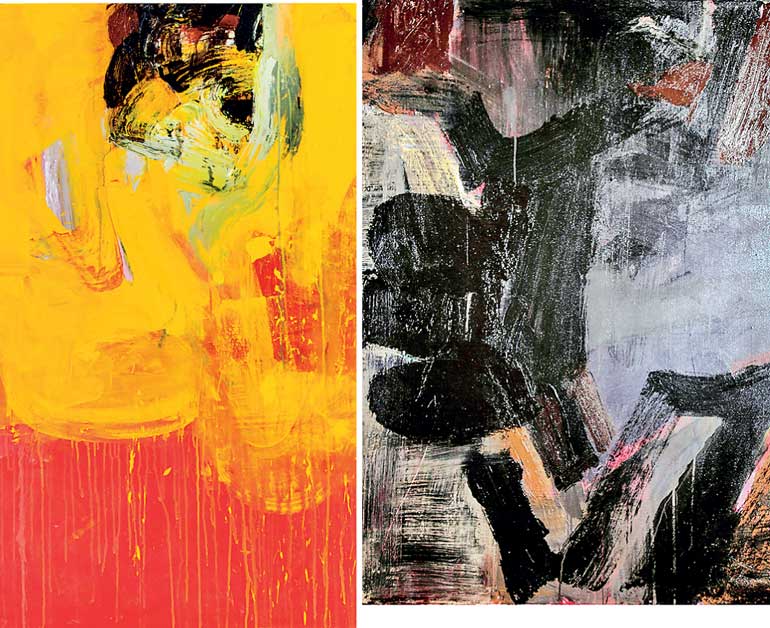 Q: Do you draw inspiration from international art practices?

A: I am indifferent to local and international. I don't care. I get inspiration from both international and local art. To me, the dirty, erased and faded, dust-covered, discolored remaining parts of local or traditional, old paintings and sculpture are a really new and fresh satisfaction. This is why you see a lot of blurred, sort of hidden, difficult-to-name places in my paintings. Master artist Dr. H.A. Karunaratne has really grasped this idea. In addition to him, the association of Jagath Weerasinghe, Chandraguptha Thenuwara and others have shaped the kind of art I do.

I am inspired by children's paintings, the wonderful unbiased feelings in them. The rules and thinking patterns in graphic art also helps me. The enjoyment of international art also awakens me. From painters like Willem de Kooning, Francis Bacon to Antoni Tàpies and Robert Motherwell as well as Anthony Caro has inspired and influenced my work. Not only that, performances 'Dishwashers Are Crazy' by STOMP have mesmerised me. In them I clearly see the connection between art and the thinking in it.
Q: What is your advice to aspiring artists of today?

A: Identify what you don't know. By identifying what you are weak at, learn how to do genuine expression through your ability. There is nothing called ugly for an artist, learn how to depict what others think as ugly. In art don't seek the taste you see in experimentation. Enjoy the taste of art.