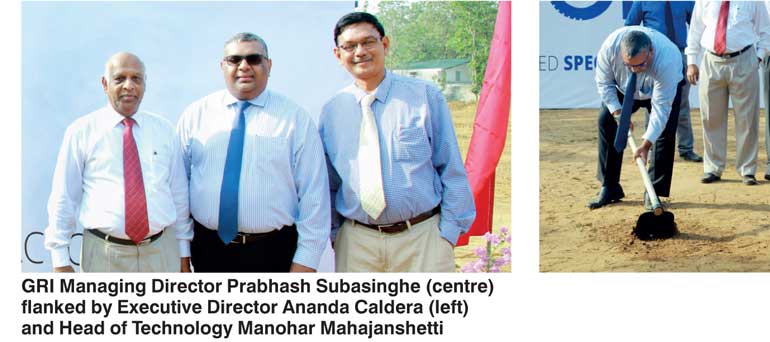 Global Rubber Industries (GRI) yesterday laid the foundation for the construction of its latest specialised tire factory in Badalgama with an investment of over $ 40 million.

This factory will be focused on producing pneumatic tires for agriculture, industrial, off the road and construction vehicles. All the products are destined for the export market.

"I am proud to lay the foundation for the next phase of growth for GRI in specialty tires. This factory will be designed and equipped with state-of-the-art technology, will focus on technical innovation, precision engineering and operational excellence. It will rank among the best in the world," GRI Managing Director Prabhash Subasinghe said.

The new factory will be built on 10 acres of land belonging to GRI, adjacent to its current solid industrial tire factory in Badalgama, Sri Lanka.

GRI has been producing and supplying high-performance solid industrial tires to countries worldwide. The new GRI factory will be the largest in Sri Lanka dedicated to produce specialty tires. It will also be the first in Sri Lanka to produce radial agriculture tyres.

"Strategic expansion of GRI into manufacturing of specialty tires is a historic event for both the company and the Sri Lankan Rubber Industry. GRI will strengthen the implementation of the Government Rubber Master Plan. Our new plant is expected to commence trial production by the end of 2017," said GRI Executive Director Ananda Caldera, who is now leading its efforts in specialty tyre production.

A track record for high quality, bold initiatives and sound innovation has taken GRI tyres to the top of a customer's choice. GRI has created a high-value offer, won many awards for business excellence and grown rapidly to join the top league of industrial tyre producers in the world. With its next-generation specialty tyre factory, GRI has great hopes in growing further in this billion-dollar industry worldwide.

GRI is a leading manufacturer of specialised tyres for material handling, industry, agriculture, off the road and construction vehicles. GRI is based in Sri Lanka and has sales offices and warehouses in the United States, Germany, France, Netherlands and Australia. GRI has been supplying tires to more than 50 countries worldwide. Pioneering initiatives, sound innovation and high-quality have powered GRI to rapidly become a leading specialty tyre producer in Sri Lanka.