The January edition of leading business magazine LMD reports that business confidence slumped in December, whereby the one-of-a-kind LMD-Nielsen Business Confidence Index (BCI) plummeted to 117 and is now at its lowest level since July 2013.

"The survey results this month [December] are a reflection of a possible reaction to the Value Added Tax (VAT) rate increase starting 1 November 2016 and the Budget proposals," says Nielsen's Managing Director Sharang Pant, in LMD.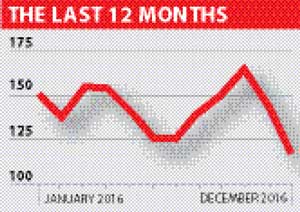 He adds that "business leaders were expecting a streamlining of Sri Lanka's tax system and administration in the new Budget. But they are now faced with more taxes and new tax rules. This is creating confusion in the supply chain system and intermediaries are wary of the impact of tax changes on their businesses as well."

The exclusive monthly survey also reveals that 35% of respondents expect the economy to deteriorate in the coming 12 months, while a third of the sample population expects conditions to improve – in stark contrast to the four out of 10 who said so in November, in the lead up to Budget 2017.

Where business prospects are concerned, LMD reports that nearly 30% of participants forecast a downturn in their sales volumes.
Meanwhile, the response is even more negative for the nearer term – i.e. the next three months – with around a third expecting a deteriorating trend.

A spokesperson for LMD states that "the latest outcome… is a damning verdict on the state of business and one hopes that the downtrend has bottomed out. That said, there's been nothing of any significance to whet corporate appetites at the dawn of the New Year."

LMD's publisher Media Services says the January edition of the magazine will be released to bookstores and supermarkets on Friday, 6 January (for the full BCI report, go to www.LMD.lk).