Megapolis and Western Development Ministry has to face several challenges as it was a new experience for the country. Identifying the perfect development projects and completing them their feasibility studies are the main challenges that have been faced by the ministry.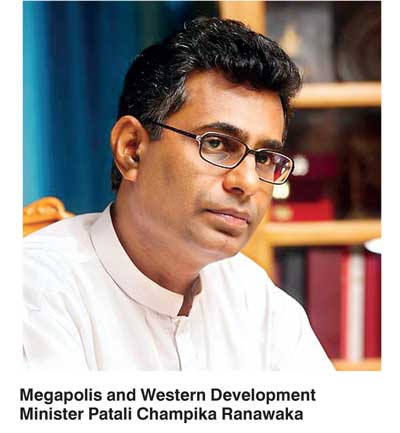 A number of those projects are now already going on and it takes a few years to complete the feasibility studies as instant projects will never gain sustainable results for the country or the people. On the other hand, investors do not agree to invest on projects which do not have formal and viable reports of their feasibility studies.

At present, having investments for development projects with the involvement of the Government has became an issue as it has already passed the credit limits. Because of that, we are targeting private investors and the profits generating by our affiliated institutions during the completion of the development projects which have been identified as essential for the country's future.

At present, all institutions affiliated under the Ministry of Megapolis and Western Development have already been uplifted as profitable ventures. Now they are not depending on the Treasury or on public taxes. This is another step made forward in the mission done by the Power and Energy Ministry and Science, Technology and Research Ministry.

We have already planned a number of projects to launch this year. Accordingly, we hope to launch seven new Light Rail Transits (LRT) and a water transport system. We are also planning to develop the multiple transport centres while improving their facilities and building new tunnel systems and manholes with the aim of controlling floods.

The Megapolis Ministry is planning to launch the 'Sukitha Purawara' program in 2017. We have already launched 70 development projects in Colombo, Gampaha, Kalutara and Gampaha under the program of 'Sukhitha Purawara' and its second phase will be launched this year, valued at around Rs. 2750 million. Plans are underway to commence the third and fourth phases of Sethsiripaya and establish 113 State institutions in Battaramulla, making it the administrative city.

In addition to Colombo, Kandy, Galle, Anuradhapura and Jaffna are also making a vital contribution to the country's economy and plans are in place to launch a number of development projects in those cities at a cost of Rs. 3,185 million.

In addition, we hope to launch another three city projects in Kirimandala Mawatha, Ragama and Ratmalana and six housing scheme projects for all professionals.