Trust to have initial funds of Rs. 3.6 million
First beneficiaries to be Russell Hamer and A.J. Samarasekera
1996 World Cup winning team to help raise funds
By Madushka Balasuriya

Sri Lankan Cricket well and truly arrived on the global cricketing stage in 1996 when just 15 years after being awarded Test status, they won the grandest prize in the sport, the World Cup. Since that monumental moment, cricket in the country has suffered its fair share of ups and downs, with several administrations arriving and disbanding, but on the whole the standard of the sport in the country has never looked back.

The rise in the fortunes of Sri Lankan cricket has also meant that several of the cricketers plying their trade throughout the country since have been able to make a decent living off the sport they love. This however is only a recent phenomena, with several of those who paved the way for that unforgettable 1996 success never able to reap the financial dividends their hard work eventually bore.

One such name is Russell Hamer, who played first class cricket in the country from 1967 to 1978, and played Division 1 cricket for over two decades. Hamer, regarded by fellow professionals as one of the finest wicketkeepers ever to play the sport in Sri Lanka, was known for his affinity for keeping up to the stumps to fast bowlers and still retains the bruises on his shins to prove it.

Another is A.J. Samarasekera, a left-arm spinner who played first class cricket from 1986 to 1999 and was in the national pool up until the 1992 World Cup. Since his retirement from the sport, Samarasekera worked as a coach and umpire in domestic cricket.

Both Hamer and Samarasekera recently suffered strokes, and the subsequent medical and social costs placed an undue burden on both their families. However, on Tuesday evening, they were offered a helping hand by way of a donation from the newly formed Sri Lanka Cricketers Association (SLCA) Benevolent Fund. The Trust, which contains an initial Rs. 3.6 million by way of funds raised through various SLCA initiatives - most notably when the '96 World Cup Team toured Australia in October and November of last year - is being put in place by the SLCA and members of the '96 WC winners to "assist past cricketers financially in times of a medical emergency or any other urgent need."

"We as a group owe so much to the past cricketers who opened doors for all of us to play for our country. And I think it is our responsibility to ensure that past cricketers, if they are in need of help, we come together to support them," said '96 World Cup winner and trustee Roshan Mahanama at the launch of the fund on Tuesday.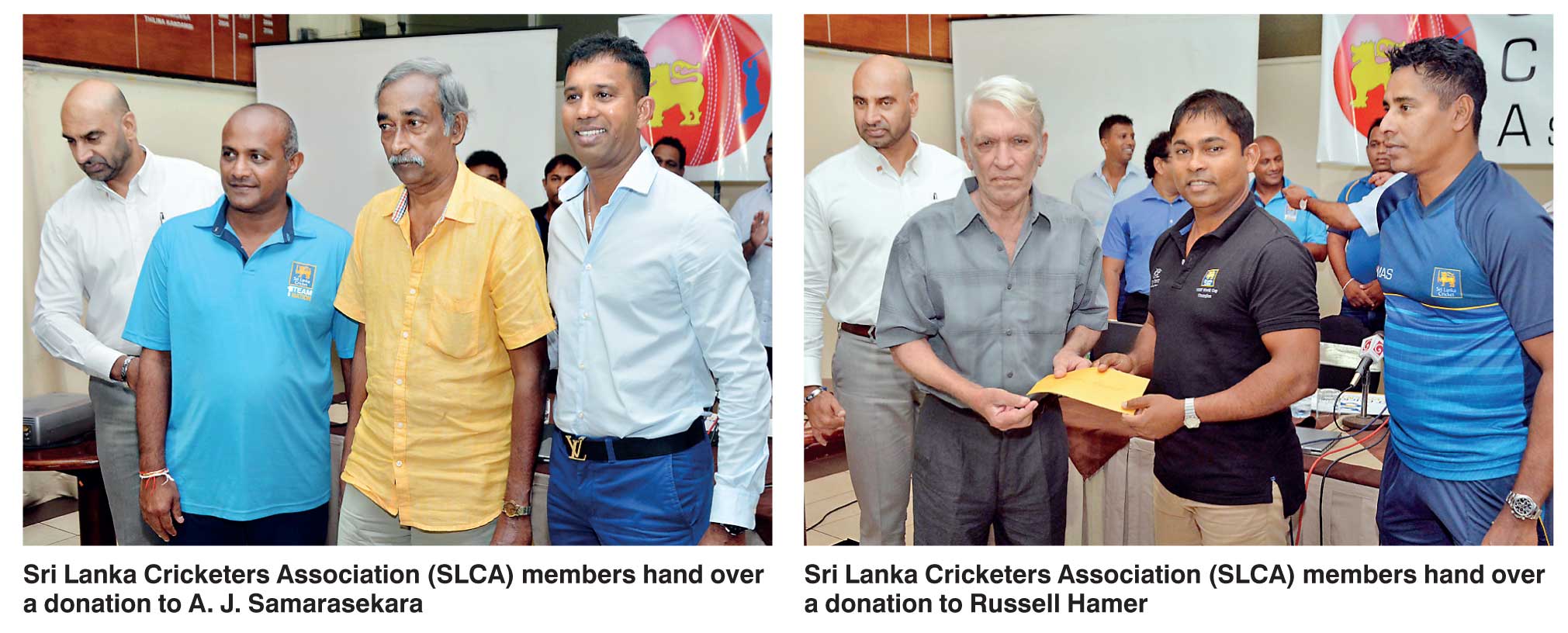 "And when we say past cricketers, people always think of the national cricketers. Don't forget, I think in any era, for us to select a good 20-30 cricketers who end up playing for the country there would be another 300-400 cricketers."

Alongside Mahanama the other appointed Trustees of the fund include his '96 teammates Asanka Gurusinha and Pramodaya Wickremesinghe in addition to SLCA Ex Officio members - President Graeme Labrooy and Treasurer Priyantha Udayaratne. As per a press release, "Requests for support and financial assistance from the fund should be made through a member of the '96 World Cup Champion Team or a member of the SLCA. The Trustees will approve, allocate the sum and the SLCA will disburse the funds to the recipients within 48 hours of approval."

"We will have to prioritise. If it is a medical matter we will have to look at it as a priority. Also at the moment we know we won't be able to help everyone. It's an uphill task. We need to build it up. That's why we decided that we'll start here now and get the ball rolling," said Aravinda de Silva, also speaking at the launch.

De Silva added that while several details need to be sorted out such as online resources, internal audit mechanisms and steady streams of income, a three-year plan would be put in place to ensure the long-term sustainability of the fund.

"The idea is to find something where we can sustain this model and maybe we might have to raise some funds and do some proper investments where there is continuous revenue and use the resources with the '96 squad and generate revenue on a regular basis. At the moment we need to put a long-term plan together and come up with a budget and set our targets," he said.

Pix by Upul Abayasekera