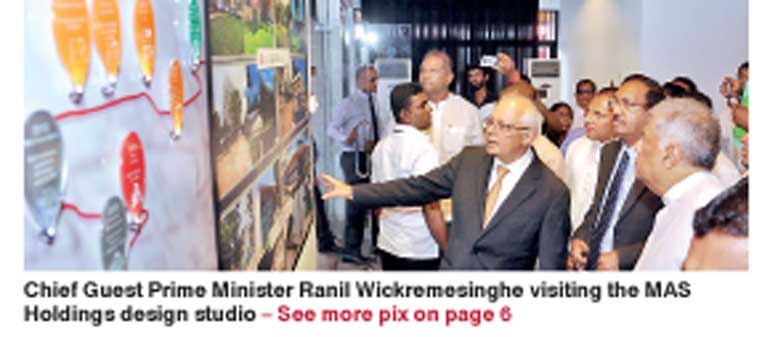 Govt. hands over former Kabool Lace plant abandoned for 12 years; MAS to replicate successful Thulhiriya Park
Giriulla Park will generate over 3,000 jobs, $ 65-$ 70 m export
revenue in first three years
Prime Minister assures that GSP+ will be regained and boost apparel exports and jobs
By Charumini de Silva

The Government yesterday handed over the former Kabool Lace Giriulla facility, which was shut down for 12 years, to proven apparel giant MAS Holdings to boost jobs and exports.

MAS Holdings Chairman Mahesh Amalean said they expected to invest over $ 28 million in export-oriented projects in the facility, creating over 3,000 direct jobs within the first three years of operations and export revenue of around $ 65-$ 70 million.

He said that the company had already commenced refurbishment and reinstalling machinery to commence operations by next year.

Being the second-largest supplier to leading sportswear company Nike, MAS Holdings is capitalising on its opportunity to double its capacity as Nike plans to increase its revenue from $ 30 billion to $ 50 billion by 2020.

Amalean pledged that MAS Holdings would continue to be confident over Sri Lanka's international competitiveness especially in manufacturing.

"We believe there is a lot of potential to expand in the manufacturing sector in Sri Lanka with specific reference to exports," he added.

The Giriulla facility will become the second privately-owned industrial park in the country following the MAS Fabric Park in Thulhiriya which houses over 8,200 employees and generates more than $ 150 million.

Given Giriulla facility's strategic location and close proximity to the Thulhiriya and Pannala factories of MAS, Amalean emphasised that it was the ideal opportunity for their expansion plans.

He added that during the past five years MAS had increased its export revenue from $ 800 million to $ 1.6 billion for Sri Lanka.

Prime Minister Ranil Wickremesinghe assured that Sri Lanka would receive GSP+ concessions in the near future, which would provide more opportunities for companies of this magnitude to increase employment and improve the livelihood of the general public in the area.

He said that after regaining the GSP+ facility, MAS would be able to provide around 5,000 employment opportunities in the Giriulla facility.

Noting that Bangladesh had grown its economy considerably over the past 10 years through the development of the apparel sector, the premier said Sri Lanka needed more industrial parks to facilitate private sector companies that would generate much needed foreign exchange for the country.

"Bangladesh increased its apparel export earnings from $ 5.2 billion in 2006 to $ 26.6 billion in 2016, recording a fivefold increase. However, as Sri Lanka has failed to maintain GSP+ the country's apparel sector has lagged behind," he noted.

The Prime Minister also said that the trade agreements with China, Singapore and India would facilitate more opportunities for export-oriented companies.

The premier emphasised that the Unity Government expected to eradicate unemployment and increase income by 2020 and therefore took steps last year to reduce the debt burden in order to establish a stable economy.

"We need to generate higher income, better education and accelerated growth in Sri Lanka," Wickremesinghe stressed.

He added that the North Western Province will be developed as an industrial zone with sizable investments in the years to come.

The project facilitated by the Board of Investment (BOI) exemplifies a successful private-public partnership which contributes significantly to the economy of Sri Lanka.

The park will replicate the service offering and environmentally sustainable features of the MAS Fabric Park in Thulhiriya, including uninterrupted power supply, water treatment and supply, a SLAB accredited laboratory for water quality testing and engineering services.

MAS at present employees 86,000 people in 15 countries and of that 70,000 are employed in Sri Lanka in 38 manufacturing locations including 2,200 people in Kilinochchi.