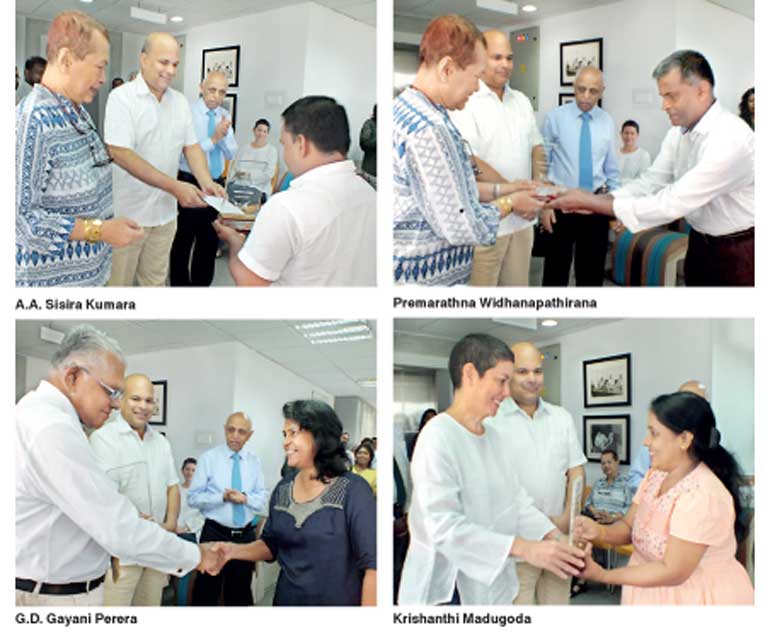 MMBL Group, long-serving employee's appreciation was held as a part of the New Year celebration at its head office in Peliyagoda on 2 January.

MMBL-Pathfinder, a privately-held investment group, continues the traditions of innovation with a business model that centres on niche investments in sectors with potential for high growth. Where appropriate, the group forms joint ventures with Sri Lankan and foreign blue-chip companies and high net-worth investors to realise its investment objective. The group has identified many sectors which offer attractive value-investment opportunities including financial services, business logistics, trading and distribution, property development, petroleum-related services, quality assurance services, aviation, agriculture and the hospitality sector.

Chairperson Y.N. Perera handed over the Service Awards appreciation to Premarathna Widanapathirana – Pathfinder Security and A.A. Sisira Kumara MMBL completed 15 years. Krishanthi Madugoda completed 10 years and she collected her service award from Jennifer Moragoda; G.D. Gayani Perera also 10 years and collected her award from Pathfinder Agro Ltd. Director Dharmin Perera.

"We have always subscribed to the view that loyal, long-serving employees are one of the biggest assets of the company," MMBL Pathfinder Director/CEO K. Balasundaram said at the event and he added, "We faced a challenge last year and this experienced, talented team helped the group to establish." MMBL Pathfinder Group Founder Milinda Moragoda and members of all group of companies participated at the event.