The SLFP yesterday claimed that the party would ensure a Parliamentary debate would be held on the controversial Bond issue in the New Year, insisting that President Maithripala Sirisena be allowed more time to act on the matter.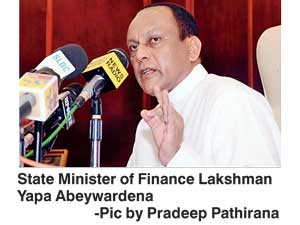 "This is priority number one in our party. We will not abandon the complaint made by the General Secretary of the Party. It is also a main issue in this country, we should discuss this," State Minister of Finance Lakshman Yapa Abeywardena told reporters.

When asked why a date has not been set for the debate yet, Abeywardena said he is confident that a date would be set soon as possible. "Even the Chairman of the Committee on Public Enterprises has made a request for a date for a debate," he said.

Assuring that the SLFP will push for action on the matter, Abeywardana said the President should be allowed time and given the opportunity to take action on the issue.

"The proper Parliamentary procedure should be followed. It has not reached the level of the President for him to take action yet. Give him time till it comes to the President to take action, before that the parliamentary process has to be completed," he claimed.

However, he was not able to explain why the Central Bank was lethargic on taking action on the issue, but claimed that the SLFP has given their recommendations on how the matter should be addressed to the President.

The State Minister also defended the decision by the Prime Minister to send the COPE report on the issue to the Attorney General (AG), but claimed that once the Parliament process is over it would be officially sent to the department by Speaker Karu Jayasuriya.