REUTERS: British singer George Michael, who became one of the pop idols of the 1980s with Wham! and then forged a career as a successful solo artist with sometimes sexually provocative lyrics, died at his home in England on Sunday. He was 53.

In the mid-1980s, Wham! was one of the most successful pop duos ever, ahead even of Simon & Garfunkel, with singles like "Wake Me Up Before You Go-Go", "Careless Whisper", "Last Christmas" and "The Edge of Heaven".

"It is with great sadness that we can confirm our beloved son, brother and friend George passed away peacefully at home over the Christmas period," his publicist said in a statement.

"The family would ask that their privacy be respected at this difficult and emotional time. There will be no further comment at this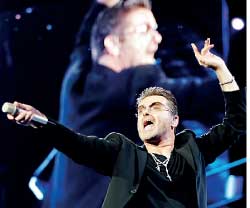 stage," the statement said.

British police said Michael's death was "unexplained but not suspicious."

Born Georgios Kyriacos Panayiotou June 25, 1963 in London to Greek Cypriot immigrant parents in a flat above a north London laundrette, Michael once played music on the London underground train system before finding fame with Wham!.

With a school friend, Andrew Ridgeley, he formed Wham! in 1981, a partnership that would produce some of the most memorable pop songs and dance-floor favorites of the 1980s.

But Michael was keen to reach beyond Wham!'s teenage audience and to experiment with other genres. Wham! announced their split in 1986.

A pilot solo single "I Want Your Sex" was banned by daytime radio stations but was one of his biggest hits.

"I want your sex, I want you, I want your sex," he sang. "So why don't you just let me go, I'd really like to try, Oh I'd really love to know, When you tell me you're gonna regret it, Then I tell you that I love you but you still say no!"

In the space of the next five years, Michael had six US Number One hit singles including "Faith", "Father Figure", "One More Try", "Praying For Time" and a duet with Aretha Franklin "I Knew You Were Waiting For Me".

Questions about his sexuality were raised when he was arrested in 1998 for "engaging in a lewd act" in a public restroom of the Will Rogers Memorial Park in Beverly Hills, California.

"I feel stupid and reckless and weak for letting my sexuality be exposed that way," Michael told CNN at the time. "But I do not feel shame (about my sexuality), neither do I think I should."

"I can try to fathom why I did what I did," he continued, "but at the end of the day, I have to admit that maybe part of the kick was that I might get found out," he told CNN.

Though he had relationships with women and once told family members that he was bisexual, Michael, then 34, said he was gay.